Every week, The Mac Weekly sits down with a senior arts major. This week we caught up with studio art and classics double major Michael Kreher. He hails from San Francisco.
TMW: How did you first get interested in art?
MK: All of the schools I attended were fairly arts-focused. After attending a K-8 school that had art classes at least three times a week, I decided art was something I wanted to pursue further. I went to a technical arts high school where I got to experiment with different techniques and ways of expressing myself. When I came to Macalester, I wasn't sure what I wanted to major in, but the arts courses really stood out during my first year.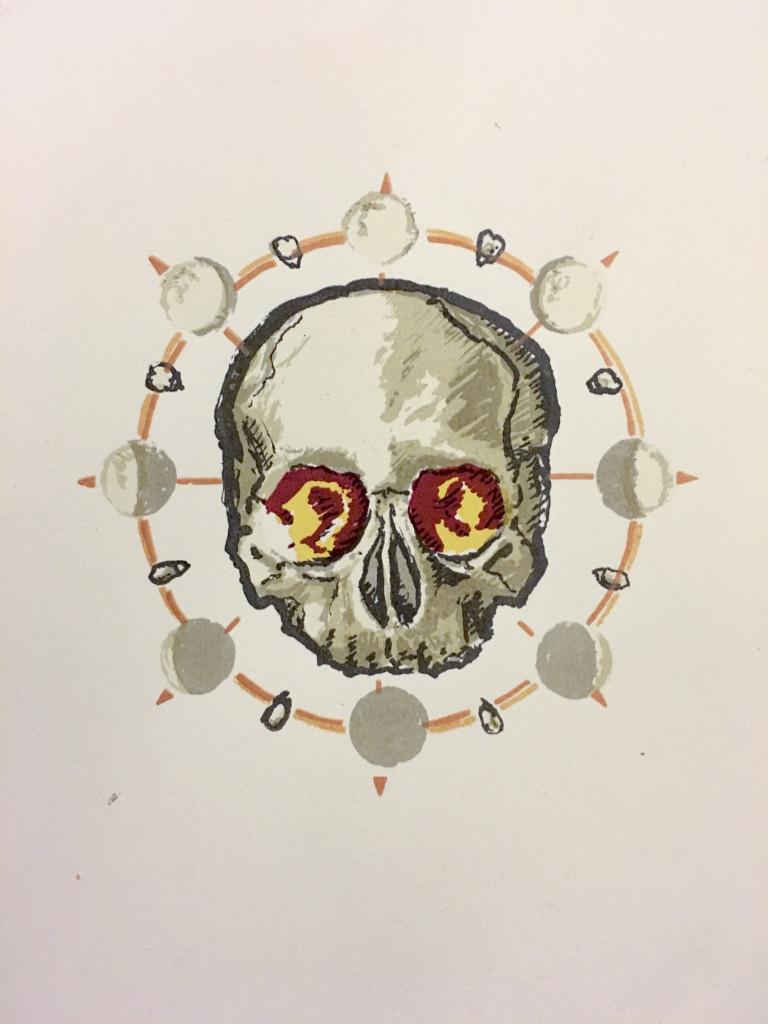 What kinds of art do you make?
I like to experiment with different techniques and mediums. Right now I'm working in the print studio as an assistant for Ruthann Godollei. As a result, I've been focusing on printmaking for the last year and a half.
What's your favorite kind of art to make?
I like drawing and doodling in my sketchbook. I create different characters or creatures and just put whatever I'm thinking onto paper. If I like what I've created, I can flip back to it and expand on it, whether by turning it into a print, a sculpture or some sort of graphic design.
What's your process when making art?
I often start with a doodle, work it into a more detailed drawing and then transfer it to a print. But sometimes I get too satisfied with what I've made in the intermediate process, and I'm afraid to change it. Also, I tend to overwork things in the beginning, rather than elaborate on them as they go. Sometimes this process creates pieces that I'm really happy with, but other times I get stuck on a certain step. I think of myself as a perfectionist. At times I can be overly deliberate in a way that restricts me.
What do you most enjoy about making art?
Making art is a good way to relieve stress because it acts as an escape from the external forces I can't control. I often make my favorite art at points when I'm under a lot of stress. I can get lost for a few hours or a few days creating something.
How are you involved in art at Mac?
I enjoy seeing what my peers are working on, but I'm not really involved in any of the art clubs at Mac. Art is something I'm always doing, but I keep my art close to me. Sometimes I feel it's too personal to share with people. I make a lot of cards and drawings to express myself that I only share with my friends. However, I feel involved in the community through the work I do in the print studio. I teach techniques to newer students, and working there has helped me become a better teacher.
What do you like about the print studio?
The print studio has become a place of refuge. It's a quiet space on campus that isn't usually filled up with people. There's a constant influx of creative energy from the students there. It's been a positive, inspiring experience because I'm exposed to people's different styles and techniques. As a result, I've learned about other students and their processes, which has helped influence my own art.
Did you study abroad?
Yes, I studied with the SACI program last spring in Florence, Italy. It was an absolutely wonderful experience. Almost all of my classes had to do with making or understanding art, so it was different than the liberal arts experience. There's never been a time at Macalester when I had a semester to completely focus on art.
How have your experiences in Florence influenced your art?
I took printmaking and illustration classes, which influenced my printmaking here at Mac. I also had the opportunity to take a jewelry-making course. Jewelry-making is something I've always been interested in, but it isn't offered at Mac. I really enjoyed learning how to do fine jewelry work, and I'm thinking about incorporating jewelry into my senior art project.
What was your most memorable experience in Florence?
One of my most positive memories was towards the end of my program. The school did a student show where they showcased work from different courses. You could see the complete variety of styles and techniques the students used. It was really nice to see so many different people creating so many different things. I would never diminish the arts program at Macalester, but there was something profound about being surrounded by a hundred people your age who were all creating something unique. There's less variety at Mac because the size of the department limits the variety of courses and mediums that can be taught.
Has being a classics major increased your appreciation of art?
I try to figure out how the two disciplines interact with each other, and this has sharpened my interest in both areas of study. When you look at art history, a lot of the art you're looking at was inspired by the cultures you study in classics. Throughout the history of art, styles and subjects are constantly referring back to classical antiquity. For example, the Renaissance was all about a return to the artistic mastery that people saw in the ancient Greeks and Romans.
What are your interests or hobbies besides art?
I like building legos. It's been a guilty pleasure of mine for as long as I can remember. When I'm feeling creatively blocked, I go build legos. Like art, it has a therapeutic effect. If I buy a set, I first follow the instructions because I feel it deserves to be built the way it was meant to be built. But then I just tear it apart and go from there. I picture the legos assembled in the way I want before I build them.
What advice would you give to someone thinking about majoring in studio art?
Do what you like, and like what you do. If there's something you want to focus on and explore, go for it, and don't hold yourself back. I was always interested in making jewelry, and I didn't get the opportunity to do it until I was abroad. I really wish I had taken the initiative to pursue it earlier. If there's something you really want to do, don't wait for it to find you.