If you love cake but are too embarrassed to eat it for breakfast, these pancakes are a guaranteed sweet tooth satisfier.
1. Good Day Cafe Bad Day Bar ($$) – 5410 Wayzata Blvd, Minneapolis – Distance from campus: 11.5 miles
Featured in the Food Network's "Best.Breakfast.Ever" special, this place will not disappoint. While it is located a little further away in Minneapolis, Good Day's warm atmosphere and decadent menu make it worth the ride. The vast menu has something for every type of eater, but it would be a bad decision to get anything other than pancakes … they are fantastic. They offer SEVEN types of pancakes, AND crepes, french toast and waffles, so be prepared for a sugar high. If you're in the mood to indulge, you must try the glazed donut batter pancakes. These sweet cakes are the definition of "foodgasm," and will melt in your mouth, causing you to fall in love instantly. That's what happened to me, at least. Priced at $7.95, they are a little more expensive than your average pancake, but they also taste a lot better than your average pancake. If these don't sound appetizing, that's okay, you can order the Walker Bros. signature apple souffle pancake, German oven pancake or the 49'er flapjacks. If you have a more simple palate, try the buttermilk, blueberry or sweet potato cakes. You can't go wrong here, unless you don't order the pancakes. If you have no soul and don't like pancakes, try the quiche.
2. Neighborhood Cafe ($) – 1570 Selby Ave, St Paul – Distance from campus: 0.6 miles
Located right in the neighborhood (haha), this place is quick, close, cheap and good. Apparently, their pancakes were voted the best in the Twin Cities, which is a pretty large honor for a pretty small joint. Their breakfast menu will not disappoint, especially if you order the cornbread pancakes. These cakes are creative, delicious and are sweet without being obnoxious. All pancakes can be ordered as a single, short stack or full stack, and can be accompanied by a variety of extra toppings for $1 each. Where the Neighborhood Cafe really shines is with their weekly pancake specials. While the cornbread and plain pancakes are for the more reserved eaters, the specialty pancakes will have you questioning everything you thought you knew about food. Some of my favorite specials have been red velvet cream cheese, lemon poppyseed, s'mores, cinnamon roll and cookie dough pancakes. They have all been great, every time. While the small cafe gets a bit crowded on weekend mornings, they offer breakfast all day and start to clear out around dinner time.
3. Grand View Grill ($$) – 1818 Grand Ave, St Paul – Distance from campus: 0.4 miles from campus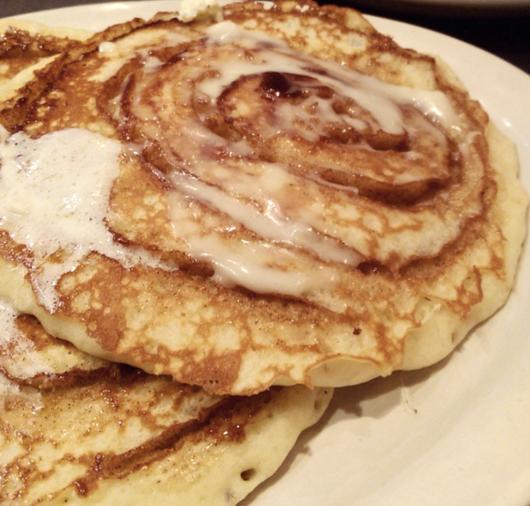 If you're looking for pancakes you can walk to, this is the place for you! While the outside of this bustling diner looks a little drab, the colorful food will make it up for it. I wandered in here one weekend and ordered the pineapple upside down cakes, and was very pleasantly surprised! These sweet cakes are grilled with pineapple and topped with housemade vanilla creme and cinnamon butter. For $5.95 you can get one cake, but you should just go ahead and order two for $8.50. If that doesn't sound good, embrace the nostalgia and try the chocolate chip cookie dough pancakes drenched in chocolate syrup. If your soul is too pure for either of these, try the old fashioned buttermilk pancakes plain or Zydeco style (blueberries, pecans and fresh bananas.) If you have accompanied your pancake-loving friend here but don't love pancakes, try the pesto caprese eggs benedict, it's great.