Delicious chocolate chip cookies: made with or without gluten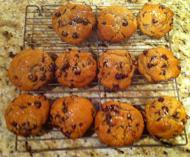 For the last few months, I've been debating the most worthy dish to be featured in my final column of the semester. More recently, I realized with great joy and amusement that the column would be published on my 21st birthday. With that in mind, I felt obligated to choose a sweet treat for special occasions. I'd already covered my favorite muffins, and I'd like to save chocolate cake for Valentine's Day weekend.
That left nothing but these cookies, which to be fair is a happy problem to have. Like many budding foodies, chocolate chip cookies were one of the very first things I learned to make. I've been through a few different recipes since then, but this is my favorite. These light, airy, yet pleasantly sweet cookies are especially great when they are still hot out of the oven. I'll move on now before I start making myself salivate with descriptors.
I came across this particular recipe in the first place because you can easily make it gluten-free. Back when I lived on Macalester's greatest dorm floor (Turck 4 in case you didn't guess) I had the best across-the-hall neighbors a first-year boy could ask for. When I was home over spring break, I decided to bring back a big bag of cookies for each neighbor. Since one of them is gluten-free, I asked Google to work me some magic. It came through in the clutch with this recipe.
Xanthan gum is a powdered sugar secreted by a certain species of bacteria, whose Latin name I certainly cannot pronounce, even on paper. It's often used in gluten-free baking as a thickening agent, replacing the usual function of gluten. If you use gluten-free flour but forget to add xanthan gum, you will end up with cookies that are paper thin, burnt and impossible to scrape off the baking tray (I unfortunately speak from experience). It's expensive and often hard to find, so I always omit it and use regular flour unless I am baking for at least one gluten-free friend. At my family's grocery store outside Chicago, you can get xanthan gum in bags. At other stores (including Rainbow on University Ave) you might find gluten-free flour with xanthan gum already mixed in.
Even if you don't make me cookies for my birthday, I hope you can take this recipe home after finals and use it to brighten the holiday season for your family and friends. They'll love you for it! It's been a great pleasure sharing a piece of my kitchen with you each week. I'm looking forward to trying some new recipes over J-Term, so that Gastronomi-Klonowski can return full force in the Spring! See you then, best of luck with your exams and projects, and as always, Bon Appetit.