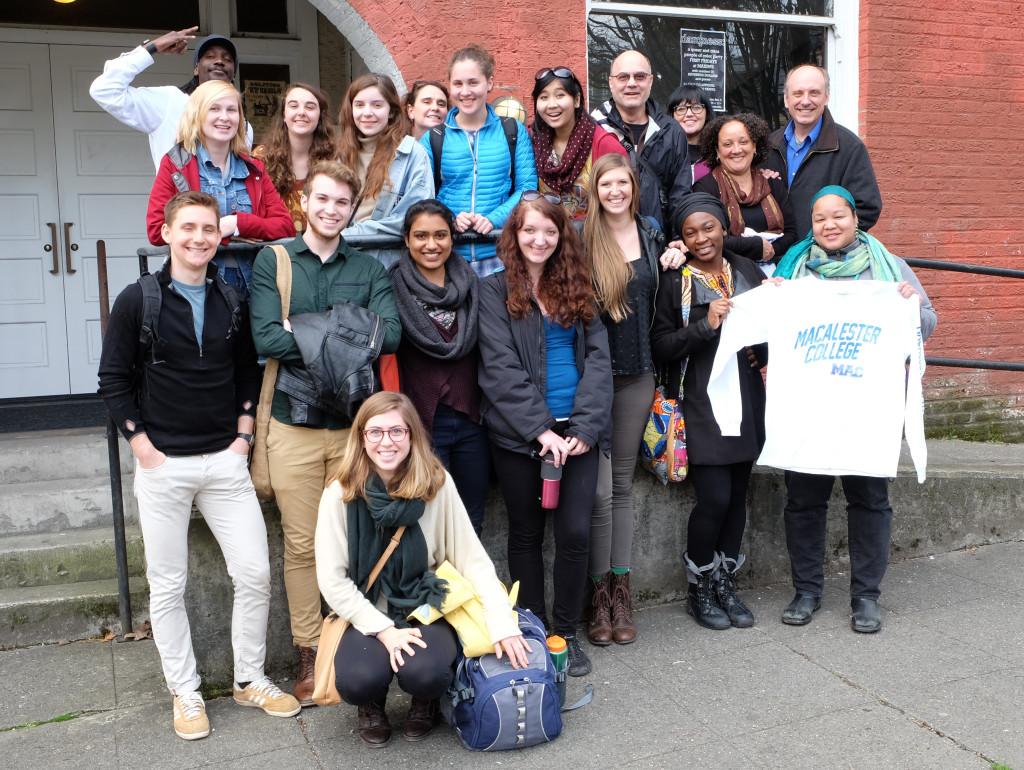 This fall, for the second year in a row, Macalester students were able to register for "Engaging in the Twin Cities and Seattle," an immersive learning course which touches upon contemporary urban issues and challenges that cities face in the 21st century.
The two-credit course, which is cross-listed in the Geography and American Studies departments, involves a week-long trip to Seattle.
Paul Schadewald, the instructor for the course and the Associate Director of the Civic Engagement Center, said that the course grew out of the Mellon grant that the College received. This type of immersive learning environment had already been successful for faculty and staff trainings held at different cities throughout the country. However, with the grant came an expectation that Macalester would eventually involve students with an immersive learning experience.
"It was really experimental," Schadewald said. "We decided to make it two credits because we could only announce the class really late."
Despite the late announcement, many students applied. The final cohort was made up of four faculty and staff members and 12 students, many of whom were not Geography or American Studies majors.
"We picked students who could articulate a reason for why their own education would benefit from having this experience both in the classroom and in Seattle," Schadewald said. "So it wasn't only limited to Geography students."
Lazareena Thaveethu '16, an economics major interested in urban gardening and software development, took the course and went on the trip to Seattle. There, she met a Mac alum who helped procure her an internship, where she developed an apple cider recommendation mobile app.
"He [the Mac alum] said 'hey, come to Seattle and develop this mobile app for a cider recommendation system,'" Thaveethu said. "So I ended up going to Seattle and I didn't really know much about ciders at that point. I thought it would be really cool for me to build a mobile app because I was working with software. I had no clue what I was getting myself into."
"It turned out to be such an awesome internship," Thaveethu continued. "I learned so much from him. I got to build this whole app and test it and have people use it. I went to a tasting room in Seattle where they had cider tasting events, and had random people just use the app and have them respond to what I created. So that was really cool."
The process of creating the app, which she describes as a "Yelp for ciders," also helped Thaveethu decide that she wants to pursue software development after graduation.
Schadewald explained that one of the reasons behind the decision to focus the class around Seattle was that there is a strong alumni base there.
"The alumni are so enthusiastic, both about sharing their expertise and being co-educators," Schadewald said. "They really help to think about what is it like after Macalester to work in a global city like Seattle."
Seattle was also a good case study for the class because it presents urban issues that relate to issues in the Twin Cities, which allows students to engage in a compare-and-contrast of both metro areas.
Schadewald explained that, as the course looks to improve upon last year's experience, this parallel between the cities is at the core of what he wants students to learn about.
"We are kind of in the process right now of thinking about how to improve things," Schadewald said. "We are making it explicit that this isn't 'Seattle studies.' That would be a pretty limited kind of thing. It's really about the broader issues out there in the world. The Twin Cities are one place to think about these broader issues, but so is Seattle. The power in that is that there are some things that are evident here in the Twin Cities, that we can see and experience and then we can see how these things are also playing out in Seattle. There are some things that are really noticeable in Seattle, that are only discernable here."
Shadewald specifically talked about Seattle as a landscape of innovation and startups, citing companies who have made Seattle their home, such as Microsoft and Amazon. "When you come back to the Twin Cities, then you can begin to say a little more: 'Is this emerging here?', 'Is it less developed?', 'If it is less developed then why?'" Shadewald said.
"One thing we studied was marginalization of [the] Native American populations," said Stephanie Shimota '17, another student on the trip. "It was kinda cool to compare that to the Twin Cities, because I think we also have a high Native American population compared to other metro areas so it was cool to see the different ways that plays out. Both groups were marginalized, but it was interesting to see how their presence was shown in different ways in each city."
Shimota, who had not studied urban studies prior to taking this class, says she "really enjoyed" her experience.
"I walked away with a new way of looking at the world, I think, and a whole bunch of new bits of knowledge and ways of understanding, and definitely new relationships and contacts," Shimota said.