Gastronomi Klonowski: Never fear the cold weather, you can still make chicken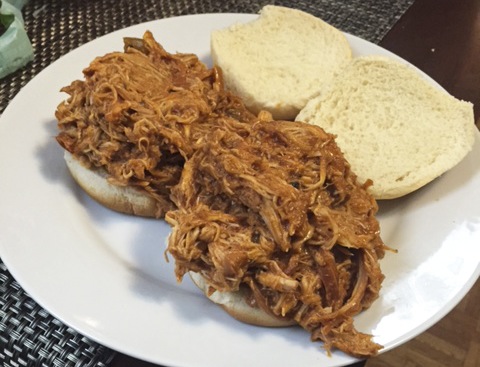 The leaves have been dropping off campus trees for weeks now. Daily temperatures at Mac have grudgingly followed suit, falling to the point where anything above 50 is a rare blessing. Older students and native Minnesotans know it'll drop much further before it begins to rise again. The last gasps of summer have been replaced by friendly wagers on the first date we'll walk out of our homes to see a blanket of white covering the ground.
To many, the onset of winter means a long hiatus on social summer barbecues. Let's face it—no one wants to be outside minding the grill on an evening so cold you've got to hold your fingers over the flame just to keep the neurons pumping. By conventional logic, it's time to put away the grill for the season and bid farewell to barbecues until the spring. To that I say: who needs a grill to have a barbecue?
Fear not, carnivores. With this recipe in your repertoire, and a slow cooker in the closet, you and your lucky friends can enjoy the fabulous flavors of barbecue all winter long. Besides giving you a (quite literal) taste of summer, it's one of the easiest dinners you'll ever make, requiring just five ingredients, one bowl and about 10 minutes of prep. Like a few of the dishes I've featured recently, it's also very customizable. The recipe below is meant to serve as a template—feel free to add whatever vegetables or other ingredients you think would go well.
The story of this recipe goes back before college, when my dad would make it for the whole family. In those days my brother, my mom and I all had a significant commute to school and work, and depending on our schedules there were some evenings where we all came home at significantly different times. Pulled chicken in the slow cooker allowed everyone to have an easy, tasty and (best of all) hot meal right when they walked in the door, regardless of what time they arrived.
These same principles make the slow cooker an ideal tool for a student chef. If you have the means, I highly recommend picking one up at Target or (if you can find it) at a thrift shop. Just throw everything in before you leave for class in the morning and you'll come home to an instant home-cooked meal before you start your homework or go to that evening's org meeting. It's easy, it's fun, and the convenience can't be beat! As always, bon appetit.
Slow Cooker Pulled Chicken
Ingredients
2 lbs skinless boneless chicken breast
1 cup of your favorite BBQ sauce
¼ cup zesty italian dressing
¼ cup brown sugar
1 tbsp Worcestershire sauce
Vegetables of your choice! Onions, celery and garlic work well
Hamburger buns, to serve
Directions
Season chicken as desired, place breasts whole in slow cooker
Mix all other ingredients together in a bowl. Pour into slow cooker over the chicken.
Set slow cooker on low for 6-8 hours or high for 4-5 hours.
When it's done, lift the chicken out of the slow cooker and place on a cutting board and get two forks. Use one fork to hold the chicken in place, and the other to shred it.
Return chicken to slow cooker for 10-15 minutes so it can absorb sauce.
Serve on toasted hamburger buns. Top with coleslaw or other condiments as desired!