On Thursday, Oct. 22, members of Macalester's Men's and Women's Swim teams, Women's Water Polo team and Men's Club Water Polo team received an email notifying them that Coach Jennie Charlesworth had been fired.
For many of the athletes and students who interacted with Charlesworth this termination came as a shock.
"Certainly when [news of Charlesworth's firing] came out the first outreach was just to kind of have conversations with our students," Athletic Director Kim Chandler said. "The timing was difficult for everyone and so it really was about trying to get to our students and have conversations and acknowledge how they were feeling. There were a number of emotions going on and we were trying to just acknowledge that and hear that."
Following the email, which was sent by Chandler, the athletic department held a meeting on Monday, Oct. 26 with the swim teams, club and varsity water polo teams and their coaches to clarify the situation and discuss the future of the programs.
Due to confidentiality and privacy constraints that come with all personnel issues, per Macalester policy, many of the athletes' questions were not answered.
"It's quite complicated because there aren't a lot of answers given to us," Ben Kromash '16, captain of both the Men's Club Water Polo and Men's Swim team, said. "HR doesn't let us get answers, that's what we hear from the Athletic department, so it kind of lets rumors go around."
For the Men's Club Water Polo team, the ambiguity surrounding what happened to their head coach had extra impact. The following weekend, they hosted the Men's Division III Club Championships.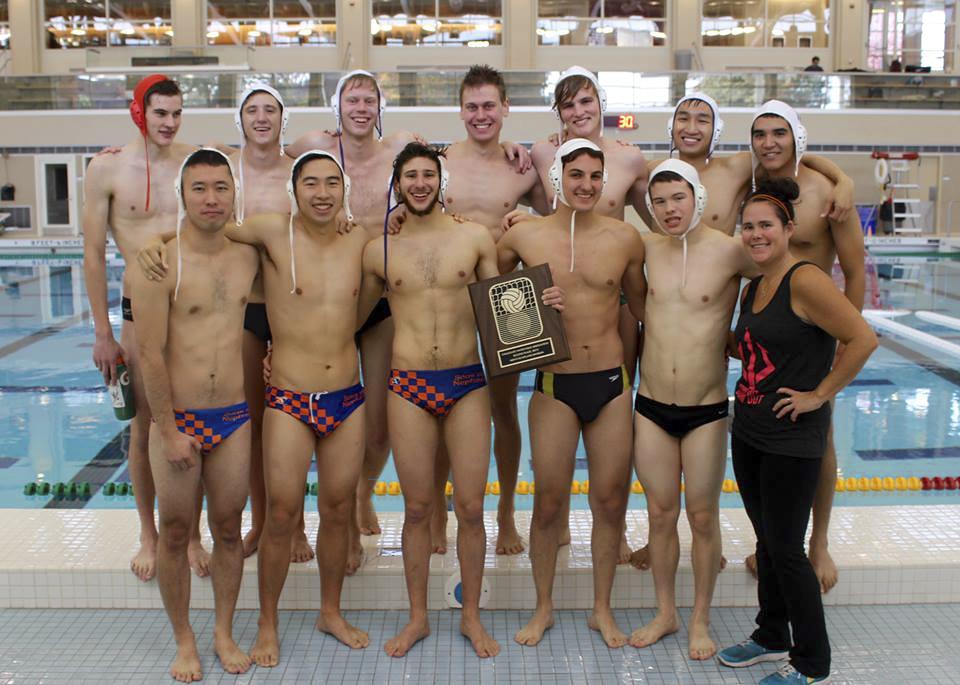 "The immediate impact was the Men's National Water Polo tournament," Chandler said. "I think the big thing is that we poured a lot of energy and time in terms of making sure that we could continue to give the young men in that program a fun experience, given the fact that we did have a transition."
The team placed eighth out of the nine teams in the Championships, under the temporary coaching of Bret Jackson, the Women's Water Polo Volunteer Assistant Coach and mathematics, statistics and computer science professor.
"I would say that we could not have done it without [the team's] support their support for one another, I think most critically, their support for their program and their commitment to Macalester to be able to represent them in the best way that they could under the circumstances, and they were phenomenal," Chandler said.
Though a temporary coach was found for Men's Water Polo, Kromash said it will be difficult to find a replacement for Charlesworth.
"For club water polo it's going to be very challenging in the future because Jennie had such a large role and we are graduating a lot of seniors," Kromash said. "That's going to put a lot of pressure on the team. The team has been built up from the ground in the past five or six years. Before I came to Mac, the Club Water Polo team consistently came in like seventh place in our conference and we've been in the finals game and come in second place for the last four years, which is substantial improvement. So, it's definitely going to be a big loss in water polo and in swimming."
A petition of support, not change
Even where Charlesworth was not a head coach, she left a large impact — so much so that on Oct. 23, the day following Charlesworth firing, her former swimmers created a petition on Change.org called "In Support of Jennie Charlesworth."
Hannah Currens '16 has been a swimmer and water polo player under Charlesworth's coaching for her entire time at Macalester. She discussed how the petition grew from a desire to give Charlesworth a chance at a legacy other than her firing.
"[My teammates and I] knew that Jennie was so valuable to our community and just to our lives, as cheesy as that sounds," Currens said. "We needed to do some kind of show of support so that Jennie's legacy in Macalester's athletics wasn't just like, 'Oh yeah, that one coach that got fired and no one knows why'. We wanted the reason people remember Jennie to be that she was an incredible coach and an incredible mentor and an incredible friend and just like a really good person."
"And so that was the petition that we started on Change.org." Currens said. "One of the current water polo captains set it up and we've been sharing it. It's not a petition to get Jennie back, because that's not feasible, but it's to show we care about her and we really wanted to establish that atmosphere within our team, going into our respective meetings."
The petition, currently with 264 signatures, became popular for alumni to show their support for Charlesworth as well. Nathan Schachtman '15 signed the petition as a way to express Charlesworth's importance to him after his time at Macalester.
"Even after I graduated, Jennie kept me included and connected to the Macalester community and was willing to provide valuable advice on anything from water polo to life," Schachtman said.
In his post to the petition website, Schachtman said, "As a coach, [Charlesworth] helped students like [me] receive a balanced education by instilling us with a sense of teamwork, leadership and inclusivity, which we would not have learned elsewhere. Although her countless contributions to the Macalester community consistently went unrecognized by students and administrators, Jennie continued to make personal sacrifices for the sake of the school and its students."
Speculations abound, but no conclusive answers
A common speculation about the impetus for Charlesworth's firing was that it was the result of her noncompliance with the medical clearance process for one of the men's water polo athletes.
"So, our understanding is that there was a single event, in addition to long-standing things leading up to this, that we don't really know about," Kromash said. "But the single event was that a swimmer wasn't cleared to swim for varsity and then played water polo, which is a club sport. Next thing we know is that Jennie's fired, when it seems like, for a varsity coach, there is no jurisdiction in club. That's where it seems like there is a contradiction, and thus making it unjust."
Beyond questions about the specifics, some students have concerns about how accurately the administration judged their needs and interests.
"I was very frustrated because they kept telling us that they fired Jennie because it was in the best interest and towards the well-being of students at Macalester," Currens said. "Which was very frustrating, because they're making decisions, and I don't necessarily want to stop them from making decisions, but come to our meets, know my name. I've been a two-sport athlete for three years, I was captain, I know people in the fitness center, I know trainers because I have injuries. Get to know me and know my teammates and what we care about. That's not something that felt like it was coming across in all of our interactions with the administration since the news two weeks ago."
"One thing for sure, me personally, as a gay athlete, it's very rare that I have coaches that I can relate to or connect with," Kromash said. "Jennie was the only coach I've ever had in four years of high school competition and now four years at Macalester who I've ever really felt comfortable with and who I felt supported by on a personal level, both in the pool and as a person. Losing that without any consideration for our personal sake is hurtful."
While many students felt their interests weren't accounted for, Chandler reiterated Macalester's commitment to ensuring every student's health and safety.
"At the end of the day, I think that we would all say that the one paramount value at Macalester is student safety, health and wellbeing," Chandler said. "Regardless of what your job is here, what your title is, so whether it's in residence halls, whether it's in Café Mac, whether it's in a classroom, whether it's in the Leonard Center within any context of its programs, theater or music, that we all have this one value that drives us above all of them and that is to make sure that the interests of students at all times, including their safety and well-being, is paramount to everything that we do."
However, second to safety, the athletic department's focus is maintaining successful programs.
"The thing that we've done now is to try and get some of the the pre-season non-traditional practices [for the Women's Water Polo team] covered, we've hired two people to cover those non-traditional practices. One is Sophia Shaw," Chandler said. "She has stepped back in to kind of lead the program and meet other needs through December 18th. The other person who will join us and help us with Sophia is Bret Jackson, he helped us over the weekend with the Men's club … The nice part was that we did have coaches who had been part of the programs and knew the students. So Bret is also going to step back in and help with the women's non-traditional practices."
Navigating new waters
The athletic department is also taking steps to find a permanent replacement for Charlesworth.
"The search is going to be a national search and we are going to push out on that in the next five days and there's lots of things to get in order for that," Chandler said. "But I think that we've been encouraged because there's been a lot of folks that have expressed interest in the position, which I think again is a really terrific sign about how people view Macalester. The timing again is difficult so we don't know how the application pool is going to come to fruition."
Student athletes have expressed concern over whether a single person can take over Charlesworth's multiple roles.
"If they hire one person, then the person replacing Jennie would have to be a polo coach, a swimming coach, able to coordinate lifeguards, swimming lessons," Kendall Van Sistine '16, captain of the women's swim team, said. "There are a lot of different jobs and she ended up being the perfect fit for those job necessities. I don't know if there is someone out there who is as knowledgeable about polo and swimming and also willing to coordinate the entire aquatics department."
Whether or not the search ends successfully, students have said they will continue to remember the impact their former coach has had on their Macalester experience.
Currens said she is determined to swim for Charlesworth this season, as a way to honor her legacy at Macalester.
"I think one really admirable thing that Jennie has left behind is the aquatics program," Currens said. "We're all kind of united in the fact that we don't really fit into the rest of athletics. We're all tied together by the pool and effectively by Jennie. She organized holiday parties for us, she kept us as a unit. So we will go on supporting each other not as a singular team, but as a unit and a program. And I think that's the most we can do."
Interview with a student implicated in Charlesworth's firing
The Mac Weekly met with the Men's Club Water Polo player who confirmed that he was the player to have issues with medical clearance in the week prior to the firing of Coach Jennie Charlesworth. The editorial staff agreed to grant anonymity to protect the student's physical and mental health.
For the student, a practice brought a familiar discomfort. He'd experienced the faintness before, but never inside the pool. So he did what all varsity athletes are instructed to do with medical concerns: he went to the Athletic Trainer Paula Natvig.
"I went to the trainer the day that I felt weird," the student said. "They were kind of concerned, but they let me walk to dinner on my own and they just told me to come back the next day. And the next day, they weren't that concerned."
Natvig said visits like these are standard for athletic trainers.
"If a student comes to us with pre-existing injuries or illnesses, we evaluate and treat these issues before the student-athlete can practice or compete," Natvig said. "The student-athlete will get cleared to return to participation when all evaluations, athletic training treatments and physical rehab have been completed and the student-athlete is deemed safe by the staff athletic trainers and team physician."
The student did not have this reevaluation the Friday before the Grinnell water polo invitationals. Wanting permission to play, the student approached Charlesworth.
"Jennie told me that it was club, I didn't have to listen to the trainers for club, I could play if I felt like I was up to it," the student said. "And, of course I felt like I was, so I played."
The following Monday, the student returned for reevaluation. He let the trainers know that he had competed with no problems. The following Thursday, Charlesworth was fired.
"[The athletic department] didn't even bother to hear what I had to say because [the trainer] could have exaggerated things," the student said. "Because when I showed up the next day, she didn't look that concerned and she didn't take any pulse or anything. I didn't feel like it was that big a deal."
TMW attempted to reach out to Charlesworth, but was unable to get in contact for her comments.