New Sports Information Director: Matt McLagan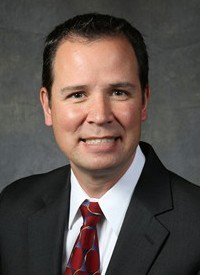 Matt McLagan is Macalester's new Sports Information Director as of August 2015. After being here for two months, McLagan feels good about the new position. "It's been great. I love it here. I fit here, and I learn more about Macalester every day," McLagan said.
As Director of Sports Information McLagan is behind much of what you see when you go to the Mac athletics website: stats, some pictures and video footage, game recaps, news stories, social media and more. To do this, McLagan attends all home athletic events and gathers information about teams and athletes while there. He is also able to document away competitions by getting information from coaches and other schools' directors of sports information.
Despite the fact that McLagan is always at games, his job is a lot of behind-the-scenes work. "That's the nature of this position. They know that it's there, they go to the website and see the information, but the position is not in the public eye," McLagan said. Before last year, Andy Johnson had been the director of sports information for over 20 years. Johnson generally stayed in the background, but McLagan likes people and hopes to change that about the position.
Although he's new to Macalester, Macalester isn't new to him. McLagan grew up in West St. Paul and competed at the state track and field meet on Mac's campus in high school. He attended Concordia College in Moorhead, MN and the University of Minnesota for his undergraduate degree in English. He then attended the University of St. Thomas for his teaching license with a goal teaching of English and coaching soccer.
Shortly thereafter, McLagan moved to Virginia with his wife where he worked in corporate communications for five years. While living in Richmond, VA a position as Director of Sports Information at Virginia Commonwealth University was available and McLagan was fortunate to get the job and with it his start in the field. "It's not an easy field to get into because there aren't a lot of jobs," McLagan said. McLagan has worked at Director of Sports Information at Caldwell University in New Jersey for the past 11 years.
After being away from the midwest for 21 years, McLagan is happy to be back. "My family and I have always been looking for opportunities to move back and when I saw the position at Macalester open I jumped at it. I've always had respect and admiration for Macalaster and everything it stands for."
Almost two months after starting, McLagan has a few goals to further the promotion of Mac athletics. Organizing and updating records is high on the list. It's important for records and rankings to be made available and navigable, so McLagan has begun to evaluate what Macalester has so far and to compile more information. McLagan would also like to get Mac athletes in the newspapers and on television more. "It's a big challenge in this market but there are people who are open to hearing our stories."