The first two weeks of this column have been focused on dinners that you can make for you and your friends. But sometimes, all you need is a versatile snack! Enter this recipe which you can whip up in 15 minutes and have on hand for a week.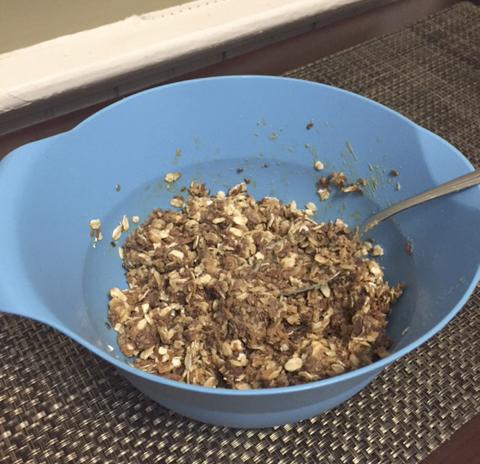 I mentioned in the column last week that I just spent my first summer in the Cities working in Mac's Admissions office. But as much as I loved working with visitors during the week, my favorite moments of the summer came over the weekends, whizzing down Minnesota's roads astride my prized two-wheeled steed. Friends know that my obsession with the sport of cycling knows no bounds, from giving my bike a full wash every few weeks to joining a fantasy Tour de France league in July (which was awesome, until Tejay van Garderen dropped out of the race and ended my chances to win). I have yet to meet a Mac friend who can geek out over cycling with me, but if you'd like to volunteer as tribute, my email is at the bottom of this column. I'm sure we will be instant best friends.
As I started doing longer and longer bike rides this summer, I began searching through recipes for some sort of light, energy-packed snack that I could take with me on the road. This is what I settled on, based on healthy ingredients, ease of preparation, and most importantly, how delicious it is. It didn't make much sense to take food with me if I didn't want to eat it while I was out adventuring.
I use this recipe mainly for cycling, but the science behind it makes it perfect for any sort of workout. The principal ingredients (like oats, flaxseed and peanut butter) are low on the glycemic index, meaning they release a slow, gradual stream of energy (in the form of glucose) for hours after you eat them.
It even makes a great homework snack if you've got a long project to work on, or you can munch on some in class for a pick-me-up on a groggy Monday. It's so good that I usually fight the urge to take a bite every time I pass the fridge, but if you have better restraint than I do you can use this recipe to fuel whatever activities you're most passionate about. Let me know what you use it for! As always, Bon Appetit!
INGREDIENTS:
1 cup dry oats
2/3 cup unsweetened coconut flakes
1/2 cup peanut butter
1/2 cup ground flaxseed or wheat germ
1/2 cup chocolate chips
1/3 cup honey
1 teaspoon vanilla
Directions
Heat oven to 350 degrees. Spread coconut in a single, thin layer on a baking tray and toast in the oven for 8 minutes. When it comes out, it'll be golden brown and smell a bit like roasting coffee!
While the coconut is toasting, combine everything else in a medium mixing bowl. Dump in the coconut when it's done and mix well with a spoon. Chill granola in the fridge for at least 30 minutes before eating. Store in the fridge when you're not eating it so it stays easily scoop-able and delicious!