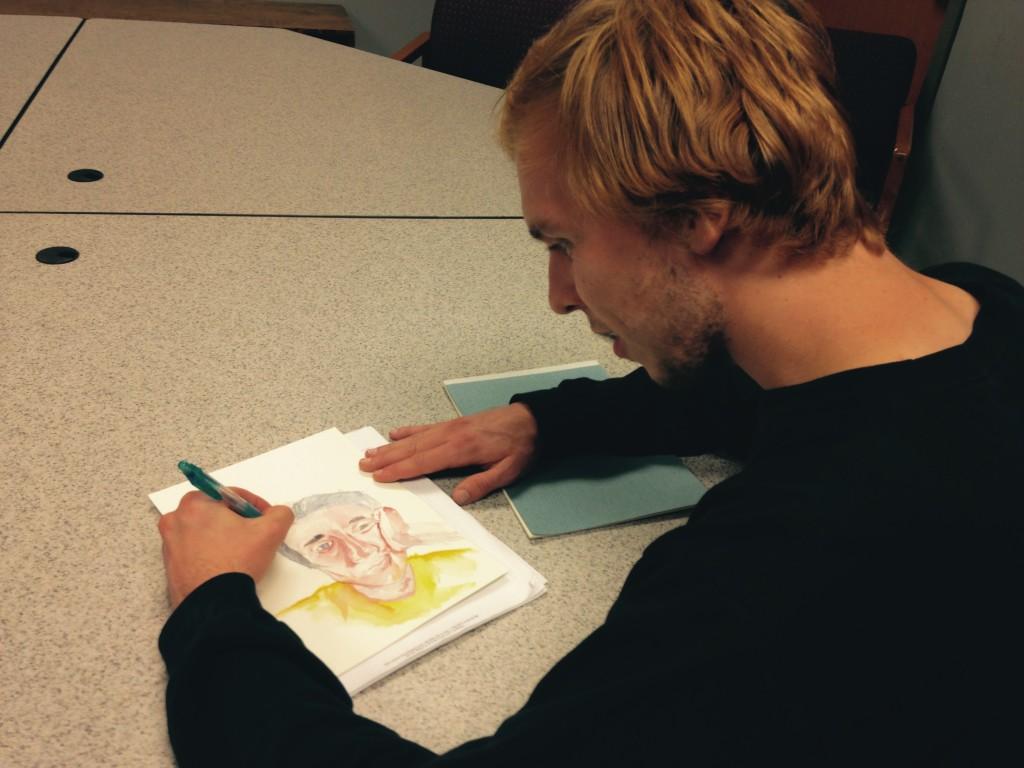 Every week, The Mac Weekly sits down with a senior arts major. This week we caught up with art history and Japanese double major Andy Kaesermann. He hails from Manitowoc, Wisconsin. We talked full-body dance machines, haircuts, Japanese pop culture and more.
TMW: What kinds of art do you do?
AK: Painting is my forte and I primarily like to do watercolors. I started in acrylic and then in high school I grew to like watercolor because it's more permanent. Other forms of painting, like oil, take longer to dry, giving you more leeway to make mistakes. When you do something in watercolor you have to really think before you paint it. I think the permanency of watercolor makes me more thoroughly engage myself with what I am painting.
How did you first get interested in art?
My mom makes art as a hobby. She mostly paints portraits, but also does botanical drawings. I saw her development as an artist and that made me want to become one too and find my own style. I couldn't draw hands as a child and no matter how many times I asked my mom to do them for me, she always told me I needed to practice. So I did.
How are you involved in art at Mac or elsewhere?
I like to go to the drawing co-op. Every Thursday, Art Alliance brings a live model so people can practice figure drawing. I also have a blog that I just recently started where I write about other artists, primarily Japanese artists, and their work. If I go to an art show, I'll write a review of it.
What's your process when you make art?
I think about what I'm making and what the purpose of making it is. I think about what media I've been looking at recently and what's really stuck out in my mind. What I make is sort of like the conglomerate of everything that's around me. I print out works of art that I want to draw inspiration from. I try to infuse myself with what other artists are doing and what techniques they're using.
Did you study abroad?
I studied abroad in Kyoto last fall. I had been to Japan two times before in high school and I went there again last summer. When studying abroad, I worked at the Kyoto Art Center with a contemporary dancer doing some translation work. I also worked monitoring a gallery. Kyoto is often considered the cultural capital of Japan. There's a lot of national treasures there. Seeing the big name items of Japanese art history in person instead of in a textbook was really moving. I saw so much wonderful traditional art and also some contemporary art that uses traditional practices.
What was your most memorable experience in Japan?
In Japan there's a lot of game centers where they have various game machines like Dance Dance Revolution. I was at one in Osaka and it had a full-body dance machine. I gave it a try and there was a huge crowd around me with everyone from businessmen to school kids watching me dance and cheering me on.
Has Japanese culture influenced your art?
Definitely. There's been a lot of good ink and watercolor painters throughout Japanese history. The aesthetic style of older Japanese artists is something that can still be seen in contemporary art. Much of the contemporary art that I draw inspiration from was inspired by older Japanese artists. Also, I'm pretty invested in the Japanese music scene, so I draw a lot of inspiration from music videos. I'm pretty into the Japanese fashion scene as well. Recently, I've been looking at Japanese fashion magazines for inspiration.
Are you involved in anything else at Mac?
I'm part of the RHA, Residence Hall Association. RHA acts as a middleman between students and the administration and tries to better life on campus. I also just joined DJ club and I'm involved in Asian Pacific Awareness Month.
What are your interests or hobbies besides art?
I watch television quite a bit and I've been trying to read Japanese magazines. I also started gardening a little bit, mostly flowers, and I like to play tennis on the weekends.
Have any of these hobbies influenced your art?
Television has influenced me for a long time. The sheer variety in aesthetic quality between shows is something that I always consider when I watch them. I watch a lot of cartoons, from both America and Japan. I try to watch shows that are stylistically unique and through watching them I get ideas for my own artistic style.
What is your fondest memory from your time at Macalester?
Last year I had just come back from study abroad and my hair was pretty long. I've never been to a barber; usually my grandmother cuts my hair. One day, I realized my hair was way too long and sticking out everywhere. Since my grandmother wasn't there to cut it, I chopped a lot of my hair off in the middle of the night and then ran to my housemates to ask if it looked okay. They helped me straighten it out so it wasn't lopsided. The rashness of the experience was very college-esque.
What is some advice you would give to someone thinking about majoring in art history?
My best advice is to take a class with Kari Shepherdson-Scott, who specializes in Japanese art, because she is really passionate about what she does and makes you love learning about art history. Listening to her made me realize how important art history is.