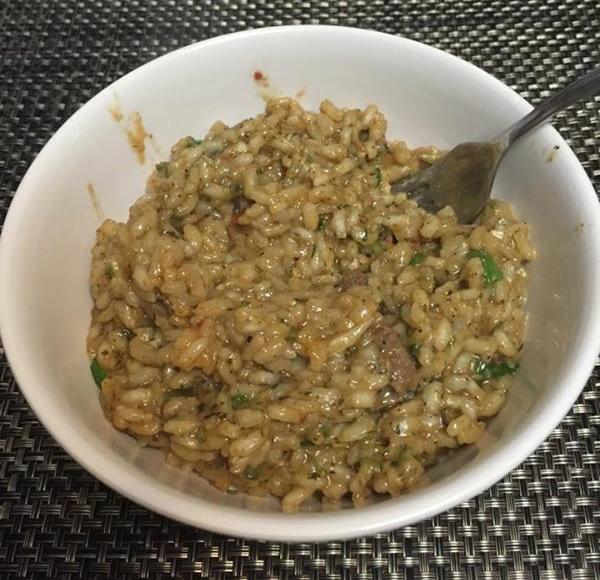 Sometimes I'm amazed at the connections you can make through summer jobs, and in this case I'm not talking about professional connections. Those who know a little about me know that one of my biggest joys on campus is working in the Admissions office. I get to interact with Macalester's next generation during every shift and the community of colleagues is quite superb, ranging from Joe Klein '16, who kindly edits this column, to Ben Kaufman '16, who serves as our office meteorologist. In fact, I love working in Weyerhaeuser so much that I decided not to leave this summer, and instead kept working in Admissions.
As it turned out, I'm darn lucky I stayed in St. Paul this summer, because I never would have come across this gem of a recipe. During my lunch break one day, I happened upon a colorful, yet very out-of-place looking Italian cookbook on a shelf between tour guide comment cards and admissions postcards. Ben later told me it had been there as long as he'd been working in admissions, a whopping three years! I had just recently moved into my first off-campus home, so naturally I had to thumb through it and see if there was anything I could make. A certain beefy picture caught my eye, and the rest is delicious history.
This recipe, like all the other risottos in the mysterious cookbook, uses arborio rice, which is grown in northern Italy and differs from traditional white rice in both appearance and taste. The grains are very short — almost round — and they have a soft, creamy flavor to them. Although usually imported, it's easy to find and cheap enough to fit a college budget. I buy mine, along with all my other groceries, at Rainbow Foods (Snelling and University), where it's sold in bags by the pound.
This is an ideal dinner-party recipe which can be easily doubled if you're cooking for a crowd. Like last week's jambalaya, this is a dish I've prepared for Macalester's meal-sharing program, NÜDL. Of my guests that night, I'd met only one before, but we were able to laugh and bond over commentary on how spicy the risotto was. I'm a devotee of hot food, but admittedly this stuff is rather potent and not for the faint of heart. Luckily there are several heat-contributing ingredients (chili sauce, chili powder and serrano peppers) that you can adjust up or down according to personal tastes.
Since the dish is somewhat lacking in the veggie department, one of my guests suggested adding broccoli to complement the beef and complete the classic stir-fry combo. I think I just might try it next time! You of course are also welcome to make the recipe your own in any way you see fit, provided you let me know how it turns out! Bon appétit!
Sweet and Spicy Beef Risotto
Ingredients
1 quart beef stock
4 tablespoons butter
1 tablespoon olive oil
½ pound lean beef, cut into thin strips
2 cloves garlic, minced
2 teaspoons fresh ginger root, minced
1 teaspoon chili powder
1 tablespoon soy sauce
1 teaspoon chili sauce (sriracha works well!)
2 tablespoons honey
14 oz (1 ¾ cups) arborio rice
2 fresh serrano peppers, diced
4 green onions, thinly sliced
4 tablespoons fresh basil (or 2 ½ tablespoons dry)
Directions
Bring stock to a constant simmer in saucepan over medium heat.
Meanwhile, heat oil and melt butter in a separate (large) pot over medium heat. Add beef strips and cook, stirring occasionally, until sealed.
Stir in garlic, ginger, chili powder, chili sauce, soy sauce and honey and cook briefly. Dump in dry rice. Cook and stir about 2 min until rice is coated with butter.
Add one ladleful of simmered stock to rice pot. Stir and cook until absorbed. Repeat until you have added half the stock, then stir in serranos and pepper to taste.
Continue adding stock, one ladleful at a time and cooking until absorbed until all the stock is gone. This process will take a while, but be patient with it. By the end, you want the dish to be thick, but not too sticky.

Stir in green onions and basil immediately before serving, and serve in a warm bowl.

Makes four servings. Allow one hour for preparation.