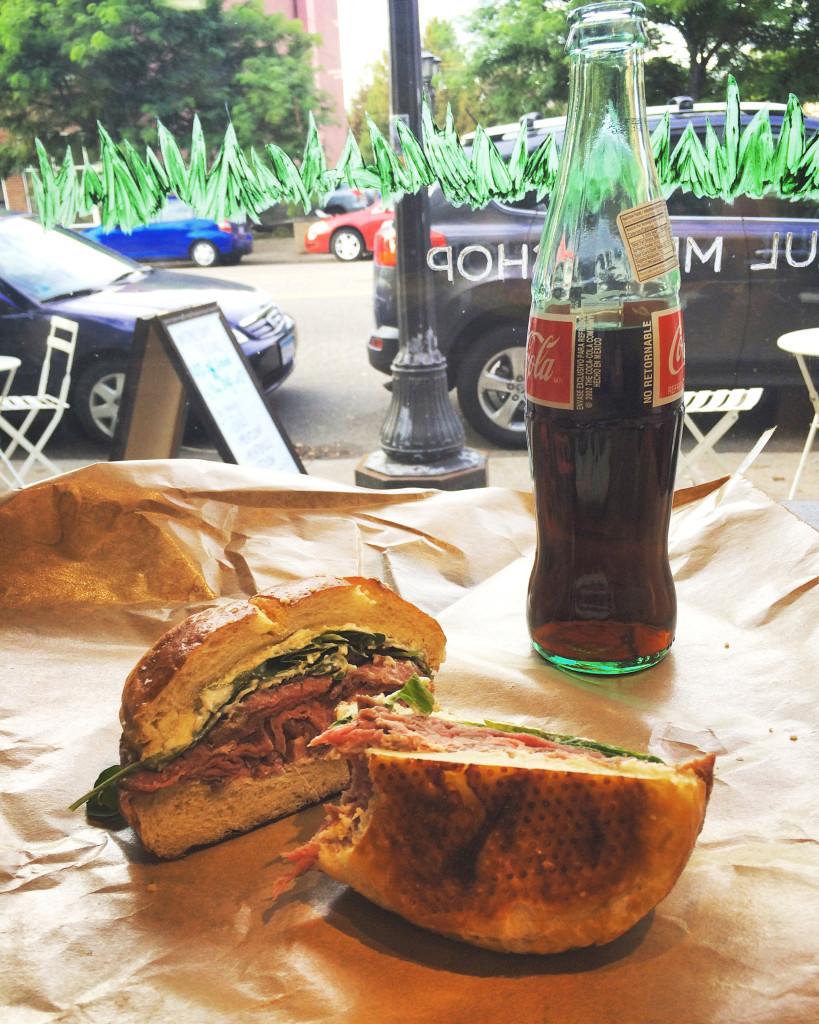 WARNING: this content may not be suitable for all eaters and diners. If you are a raw vegan, regular vegan, vegetarian, pescatarian, or a flexitarian, reader discretion is advised.
… because the St. Paul Meat Shop is open for business.
There's something for every meat-eater here. At 1674 Grand Avenue you can find anything from ham hock, to a jamaican meat pie, and from turkey club to pork liver mousse.
Their featured item is their pastrami sandwich on rye with whole grain mustard. But vegetarian options are available too, such as a seasonal apple & English cheddar sandwich and a grilled oyster mushroom sandwich on the menu that are killer. There are various soups and salads that are also vegetarian.
Benjamin Roberts is the manager-in-chief of the St. Paul Meat Shop. He also runs the Cheese Shop up the street and France 44's Cheese Shop in Minneapolis. Roberts said he has wanted to open up a meat shop for a long time, and he's also recognized the lack of butchers in the Twin Cities that use the animal in its entirety.
This "nose-to-tail" notion is seen all over the store. The meat pies, which are a new edition to the menu, are perfect examples. The souse pie is filled with headcheese, which is a mixture of meat solely from the head of a cow or pig. There is also the Pithivier, which may be the most intrepid of meat pies. It is filled with kidney, sauerkraut, maple syrup and spices crammed into a tiny hand-held pastry. They also use lard from the pigs that are butchered in their shop to get a savory, flakey dough.
All of the meat Roberts purchases comes from small-scale Minnesota farms, many of which he has worked with in the past for his two other shops. Right now he is getting pigs that are a cross between a Tamworth and a Large Black—two heritage breeds that when cross-bred, allow for a high fat content and a complex flavor profile.
Before the Meat Shop even opened, Roberts and his staff were trying for months to perfect the pastrami sandwich. They wanted a balance of salt and smoke that wouldn't distract from the fatty, rich nature of the pastrami.
"You should eat it and want to take a nap after," Roberts said.
After coming very close to postponing their grand opening, they finally nailed it and were able to open on time. The Meat Shop developed a three-step process: first, they cure it with a dry rub made of salt and coriander. They flip their 100-pound batch of brisket daily for sixteen days. After the dry rub has penetrated the meat, they smoke it for a couple of hours to add another layer of flavor. Then finally they cook it through in the oven, just enough so that the grain is falling apart, and the meat melts in your mouth.
Another highlight of the Meat Shop is their house-made sausage. They've got pork, beef, and chick- en on the menu right now, and they are sold pre-cooked so all you have to do is warm them up.
Getting the texture right was also a delicate process, Roberts explained. Emulsifying the fats with the proteins gives it the springiness that you'll no- tice in a really good hot dog or brat. The shop also sells a va- riety of condiments.
Stop by and flash your Mac ID for a discount! Up until the 20th of September there is an extra discount of two dollars for all college students.
The St. Paul Meat Shop is located at 1674 Grand Avenue. Sandwiches range from $10 to $14, student discount available. Open Mon-Sat, 10 a.m.-7 a.m., Sunday 10 a.m.-5 p.m.