Gastronomi Klonowski: New Orleans-inspired jambalaya, made in a slow cooker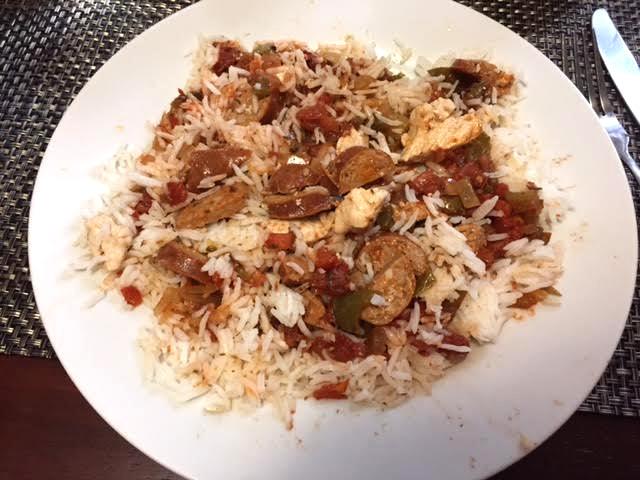 Macalester is not in New Orleans, as those of us who have experienced winter on campus can attest. Nor am I myself a native of the Big Easy, having only visited once. But I'll be damned if I don't love their food. I have yet to meet a college student that doesn't like eating, so it follows that our demographic should appreciate cultures that take their cuisine seriously. Down in New Orleans, cooking is basically its own religion, to the point where they've devised a so-called "holy trinity" of vegetables (onions, celery, and bell peppers) that are present in this recipe as well as most other Cajun or Creole dishes.
This Louisiana Creole stew of rice, meat, select veggies and chile peppers is very simple to prepare. All you do is chop stuff up and throw it in a slow cooker!
Don't be intimidated by the list of ingredients—although there are many, they are all items that can be found easily and inexpensively at any supermarket. About a third of them are simply seasonings that serve a double function: they of course make the final dish more delicious, and they also make your home smell awesome while it's cooking.
Traditional jambalaya includes shrimp in addition to chicken and sausage, though this would of course be a luxury item on a college budget. I'm not a huge shrimp guy anyway, so I always leave it out, but you can always add it if you're into that sort of thing.
This was the first dish I served as a host for NÜDL, Macalester's brand new meal-sharing program conceived over the summer through Mac Startups. If you haven't yet been to a NÜDL mealshare, shoot them an email or go follow them on Facebook and Instagram to learn more and get the weekly schedule! You really can't go wrong with cheap, home-cooked meals prepared with love by some of your favorite fellow Scots.
I always make this dish by stealing my roommate's slow cooker (thanks Sam!). If you don't have a slow cooker (you might know it as a Crock Pot), you can adapt the recipe to make it on the stove, cooking the veggies, meat and rice separately before combining them all at the end. The chicken and sausage can also be cooked separately if you're expecting a vegetarian friend or two at dinner—it's great stuff with or without the meat!
If, however, you haven't yet experienced the glorious convenience of slow cookers, I do recommend investing in one. They can often be found on the cheap at local thrift shops, and they're ideal for a student lifestyle. You can prepare everything in the morning before class, throw it in the pot, turn it on: and that's it! Then come home after class and evening activities to a quick, hot, home-cooked, and altogether delicious meal. Plus if you're just hanging around the house you get to enjoy the smell all day! Bon Appetit!
Ingredients
1 pound boneless skinless chicken breast, cut into 1-inch cubes 1 pound smoked sausage, halved and cut into 1/4-inch slices
1 pound Roma tomatoes, diced
1 cup broth (beef or chicken)
1 can (6 ounces) tomato paste 1 medium onion, diced
3 celery ribs, diced
2 medium green peppers, diced 5 garlic cloves, minced
2 fresh jalapenos, diced (you can adjust to taste) 3 teaspoons dried parsley
2 teaspoons dried basil
1 1/2 teaspoons dried oregano
1 1/4 teaspoons salt
1/2 teaspoon cayenne pepper
White rice, to serve (about 1 1⁄2 cups uncooked)
Directions
Combine all ingredients but rice in a slow cooker. Set it on low for 8 hours or high for 4-5 hours. Give it a good stir every few hours if you're home during the day, but you can get away without stirring!
Once the slow cooker is done, (or whenever you get home in the eve- ning) cook up the rice. Spread a bed of rice on a plate, and top with stew. Serve with your favorite Louisiana-style hot sauce!