Paws for applause: Kevin is easing ruff times at Macalester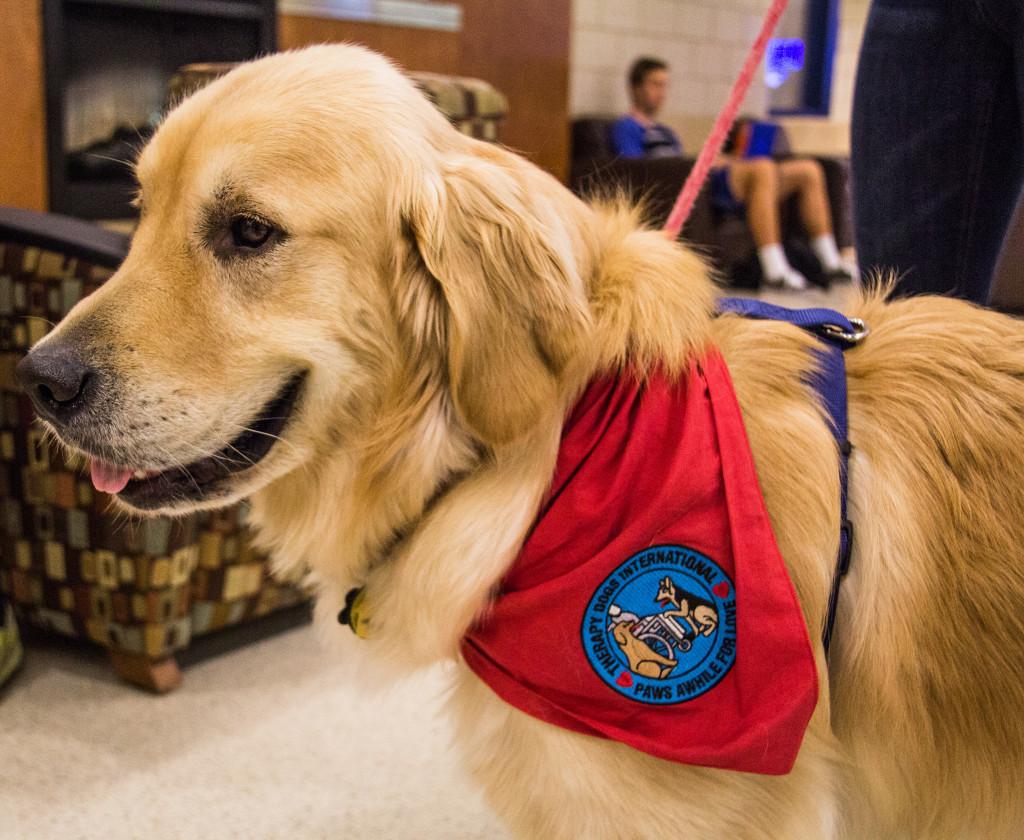 Meet Kevin, Macalester's first therapy dog. Kevin belongs to Health and Wellness Medical Director Stephanie Walters and her family but will be visiting campus regularly for nature walks and PAWS (Petting Away Worry and Stress) sessions.
As a certified therapy dog, Kevin's training ranges from general commands to skills specific to therapy dogs, such as ease with strangers, crowds and loud noises. He also recognizes various hand signals used by his student handlers.
Emma Burt '17, Emily Johnson '17, Rebecca Andrews Murtha '16 and Emma Swanson '16 volunteered to complete an eight-week course, paid for by the Health and Wellness Department, over the summer to train with Kevin.
"We learned how to be an effective team with our dog and be able to bring him into a public space in a way where everyone, including the dog, feels safe and comfortable," Johnson wrote in an email.
Part of creating a safe space involves ensuring that anyone who doesn't want to be involved doesn't have to be. Kevin is not allowed in dorms, his appearances will be advertised and he will always be accompanied by a handler. The handler's role is to promote positive experiences through making introductions, explaining what Kevin does and being present during interactions between Kevin and the Macalester community.
According to Swanson, therapy dogs provide comfort as their service. They work in hospitals, schools and disaster areas. Kevin, besides visiting Macalester, serves as a "read-dog;" he visits a local elementary school and sits with children who have learning challenges while they read.
Kevin had been a therapy dog for two years when Walters decided he could be using his skills more often. Walters remembered thinking, "He's just sitting at home, Monday through Thursday — not of service to anyone!"
Walters got some inspiration for bringing Kevin to campus from the PAWS program at the University of Minnesota. Walters cited evidence that petting a dog lowers blood pressure and heart rate; in effect, the presence of a dog can be a great stress reliever. She believes that having a therapy dog on campus is a public health approach to mental health.
At Macalester, Kevin's purpose is providing comfort for students who are stressed or miss their pets. Kevin gives students a reason to take a break from studying and work. Kevin may also be invited to campus events that involve potentially difficult conversations. Walters said, "In an appropriate setting – sometimes having a dog there and letting people focus on that will help while talking about other things."
She added, "Plus, he seems to spread smiles."
Walters shared some Kevin trivia; his favorite foods are yogurt and toast, he has "birthmarks" — black spots on his tongue, and he's named after the tropical bird from Up, courtesy of Walters' children. Furthermore, Kevin will be four years old on November 18th, and according to Walters, "It feels like a campus celebration is in order."
Kevin will be on campus for PAWS on Monday and Tuesday at 1:15 p.m. in the Leonard Center and every Monday at 3 p.m. in the library. On Tuesdays at 10 a.m. Kevin is leading nature walks from the Leonard Center. Kevin is also on Instagram and Facebook, search [email protected]. Kevin can also be invited to student organization events via Google calendar.