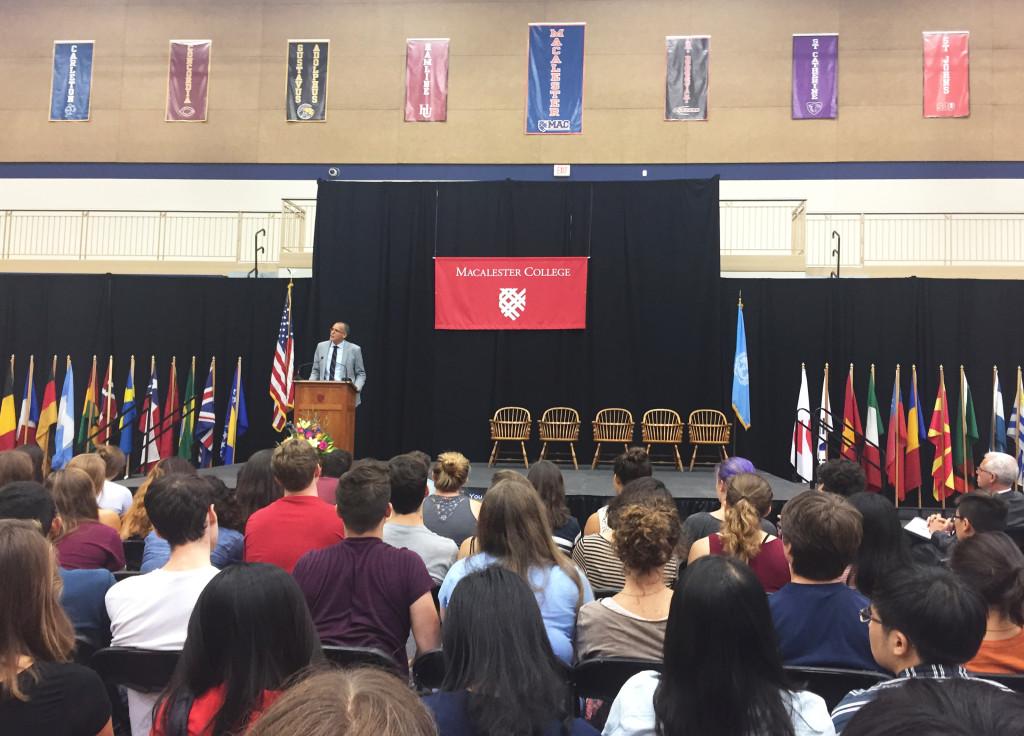 Yale Law Professor James Forman Jr. spoke at the 2015-16 convocation last Thurs. Sept. 3. His speech, "Struggling for Racial Justice in Our Times," emphasized the individuals he had worked with in his fight against the school-to- prison pipeline, while encouraging students to believe in their abilities to make change and concluding with a call to fight for justice.
The ceremony also introduced the campus community to Karine Moe, F.R. Bigelow Professor of Economics, in her new role as Provost and Dean of the Faculty, and student government president Ian Calaway '16. Afterwards, as is custom, students spread out with complementary lunches on Shaw Field and chatted.
Forman was chosen as this year's speaker by a selection committee helmed by Laurie Hamre, former Vice President of Student Affairs, and Keith Edwards, former Director of Campus Life, with Jolena Zabel as its student representative.
It was Environmental Studies professor Chris Wells, also serving on the committee, who suggested Forman. Growing up in Atlanta, Forman was the older brother of one of Wells' best friends in high school.
"[Forman] was too much older to be a friend — he went off to college while I was starting middle school — but I always looked up to him," Wells said in an email. "He was one of the first people I knew who was accepted into a really good college outside of Georgia, and as I grew up I heard all the stories about the great things he was doing."
Forman co-founded the Maya Angelou Public Charter School in 1997, taught at Georgetown Law from 2003 to 2011, and has run the Educational Opportunity and Juvenile Justice Clinic at Yale since 2013.
Last year's speaker, Harvard psychologist Dan Gilbert, spoke about empirical findings on happiness. He was met with a mixed response from students, some of whom found the talk irrelevant.
When asked about whether this had affected the committee's decision this year, Wells smiled and said, "We were being self-conscious about trying to find someone who would resonate with this particular place."
However, the central focus of the committee was to find a speaker who reflected the values of the community and the central topic of this year's International Roundtable.
"It's not written in stone that we have to do it that way," Wells said, "but I think people are pleased with how it turned out this year."
Overall, this year's student response was positive."I think it's so great that he talked about failure," Elida Zalvidar '18 said, immediately following the speech. "Because usually we talk about success, and what success means, but it's really important to talk about what failure means."
"The sense of not belonging is universal. I remember not having read all the books and feeling the same way," Shaonan Xi '18 said. "It wasn't sugarcoated."
Forman opened by describing his mostly black high school in Atlanta, which had a low graduation rate, and, as he later realized, lacked adequate resources. Upon matriculating at Brown, he was intimidated by better-read, more privileged students. When he called his mother in despair, wondering if Brown had made a mistake, she reassured him that he belonged there. He persevered, and succeeded. Forman used this anecdote to urge Macalester's newest students to push on, regardless of their backgrounds.
"You are where you are supposed to be," he said. "And own every nook and cranny of Macalester. Breathe it. Take from it. Give back to it. Walk and study and sleep and learn in this place like it is yours."
He encouraged students to actively pursue community. "You have to make friends, and be honest with your friends…no resource that the school offers will be stronger than each other," he said.
Forman described his time in law school, where he had hoped to carry on a family tradition of black American legal activism. He invoked an incident in which he had disagreed with a fellow law school classmate about the 1857 Dred Scott v. Sanford case: "The strength of your community is not only how you treat those with whom you agree, but with those whom you don't agree."
Still, a chief emphasis of the speech was on the inevitable pitfalls of the criminal justice system. Forman illustrated two cases he worked on as a public defender advocating for young black men. One, a 14-year-old he referred to as Samuel, was arrested for throwing, a carton of chocolate milk in the cafeteria. Samuel managed to escape the school-to-prison pipeline, while another young man, Reggie, was refused the opportunity to attend reform school and sentenced to prison time by a judge who accused him of "making the system look like a joke."
To further bolster his argument, Forman pointed out the need for work in fields of education and criminal justice, and provided statistics on the school-to-prison pipeline.
As an example of hard-won success, Forman presented his work with David Domenici on the nonprofit See Forever, which began as the Maya Angelou Public Charter School in the D.C. Department of Youth and Rehabilitation Services. The organization has since expanded throughout the D.C. area. Still, Forman stressed the overall difficulty and unpredictability of achieving justice.
He finished his speech by citing a conversation he'd had with his father, during the 1991 Los Angeles riots in response to the death of Rodney King: "[My father] said he was fighting for the long haul, or as he put it, he was fighting for 10,000 years from tomorrow. And he turned my story on its head. He said that the fact that LA were still abusing people 40 years later was exactly why I had to keep trying."
Forman concluded his speech by urging students to consider themselves part of the fight for justice.
"I think it's really easy, in this Mac bubble, to forget about social injustice, so I think putting a light on that is really important and inspiring," Chris Pieper '18 said.