Is Mac missing out on the MIAC's best sport?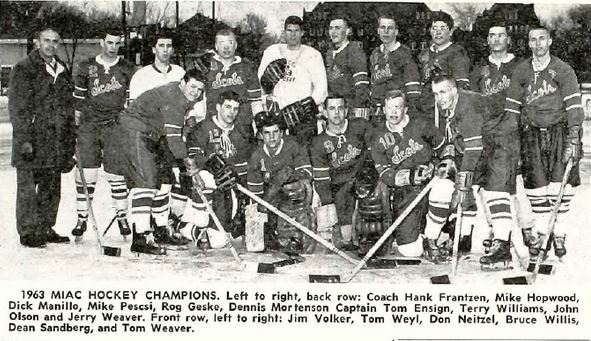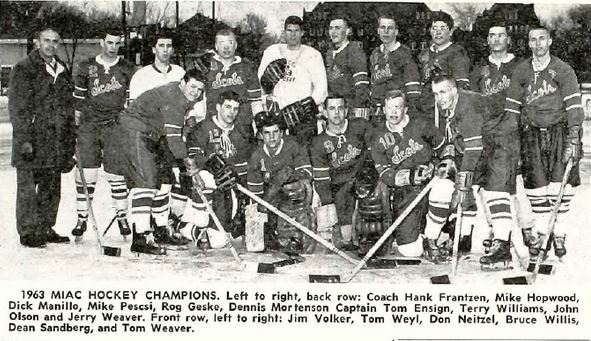 What club sport sees more student enthusiasm at its games than most varsity sports? What MIAC sport boasts arguably the most talented rosters? Minnesota is typically referred to as the State Of ____?
The answer to all three of those questions is hockey.
Macalester Club Hockey has enjoyed enormous amounts of support from Macalester students, especially for a team with an irregular schedule, playing against random rec league teams. Part of this enthusiasm can be put down to when the team plays, as they usually take the ice on weekend nights, and the fact that the team plays in a completely unsupervised environment, where fans have few restrictions. Regardless, the club team has shown that the level of interest in hockey at Mac is higher than one might expect, and they have made Drake Arena the place to be on Saturday nights for many Macalester students­­—despite its location one mile from campus. With fan support so high for a team with limited on-ice abilities (relative to high school or college hockey), support for a team fielded players with not only varsity, but also Junior League hockey experience could be huge.
Look across the rosters of the nine Men's MIAC hockey schools and you will see scores of players from American Junior teams, as well as from Canada and Scandinavia. Over 70% of MIAC hockey players followed up their high school careers with one or two year stints in one of the many junior leagues across the country, resulting in their development as players, and a more physical, higher quality hockey displayed on the ice. While other MIAC sports sometimes boast DI transfers and occasional athletes who go on to professional leagues, none come near the magnitude seen in Minnesota's rinks, where most MIAC hockey players still had reasonable hopes of a D1 scholarship in high school.
With that being said, why is hockey the only MIAC sport Macalester doesn't participate in?
The answer lies in the money. Between equipment, travel, and reserving rink time, hockey is an expensive sport for a school to maintain.
It wasn't always this way. 50 years ago, Macalester had a hockey tradition that rivaled that of any other team in the country. In just over 40 years since the team's creation, the Scots had earned 12 conference titles, tied for the most in the MIAC (There was no national tournament at the time). However, the pucksters quickly declined in the late 60's and early 70's, when they found themselves struggling near the bottom of the conference. They ultimately folded after the 1974-75 season for a multitude of reasons, including the team's recent failures (They lost 18-0 to St Thomas and 21-1 to Augsburg in their final season), a lack of a full-time coach and on-campus indoor rink, and a difficulty in recruiting. However, some players at the time believed the elimination of the team had more to do with the administration's anti-sports attitude.
A major stumbling block is rink location. When Macalester had a thriving program, they played on an outdoor, on-campus rink, which was also available for students and other community organizations. Of the four MIAC hockey teams located in the Twin Cities today, just Augsburg has a rink of their own. Macalester would face a similar issue, and if the team was unable to play MIAC games at Drake Arena, they would have to travel further, hindering the appeal for students and fans.
The process of rejoining the MIAC, an idea floated around numerous times in the past 40 years, would require a serious student effort in order to get the administration to even consider the prospect. In order to demonstrate the worthiness of a varsity team, Macalester would need to put together a respectable club team that can compete at a level near at least the bottom of the MIAC. The Scots have seen big crowds at their club games now, and should the product on the ice improve, the atmosphere and turnout at these games will certainly grow. Macalester returning to its hockey days and embracing our Minnesota roots is an exciting prospect, and hopefully this discussion can hopefully get the ball/puck moving.