If you're a first year it's possible that you have attended a Dirty Training, or may be attending one soon. Even then, you might not know what they are, how they were started or what they're about. Dirty Trainings are an initiative intended to create awareness about waste at Macalester. They are ten-minute presentations put on by students that go over how to properly sort your trash, recycling and compost. The title is a spin-off of the Sexy Training presentation all first years attend at the beginning of the school year regarding safe sex. Dirty Trainings are meant to be a short, fun and hands-on way to spread information about recycling and composting, as well as affirm the importance of recycling and composting as a way for our college to be a leader in sustainability.
The idea behind Dirty Training came last spring by members of MacCARES (Conservation and Renewable Energy Society) concerned with the apparent lack of knowledge among community members about where to dispose the various types of waste they produced. The idea behind Dirty Training came while they were brainstorming ways to reach out to community members to address this problem.
"In terms of history," notes Andrew Gage '15, "composting is a relatively new development for Macalester." It first started in 2012 and although some members of the Macalester community have been composting and recycling for a long time, an information barrier about Macalester's specific practices still exists and prevents the effective use of the recycling and composting services.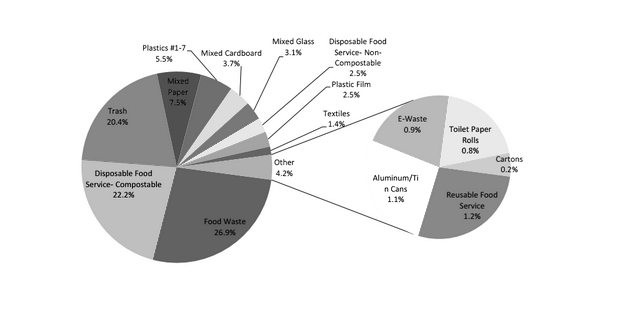 This idea is certainly supported by the results of a waste sort completed by Minnesota Waste Wise on Macalester's campus in April 2014. The organization found that the majority—a whopping 77%—of the items found in Macalester trash bins were either recyclable, reusable or compostable. With composting and recycling bins already present on every floor in all dorms and academic buildings, the study made it apparent that some type of education and outreach was necessary for Macalester to reach its goal of Zero Waste by 2020. The posters, labels and other passive forms of outreach already in place clearly were not having enough of an impact.
The MacCARES members envision Macalester as a place where students take active interest in what happens to their waste and are willing to actively try to reduce it. Dirty Trainings are an initiative intended to accomplish these goals. Unlike posters and signage, the trainings actively engage participants. By having students host trainings, members hope that participants will care more about the message as they realize it is something that matters to their peers.
Stephanie Shimota '17 notes that it can be "reflexive to just throw things in the trash without a second thought," and that a more direct way of engaging with people about waste, outside of posters and signs, can help change that mentality.
Gordy Moore '17 emphasizes that "having the opportunity to conduct Dirty Trainings on every first-year floor next fall would establish the norms of waste reduction and our commitment to sustainability," right away for incoming students. Although no trainings were hosted until the spring of this year, in the coming years, MacCARES hopes to host the meetings upon students arrival on campus.
Though Dirty Trainers are optimistic and grateful for the opportunities to host trainings this spring, they have higher hopes for trainings in the future. Moore reflects that "although a decent number of students came to some dirty trainings, I was disappointed in the turnout on some floors….It is clear that one of our main problems, in terms of waste, is people not composting or recycling properly." Ellie Carter '18 agrees, adding "the people that came were the people that already cared about the topic," and that it is difficult to reach people who don't already think of sustainability as an important part of their experience at Mac. Additionally, not all the first-year dorm floors agreed to host a Dirty Training this year, further limiting the success of the trainings.
Going forward, Dirty Trainers hope they can engage with more students through higher participation in trainings as well as by finding ways to make their trainings more fun and interesting. MacCARES members hope they can better coordinate with RAs and Residential Life, who are an integral part of the process. Samantha Burlager '15 stated, "Based on the reactions and results we've seen thus far from the trainings, I'm very optimistic about the future success of our campus reaching our goal of Zero Waste by 2020. Dirty Trainings are a great way for students to actively engage with sustainability on campus and have the potential to make a lasting impact on campus and the environment at large."