Theater Major // Charlotte Lastra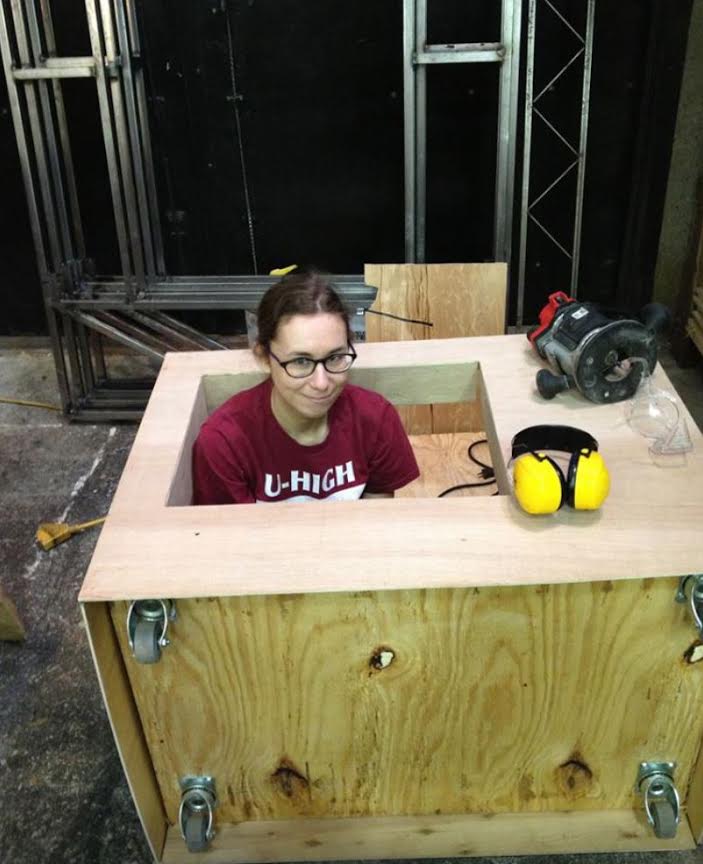 This week's senior arts profile is of Charlotte Lastra, a design track theatre major. She is from Chicago and does set building and design.
How did you first get interested in theatre?
I did theatre sort of on a whim in high school and I was like, "This is great. I don't know what else I would want to do." I've always been doing technical or design work because I'm nervous about performing.
What do you most enjoy about being a set builder?
I love the idea that I get to be the "world builder." I think that it's fascinating to be able to create environments and see how space affects people. I've always been a very hands-on person, so this work is great for me.
What sets have you designed or helped build at Mac or elsewhere?
My capstone project is designing the set for Statements After an Arrest Under the Immorality Act. It's the first thing I've designed, but I've worked in a lot of the shows in the shop in some capacity. It's a primarily two person show set in Apartheid-era South Africa about the destruction of a relationship between a black man and a white woman under the repressive legal system. In addition to working at Mac, this past summer I was an intern at Redmoon Theatre and The Hypocrites in Chicago. I worked in the build shop at Redmoon for The Great Chicago Fire Festival, which involved three large replica houses being set on fire on the Chicago River. With The Hypocrites I worked on All Our Tragic, a twelve hour adaptation of the 32 surviving Greek tragedies.
What are some of the challenges of being a set designer?
There's all the practical things that are a long process to learn, like learning proper drafting. You also have to be able to balance the aesthetic world you want to create with what's actually feasible to be built with the money and time and the space you have. I'm the only design track theatre major in the college, so that's been challenging. It's difficult not having anyone else to talk to about the work I'm doing from the same perspective.
What's your favorite set that you've worked on?
The set for The Inland Sea, which involved the story of wealthy landowners reconfiguring the landscape in 17th century England, at Macalester. The audience was sitting around the stage, which was basically a big pile of dirt. I had never seen anything done quite like that.
What are your fondest memories from the theatre department?
The theatre majors, and for me in particular the people who work in the scene shop, are a really amazing community. They all work amazingly long and hard on something that is over so soon and torn down after the production. Something you've put all this work into is gone so quickly. There's something really amazing about the communal experience about building something and then taking it down together.
Have you been part of any other groups at Mac?
I was part of FIA*STARSA (Feminists in Action Students Together Against Rape and Sexual Assault) freshman and sophomore year. It's a weekly discussion group that brings in speakers and participates in events like Take Back the Night.
What are your interests and hobbies besides theatre?
I'm into reading and I've recently been attempting to make comics. I like reading art comics and graphic novels in particular. I started writing comics as a part of an English class taught by Professor Jarrin and have been making more and more ever since.
What advice would you give to people thinking about majoring in theatre?
If you're thinking about majoring in theatre—do it! The more you do the work the more you start realizing that what you learn in theatre intersects with just about anything out there. There is a place for everyone's stories and interests in this kind of work.
Anything else you want to add?
Come see and get involved with theatre at Macalester! I think the work that everyone is doing at this department is really exciting but so many people don't know what we're up to.