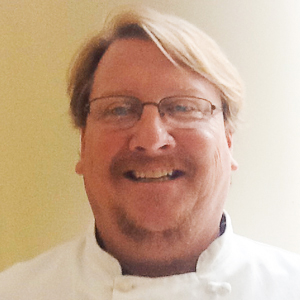 TMW: Will you tell me a bit about your upbringing and how you came to Macalester?
PT: Well, I've done a lot of different things, I owned my own restaurant for a couple of years, I've owned a few catering companies in both the Cities and up north. I've been in the food business now for 38 years. I started working through high school and through college at a number of restaurants. From owning a restaurant, I just kept working and getting promoted, then I worked at a country club. I've been at Mac for three years and worked with Bon Appétit for seven.
What does your job look like on a daily basis?
There's never any day that's the same. Every day is different. I get here every day at 5 a.m. I start by just going through the kitchen and the café to check all of the equipment and make sure everything is working well. I check with all the employees who are coming in for the breakfast shift. Then there's the internal stuff. That's working with the menu, the recipes, inventory, food orders, sanitation and safety. We do self-audits on sanitation, and safety is really important to us too. We have safety meetings three times a day. Then in the afternoon it's a lot of meeting to talk about events and catering. We do an immense amount of catering here. So each day is a little bit different. We're just now working closely with the college on our zero waste initiative that is targeting for 2020. So we're just getting started on what's compostable, what's recyclable, moving things around and making adjustments for that.
What's your favorite part of working here?
It would have to be testing the food. Before the meal starts, I get to go around and try all of the food and talk to the staff. We're very proud of our product—it's low sugar, low salt, it's all part of our healthy initiative. It's better food than at any restaurant I've ever worked at.
What's one thing you'd change about your job?
There are 43 members on our staff. It's a big crew, so it can be very difficult to manage those human resources. We make sure to keep each person positive and in line. It's a lot of work, but there's nothing that we could change about that. We need a lot of people because we make about 3,000 meals a day.
There's been talk recently around campus about potential unionization of Café Mac workers. Is that something you're aware of?
I have no idea. It's not something that I'm aware of. It's not something that's been discussed. It's hard to say what could be made better by a union because I've never worked for one, so I don't know. Compass is a really good company to work for. It has a lot of health initiatives. There's a number of different resources people could use if they want to work on a particular part of their lifestyle, whether it be losing weight or getting more exercise or anything like that. They create a work environment where there's a lot of mentoring and a lot of interaction. The workers' decisions, wants and needs are celebrated. We take everyone's ideas and work together to come up with an outcome. There are no recipes here. Everything is made based on their experience and ability. We're a very independent, free-thinking environment. And the retention rate is quite good. There are chefs that have been here for 16 years, and the retention rate in the back of the house is over 75 percent. You take ownership of your area, of your particular station and your food.
Do you feel welcomed and appreciated by staff and students here?
It's not that students don't appreciate us. I think they feel they're part of the community. But students here are very busy. They have a full day, and Café Mac is a respite for them and not a time when they're looking to talk to us. I've gotten to know several students, but only when they've sought me out, when they've seen me and said "Hello" and "How are you?" and started a conversation.