Macalester's Newest Horseman – The Gift Horse That Just Keeps Giving…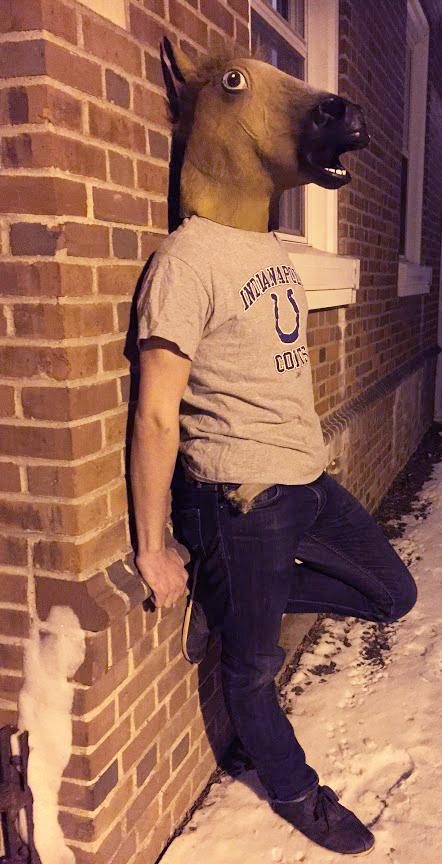 Two generations, one horse head. You broke bread with him. You broke out dance moves with him. He was an undeniable part of the Macalester community. Regardless of the Horseman's promises that he would return come the fall, some students assumed Horseman's graduation last spring meant the end of an era. They worried that The Mac Weekly's exposé on Evan Myers '14 would leave stale bread in the Breadsmith alley and Kagin horse-free. Racing into the new year with a new body, Horseman didn't keep us waiting furlong. Our trusty Horseman, Dewey, never really left. The torch, or rather the head, was passed on. A new Horseman is among us. The Mac Weekly managed to harness its investigative skills and stirrup both the old and new horsehead to chat about what seems to now be a new Macalester tradition.
Did you ever guess that you were going to be given such an incredible honor?
Horseman: Right before I kind of guessed because Evan had asked to meet and I was like, 'Woah!' I was like, 'We're gonna meet! Why would he want to meet before the reveal? Why would that be happening?' And the only real logical thing for that was me being very special.
What were some of the qualities you were looking for in a potential Horseman?
Evan Myers: Well, I didn't want it to be a senior because then it would just be one more year, maybe, and senior year is really busy. So I wanted to pick someone else that wasn't a senior. Someone that I knew would have a lot of enthusiasm for it, but I also didn't want to pick anyone that I was really close to personally because then it might be kind of obvious who the person was. There were a few other people who I didn't even know, like fans of the Horseman, who were kind of more public fans, and I didn't want to pick any of them either.
It was kind of a tough decision process actually…
There was no sort of application process of any kind?
EM: I kind of thought about that. But I thought that would kind of be weird and kind of hard to sort through. It was the end of senior year and I didn't have time to do that so I kind of just had to decide… So I sent them a message on Facebook to meet up—this was before The Mac Weekly reveal actually—just saying, 'Hey, this is the Horseman, I'd like to talk to you, can we just meet somewhere, sometime?' So they had no idea [who I really was].
How did you feel when you found out and met up with Evan?
H: Kind of surprised, very excited. Also a little hesitant, because it's a big legend. People go crazy over the Horseman. Like I was thinking, is this something I really want to get myself into, because it would be a big undertaking if I were to agree to it.
Was there any sort of initiation?
H: I went and spent the night in the barn with the other horses; kind of a crash course on horse speech. I'm pretty fluent now—some proper 'neighs' going on.
Were people surprised the first time when you came out this year?
H: Yeah, I saw like two main reactions. I think it was the Res Life Carnival. First year faces just kind of backing up in confusion and then upperclassmen cheering and applauding and just being like 'Yes, we're back on campus. We're back, the semester has begun.' It felt like a good return, a good reincarnation.
What are some of the events that you, as the new Horseman have been to this semester?
H: The Res Life Carnival and then mostly Kagins. There haven't been too many things that were kind of dark enough that it wouldn't be a hazard to be in a mask. [People] are always trying to look into the mask. It's like a small hole and they always try to look in. But at Kagins there's no worry about that because they try, you can't see out [because it's so dark], they can't see in, it's all good.
After the debacle at last year's Beyoncé Kagin where the Horseman was unmasked, have there been any other catastrophes this semester?
H: Not really. People like to touch the mask, they get kind of hands on. But whenever that happens at Kagins or something I just grab the back of it and go like this [holds onto back of neck] and hold it on. No one ever gets too physical, which is nice. They kind of respect it a little bit, which is good!
Why do you think people respect it?
H: I mean, especially after last year … I think people understand that the fun comes from not knowing who it is.
Did you tell anyone you were the Horseman?
H: I have a couple of really close friends that were kind of bummed out when they had figured it out. They were like, 'You ruined the mystery!' And I was like 'I'm sorry you guys are too close, you're too close to the legend.' Plus sometimes you need a little bit of help and it's fun for them in a new way I think. They're kind of on the sidelines too, watching to make sure that if something does go down they're there to help out.
Is it ever hard to keep going?
H: Yeah, the Horseman gets physically tired from dancing just like everyone else, and it gets very hot. So it's about keeping that energy sustained. Also I definitely try and be gone before the lights come on at Kagin. Time checks are difficult, but being able to come in, have your fun, make the appearance and then leave.
What's your pre-Kagin preparation like?
H: Well, I don't know if I want to reveal the exact intricacies of how getting to Kagin works. Usually I get pretty hyped about it and on the way there I'll sprint or something, a little bit of a strut, a little gallop in your step, if you will.
How would you describe your dancing style at Kagin?
H: It's kind of difficult because I feel like I have a pretty distinct dance and I try my very best to not do that while being the horse. It's difficult to repress though. And you feel a sense of release too, you feel like a lot of the maybe self-consciousness. So I think it's just a full exaggeration of the inner dance style.
But if there are horse related songs you definitely get a little gallop moves in there. I'm not going to claim the song was for me, but I'm just pointing out that once I reached the dance floor during the Katy Perry/Rihanna Kagin, Katy Perry's Dark Horse did come on.
Are you similar to Evan and his style of being the Horseman?
H: Well I think for one thing, we wear the same clothes. So the clothes were passed down. I've added a few things to the saddlebag, but I'm definitely carrying on the tradition of being a presence at Kagin. We'll be bringing the bread back, that's definitely not something that has gone away. It hasn't happened yet this semester, but that's very much an aspect of the Horseman, and that's going to continue.
Have you heard people make comments about the Horseman yet this semester?
H: I've heard a couple things from some friends that don't go to Kagins that often, that they kind of miss the bread and the tradition of that—which is definitely some feedback. It's an indicator that my presence is a little bit too much at Kagin. I need to move into the public eye more, outside of that.
It's all kind of a growing and evolving experience, though. Because it's difficult to kind of factor that into my life. I know a number of times I've realized it's a difficult thing…You think about Kagins and events and different evenings and you say, 'Oh, I have this time for friends and this time for homework,' and then you throw in this other very large commitment. Behind the mask there's a Macalester student.
This time in the semester you can just feel it on campus that everyone around you is just sinking into that finals mood and everyone's faces just get a little bit gloomier. And these are the times when I think, being the Horseman would not only be great for the Mac student behind the mask, but all the Mac students suffering alongside him.
Did you go through any training post-initiation?
H: Evan gave a lot of great advice from his own experiences, which I definitely pull upon, as well as just general feedback. Having graduated last year, Evan has plenty of friends currently at Mac he hears about the Horseman from. So he'll give feedback through that as well; give me some tips. But it's also just trial and error—I mean, mistakes have been made. It's about learning from those. Then also successes have occurred and seeing, 'okay, this worked.'
EM: Yeah, we met for a while. So we met in the spring and talked about it a little bit, just what it would entail, more generally. And then there was one or two days this fall, right before school started where, luckily I was still in Saint Paul, where we met and I passed on all the physical items. There are a lot of things that you don't think you'd have to think about that popped up over the few years I did it, just little tips and navigating the campus. I did my best [to train the new horseman] in like an hour.
What are some of the successes you've had?
H: One thing that kind of pops out is learning to navigate Kagin without being able to see anything. That's something that cannot really be taught. I mean you can see a small pocket of space, but it's about the size of a baseball, and that's your vision, and being able to look ahead, not stumble over people is definitely a learned skill.
My first time with the mask on at Kagin, I was like stumbling over people and they would look up and freak out and fall over. It was not the best situation.
What's your goal this year for the new Horseman?
H: Bring the legend back, make sure it has a presence on campus, bring back traditions with bread, initiate the first years. Bring happiness.
Do you think that's really what Horseman is about? Bringing happiness?
H: Yeah, that's definitely the primary mission. He's not there to be a rebel rouser. I feel like on some other campuses you'll have people that will put on masks and go around and be obnoxious or what have you, but that's not [what the goal] of Horseman is. He's very much there for people's entertainment. That's why I try my best at Kagins to be a positive force. If you do bump into someone, put your hands up, shake your head, [say] 'My bad, I'm here for your entertainment.' Were you worried when you passed it off that the integrity of the Horseman might not be maintained?
EM: Not really. I had a lot of confidence in the person I picked. It was really fun for me for those [years] I did it. It's still fun to hear about it now and talk with the person who's doing it now. It's kind of his thing now, and of course I love to hear about it and love to give advice if he needs advice, but he can kind of run with it himself. I wasn't really worried about it but that was the crucial thing for me. It's like the Horseman was saying, it really is just about bringing joy and happiness to the campus. Everyone's just so relieved that there's a horse in the library with bread, or dancing at Kagin, or just being there for everyone else's entertainment…
Do you plan to pass the head off come your graduation?
H: Yeah, certainly, after graduating, it'll have to be passed on a second time.
Any last horse puns?
H: Neigh.