Swens N' Dobs // An Unexpected Journey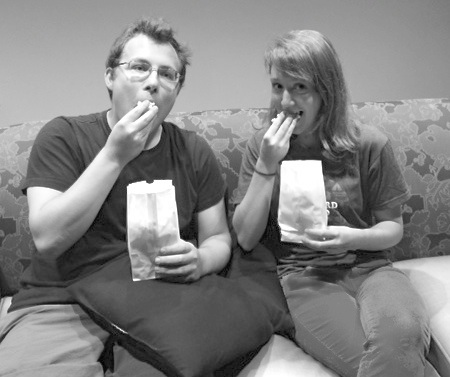 This week we review Nebraska, a 2013 film directed by Alexander Payne (The Descendants, Sideways) and starring Bruce Dern as Woody Grant, an elderly alcoholic determined to walk all the way to Lincoln, Nebraska from his home in Montana in order to claim a scam million dollar prize. His grown up son David (Will Forte, 30 Rock, SNL) grudgingly agrees to drive his father, stopping along the way in the small town where Woody grew up. Nebraska is on Netflix instant.
Dobscha:
Nebraska feels like a photo essay. The film's gorgeous black and white cinematography speaks louder than its dialogue, and the stretches of silence and music are as poignant as the characters' actions. The movie starts out a little slow and strange as Woody interacts with his aggressive wife (June Squibb) and his befuddled son David in bland Billings, Montana. But the slow and strange become beautifully amplified as Woody and David hit the road, rarely speaking, immersed in the expansive rural landscape. The plot is simple, the messages are crisp, but the movie does not come across as sappy or meek. Will Forte, who is known for his bizarre and awkward roles in comedy television, excels as the subtle, sensitive David. Bruce Dern carries the film with his expressive features and a grumpy, grumbling demeanor. Both funny and melancholy, exaggerated and painfully real, Nebraska presents an affecting portrait of a stagnant American family.
Swenson:
When I first started watching Nebraska I really was just not feeling it. While I knew it had garnered great reviews, the black and white hue as well as the very slow moving plot left me with very little excitement for what was to come. This was only exacerbated by the casting of Will Forte, who I am not a fan of. Fortunately, Nebraska was able to successfully play the long game and by the end I was very satisfied with how it turned out. Bruce Dern and June Squibb are the real starts of this movie. Dern, who is the father of Laura Dern (Jurassic Park and The Fault in Our Stars) perfects the role of an old alcoholic who is slowly, but surely, losing it. Squibb, on the other hand, injects a welcome amount of energy into this film and has no problems speaking her mind, especially in regards to what other men used to want to get into her pant. Nebraska is a movie about family and about life. While I found myself laughing a few times, overall this is a bleak and often depressing depiction of life.
More like Nebraska: Inside Llewyn Davis, Sideways