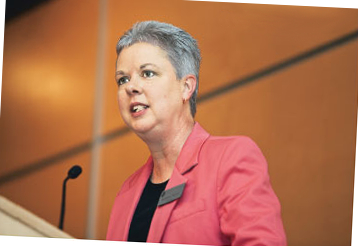 Provost Kathy Murray will be leaving Macalester at the end of this academic year to become the President of Whitman College. The announcement was made to Macalester at 2 p.m. last Thursday, Nov. 13.
Murray has served as Provost and Dean of the Faculty at Macalester for the past seven years, having arrived in July 2008.
Murray served as Acting President at Macalester last fall, when President Brian Rosenberg was on sabbatical.
Murray is a renowned pianist and served as a professor of music at Lawrence University for many years before entering academic administration. After serving as Dean of the Faculty at Lawrence University, Murray went on to serve as Vice President and Dean of Academic Affairs at Birmingham Southern University.
Whitman's search for a new President began last summer, after current president George Bridges announced his resignation. The search and application process were entirely confidential throughout the process. According to the Whitman Pioneer, Murray was chosen from a pool of approximately 100 candidates.
"I've been very selectively thinking about presidencies for a couple of years," Murray said. "The search firm [at Whitman] reached out to me thinking this could be a good match."
The Presidential Search Committee at Whitman unanimously endorsed Murray's hiring, after which their Board of Trustees offered Murray the position.
Whitman College is a liberal arts college in Walla Walla, Washington, a small town in the southeastern part of the state.
"The sense of connection between the college and the community is very strong out there, since the college is one of the heartbeats of that community," Murray said.
Murray will assume the presidency in July 2015. Until then, she plans to continue serving as Provost at Macalester and wrapping up projects she currently has under way. Next year, after her departure, Macalester will pursue accreditation through the Higher Learning Commission, and Murray aims to leave that process in the "best possible shape" before she leaves.
"My plan is to move forward with the projects that are under way just as if I were going to be here, and bring as many of those to culmination as we can," Murray said.
According to President Brian Rosenberg, the College has not begun discussions about a search to replace Murray.
Although leaving Macalester will be difficult, Murray said, she is excited for the opportunity to serve as Whitman's president.
"It's been an extraordinary privilege to hold the position I've held here for the last seven years," Murray said. "[Macalester] is a fantastic institution. The faculty are incredibly skilled and engaged, and it's beyond belief how incredible the students are. And I have a wonderful staff that I work with. But this opportunity to become a president was the next career step for me. And to find a place like Whitman that is such a good match in terms of mission and size … this happened exactly the way I wish it would have."