Macalester Football wins conference for first time in 67 years
The sports world is full of clichés. We consistently recycle and reuse the same terminology and phrases to describe players and teams. These overused terms have become one of the most beloved and ridiculous parts of sports culture, but sometimes a team comes along for which there are no explanations as perfectly tailored as those that we hear most often.
The story of the 2014 Macalester Football program is the epitome of a Cinderella story. The Scots have come from obscurity and onto the national stage with grace, grit and humility. They are the best team in Macalester football history, and last week received seven votes in the American Football Coaches Association poll to be one of the top 25 DIII teams in the country. They have overcome tremendous odds to do what few thought was possible, and have never wavered due to the overwhelmingly powerful bond that they share as teammates.
Now, with a 9-1 record under their belt, a conference title to their name and a date with the defending national champions on the horizon, their carriage awaits.
This team, above all else, is tough. It is a battle-tested squad featuring a 16-member senior class that has taken the lead from day one of training camp, setting the tone for a team that would consistently refuse to accept defeat. The Scots have had to come from behind to win three times this year, including in the MWC championship game last Saturday against Illinois College, and have won three games by just a field goal.
They faced and dealt with adversity early in the season: a disappointing loss to Hamline in the second week, in which the Scots trailed the entire game, could have derailed this team. Instead, the Scots rallied together and righted the ship. That was eight weeks ago. They haven't lost since.
The defensive core is the backbone of this team, and a prime example of the toughness that embodies the way it plays the game. The Scots have held opponents to under 3.5 yards per carry this year, while allowing under 125 yards on the ground per game. They allow their opponents to convert on third downs less than one-third of the time, and have sacked opposing quarterbacks twice as many times as theirs have been sacked.
The self-entitled "Wrangle Squad" has been dominant, shutting out opponents twice, keeping the Scots in numerous games and coming up with key plays when they were most needed, including a late interception by Phil Wettersten '18 to seal the conference championship. The nickname "Wrangle Squad," according to Alex Morrall '15, suits the Scots defense because "it's comprised of a bunch goons and those goons love to wrangle opposing offenses."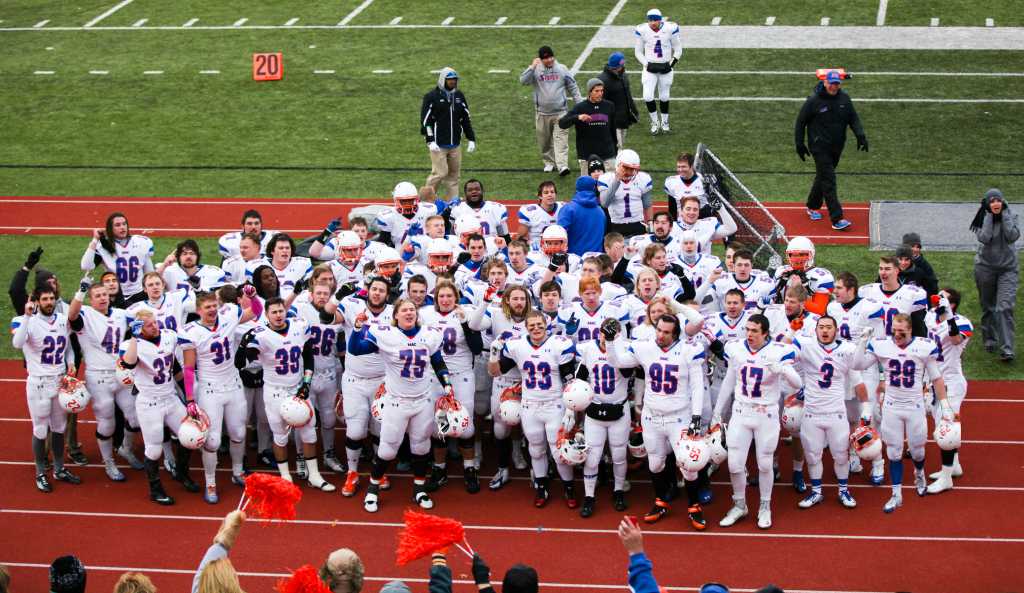 Offensively, the Scots have been equally tough and clutch, scoring in the fourth quarter in six of their nine wins. Just as their smash-mouth brand of defensive football has led them to victory, their physical running game has similarly allowed their offense to dominate opponents.
They have two rushers with over 100 attempts on the season in running back Zandy Stowell '16 and quarterback Samson Bialostok '15. Bialostok has 13 rushing touchdowns on the year, while Stowell has had a historic season of his own.
The workhorse of the offense, Stowell has carried the ball a whopping 24.2 times per game and is averaging over five yards per carry. Stowell has had the greatest season by a running back in Macalester history with 1260 yards from scrimmage, breaking the previous record by 229 yards, one that was set in 1939.
The seniors are the undisputed leaders of the team both on and off the field. This year the senior class has accounted for 303 of the Scots' 697 tackles, seven of their 14 interceptions and 25 of their 34 offensive touchdowns.
The class features several starters on both sides of the ball. In addition to Bialostok at quarterback, the Scots have senior starters on offense in wide receiver Ben Hillman '15 and offensive linemen Djoser Ramsey '15, John Stephens '15 and Spencer Weckwerth '15. On defense, the Scots' senior starters include defensive ends Jacob Lueck '15 and Ryan Flanagan '15 and linebackers Nate Yordy '15 and Reid Callahan '15. The Scots also boast a star-studded and senior-laden secondary anchored by safety Jole Miller '15 and cornerbacks Konnor Fleming '15 and Bolton Howes '15. Also representing the class of 2015 in the starting lineup is kicker Michael Abramson '15.
Over their four years at Macalester these seniors have seen Coach Tony Jennison transform the program. After losing more games than they won in their first two seasons, they are now conference champions. Jennison's leadership is coupled with the truly special relationship he has with his players. "Coach J is not only an incredible football coach but a phenomenal individual," Morall said. "He has always told us that greatness doesn't just happen but that we have to work to be our best in everything we do. I think this has left a lasting impact in all our lives. The team has not only found success on the football field but academically and even personally."
Now, the Scots enter the NCAA playoffs, facing defending national champions Wisconsin-Whitewater in the first round. Whitewater is a perfect 10-0 this year, and will be playing the game at home in front of thousands of fans. Wisconsin-Whitewater boasts a history of football dominance and a roster that, on paper, appears to physically outmatch the Scots. Fortunately for Macalester, the game, as the beloved phrase goes, will not be played on paper. The game will not be decided by trophy collections or by national rankings; it will be decided by a clash of wills.
Bialostok, when asked to describe his team, said "We love each other, play for each other, don't make excuses, and never accept defeat. That is why we have been successful." It is the love they share as teammates and brothers, fueled by their unrelenting grit and will to win, that will be the Scots' greatest weapon this Saturday as it has been all season.
Faced once again with seemingly insurmountable odds, they won't waver for a second. They've come so far together, and now their eyes are collectively fixed firmly in one direction: forward.