The Cradle Will Rock // Review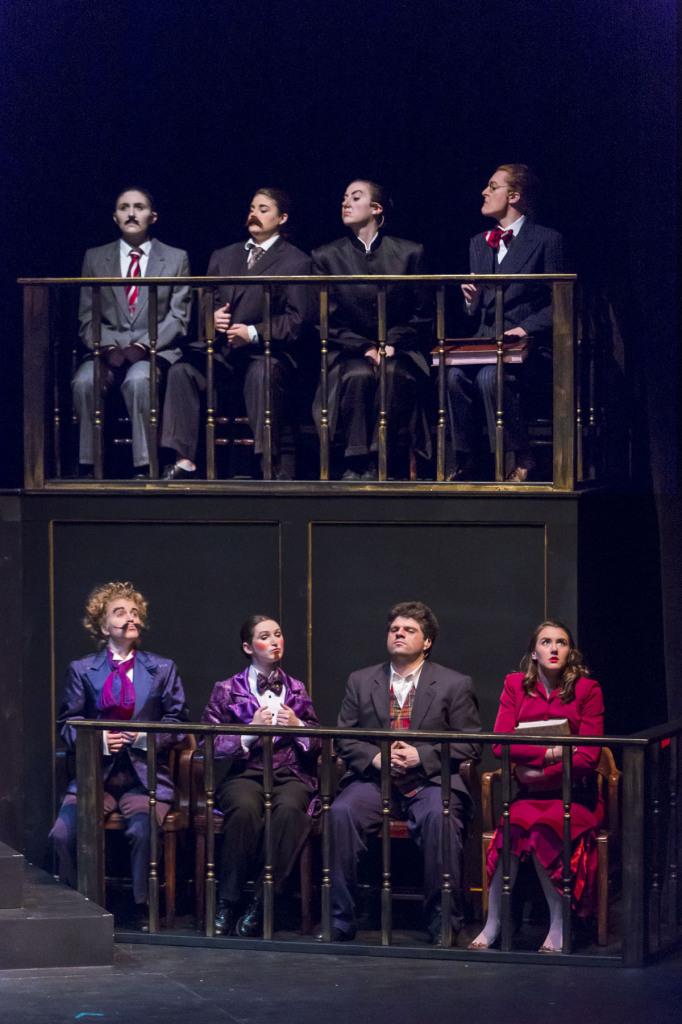 A sold-out audience goes quiet when the streetlamp rises out of the stage above the pit, glowing orange over the silence. We are transported to a night on an empty street corner in the 1930s. Enter Moll, music swelling. She sings of being a tired, hungry prostitute looking for a nickel or maybe just some company. A police officer joins her and asks for her for the night. When she refuses, she's arrested, launching us into a whirlwind of humorous corruption—start scene two.
This fall, Macalester Theater and Dance took on the ambitious project of Marc Blitzen's The Cradle Will Rock. Directed by Mac's Harry Waters, The Cradle Will Rock took Saint Paul to Steeltown, USA. With a strong hand, corporate leader Mr. Mister darkens a happy-go-lucky world of hard-working Americans.
In scene two we enter the elaborate set of the night court, where a stadium of wooden benches hangs under a looming golden dollar sign and gavel. In comes the entire ragtag bunch of what Mr. Mister has deemed the "Liberty Committee": those who have essentially sold out the Misters and have gone on to wrong them, landing them in the courthouse by orders of the Misters. Each member of the Liberty Committee takes us on a flashback through song and dance, retelling similar stories of their involvement with Mr. Mister and their ultimate demise when they demand to unionize, unhappy with the way Steeltown has treated its workers.
We meet Mr. Mister himself, and his grossly wealthy family. We learn all about his fear of unionizing and his workers turning against him. The Liberty Committee is made up of extremely quirky individuals, ranging from an overworked and out-of-luck hotel manager, to a professor with quite unusual tactics for recruiting military students, to an honest drug store owner who is just trying to support his son. While each story was met with laughter and above and beyond choreography, the humanness of the characters managed to keep us grounded.
Gus Polack, an immigrant and steelworker in the town, excitedly sings to his pregnant wife about the prosperous future of the union he's joined, only to be killed by a car bomb that was planted to stop union workers. After she loses her brother to a machine accident, Ella Hammer fights to establish that her brother was not in fact drunk (as Mr. Mister tries to claim, so he won't face charges for a shoddy steel factory).
Ultimately, everyone present at the night court realizes Mr. Mister's system needs to be taken down and unions need to form. This patchwork of mismatched stories is brought to life through Macalester's rendition, and is neatly tied with the recurring question: Does total authoritarianism work? Or does the system and "the man" need to be shaken up for the sovereignty of workers? Will the cradle (the corruption of Steeltown) rock? Macalester students question the importance of unions while enjoying great music, witty dialogue and prevailing performances that make us think. The Theater and Dance department has done it again, and students can't wait to see what it has in store for spring semester.