Every week, The Mac Weekly interviews one senior majoring in an artistic field at Macalester. This week, we spoke with Stephanie Messer, who is majoring in theater.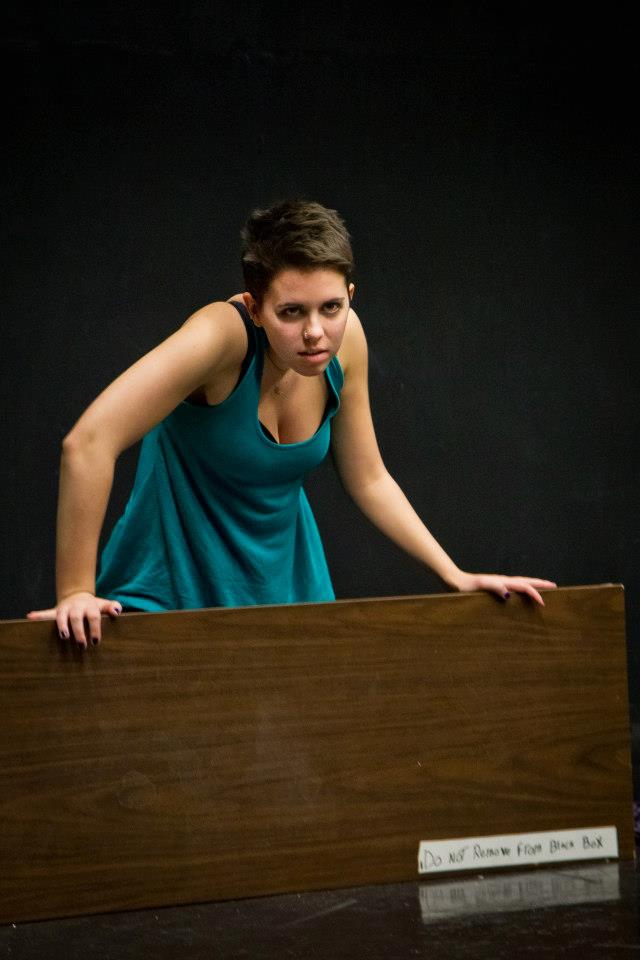 How did you decide to become a theater major?
It was actually more of a process of denial [rather] than [a] decision, really. I had done it all through high school and wanted to make sure it was always at least in a small way part of my life, but I really resisted committing to it for a while. You know that little checklist you get in the mail when you say you're interested in Macalester about the different majors? I probably checked nearly everything that wasn't a science or math discipline. And then my first year at Mac I took classes in a number of departments that I thought I would be interested in, but always had to have a theater class on the schedule. So I bit the bullet and threw practicality to the wind and declared my major at the end of my first year. Needless to say, no one was surprised when I told them, which was a little disappointing.
What production have you been most proud of, or most excited to be involved in?
I'm not really sure how to pick! Most recently, I am very proud of the work that I did in [The Cradle Will Rock, the musical this fall]. I had this big, belt-y, show-stopping number towards the end of the show and for awhile I thought I'd never get there. Singing in front of people has always been my biggest source of stage fright. I just don't do it. It takes me a long time to even be comfortable singing along to the radio with another person around. At the beginning of this rehearsal process I was actually having panic attacks nearly every time I worked on that solo. I am very appreciative for all of the help and support I got out of the Theater and Music Departments because otherwise I never would have been able to conquer my fear and do that number every night!
You did such a great job, I loved the musical! What plans do you have for your capstone?
I'm so thrilled to start working on [my capstone show], Statements After an Arrest Under the Immorality Act by Athol Fugard. It's going to be a very intimate show, mostly me and the other senior acting major, John Stephens, in a room with our director, Macalester alum, James Williams. We've already met a couple of times to read together and we always get caught up in the material, it's just so rich. I can't wait to really test myself with this role and throw my heart and soul into this work. It also feels very much like fate to do a show by Fugard for my senior project as I have a quote of his tattooed on my back. The part on my back says, "I make it because I want to share it with you," but the whole quote is: "Implicit in the act of creation on the part of the artist is: I make it because I want to share it with you. At the end of my process, you are waiting for me."
What sort of productions have you been involved in outside of Macalester?
I've done a couple things outside of Macalester, mostly smaller things. I did some community theater one summer back home in North Carolina, a show about the BP oil spill. I actually worked with Mac alum John Honeycutt on that show! Crazy connections everywhere you go.
Another summer I had this really regrettable internship working at an outdoor theater in rural Kentucky. The one show I got to be in that summer is almost too embarrassing to mention. It was a southern, reality TV show twist on The Taming of the Shrew if you can imagine. There was rapping, there was a banjo, there were woodchucks…I don't even know. I try not to think about it too much! [laughs]
And this past summer I was in the Fringe Festival in a show called Slut Club. I worked with a number of Mac alums: Lara Avery, who co-wrote and co-directed, Hannah Wydeven and Alana Horton, who both acted with me. That was a great experience in being in a show that was all about women made by women. It was a bit of a stretch for me acting wise to play the oldest, most job-stable character in the show and to be the youngest and only undergrad member of the cast. But it was fun! Definitely great to have something to do theater-wise over the summer because if I have to go a couple months without something theatrical, I get the itch something fierce.
Did you study abroad? What did you do?
Fall of my junior year I studied abroad in Dublin at the Gaiety School of Acting, which was just beyond an incredible experience. It's a conservatory, so I had class every day from maybe 8 a.m. to 5 or 6 p.m., and then at least one show a week to see in the city. We did everything from mime, tap dancing, stage combat, singing, improvisation and on and on. It was such an affirming experience to be doing that work all day and night, coming home exhausted and still every day feel as though I was on vacation.
Do you have any advice for potential theater majors?
Declare the major! Just go do it! But like seriously, don't listen to your parents or anyone else in the "real world" tell you that you'll have to live in a box for the rest of your life if you major in theater. Macalester actually has a fantastic track record of theater majors going on to get some amazing jobs and gigs. There aren't many places better than the Twin Cities to get started, in my humble opinion, so why not? Do you really want to spend every day sitting at those tiny desks? Or do you want to learn how to juggle or discover how the elements eat breakfast or sit across from each other repeating one word until it melts into a giggling fit? It's really not a hard question when you think about it.