Swens N' Dobs // The Unexpected Virtue of Ignorance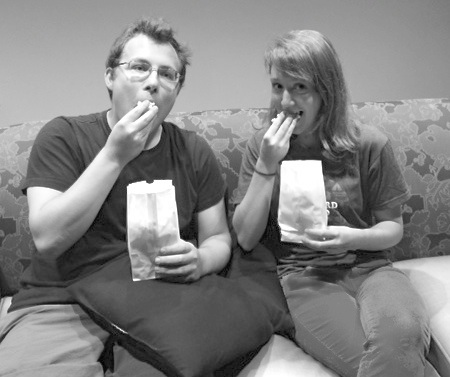 "Birdman" stars Michael Keaton as a washed-up actor once famous for playing an iconic superhero. The film also features Emma Stone, Edward Norton, Naomi Watts and Zack Galifinakas, and was directed by Alejandro González Iñárritu ("Babel," "Biutiful"). It is currently in theaters at Grandview and Rosedale, in addition to other locations throughout the Twin Cities.
Swenson:
As I watched the initial trailers for "Birdman" I wasn't really sure if it was something that I was interested in seeing. It didn't really seem like my kind of movie. After looking at the reviews for this critically acclaimed film, I decided to give it a go. Let's just say that I was blown away. "Birdman" tells the story of a formerly famous actor, declining in age, who once starred as the iconic Birdman (who makes some alarming appearances in this story). In the present day he is attempting to make a comeback on Broadway with a play that he adapted, directs and stars in. From there, things get wild. One of the greatest parts about this movie is the cast. Not only do you have Michael Keaton and Naomi Watts, but Edward Norton, Emma Stone and Zack Galifianakis also make numerous appearances throughout this two-hour adventure. Throughout the movie I found myself chuckling uncontrollably, while simultaneously being mesmerized by director Alejandro González Iñárritu's unique vision. The movie gives the viewer the impression that it is being done in one take. While this is not actually the case, the way it is implemented is nothing short of amazing. You are constantly being led around the inner workings of the theater while time and reality are shifting before your eyes. Sometimes I had absolutely no idea what was going on, while other times I could not stop myself from speaking out loud in the middle of a crowded theater. This is a movie that should not be missed.
Shout out to Eura Chang '15, who joined us for this viewing.
Dobscha:
For anyone who believes that the cinema is incapable of churning out anything new, see "Birdman" and be proven wrong. This is the film for our generation: postmodern, self-referential, ironic, darkly hilarious and totally unique. From the skillful one-shot film style to its fast-paced satirical dialogue, all the way down to the casting decisions (Michael Keaton, Emma Stone and Edward Norton have all played famous comic book characters on screen), "Birdman" makes risky, purposeful moves that pay off at every turn. Alongside other ambitious films this year (e.g. Richard Linklater's 12 year project "Boyhood"), "Birdman" just might restore your faith in the artistic ingenuity of film.