Theater & Dance Major // Hana Sato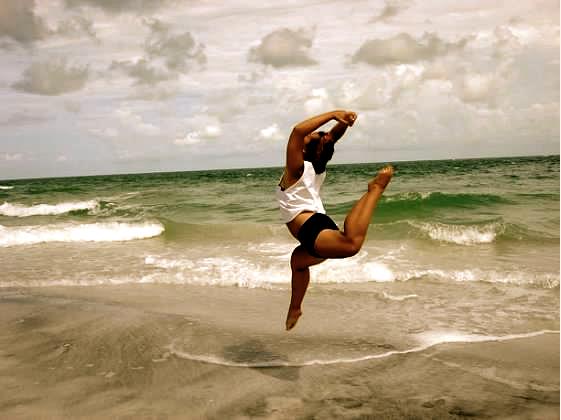 This week's senior arts profile is of Hana Sato, combined theater and dance major with a psychology minor. She was born and raised in Minneapolis, Minnesota, and she dreams of working work with people through dance therapy.
How did you first get interested in theater and dance?
As far as I know, I have been dancing since I was two years old. I could barely walk when my mom put me in dance class. I participated in musical productions in high school, and played in many musical pieces including Les Miserables.
Your mom put you in dance class when you were 2 years old? Was there a particular reason that she did it?
Apparently I had way too much energy and she wanted me to divert that energy to dance instead of getting into trouble. Also, my mom believed that it was important to cultivating positive body image. Positive body image is not about having a perfectly sculpted and balanced body, but having confidence about one's own body image. She thought dance was a good tool to build that confidence.
What kind of dance did you do, and which is your favorite?
I was trained in modern, ballet and jazz, but after I came to college I mostly focused on modern dance. I like modern dance most because you can basically do anything with it. You can experiment, create new things, or mix different types of dance, and it can still be called modern dance. It is all about pushing the boundaries and I really like that.
What is your most memorable performance?
If I have to choose, it would be the piece that I choreographed for the first time. It was my junior year in high school. During the whole process, I really enjoyed creating movement, teaching other students, and ultimately performing them. When I saw the performance, I was thrilled by the thought that it was all about my movement, my idea and my creation. Looking back, there were a lot of things I would change, but I am still proud of myself for that piece.
What are your thoughts on the popular notion that you need a certain body type to perform well on stage?
I believe that anyone can perform beautifully no matter what kind of figure they have. I was very lucky that I was in a dance studio that regarded dance as a way of keeping the body healthy and did not focus on size or weight. When I dance, I try to focus on what my body can do, because it really is amazing what our bodies can create regardless of how they look … Regardless of what your body looks like, you can do anything with your body. I was never in a situation that I felt my body was an obstacle.
If anyone is having a hard time because of their body type, I would recommend they find someone safe to talk to. Get those feelings out and talk about it. All of my dance teachers were also my friends who I trusted, and that really helped me as well.
Do you ever envision your future? What does it look like?
After I graduate in May, I am going to take a gap year while teaching dance in various studios. After a year, hopefully I will be in graduate school in Chicago, getting a Master's degree in dance therapy. Dance therapy is a new realm of therapy, which helps and cures people with depression and health issues through dance. It's very similar to music and art therapy, just with dance. I did an internship once at a hospital and worked on dance therapy with patients of Parkinson's disease. The patients were mostly elderly people, and I loved the experience. Dance therapy is what I want to pursue as my future career. Actually, next semester I am planning on studying more art and psychoanalysis. I hope it will help me better understand the realm of dance therapy.
Do you ever worry that dance therapy might not be something that instantly ensures a good paying job and comfort?
It's true that dance therapy is still a new field of study, but also I'm positive that it is an up-and-coming field … I have always loved dance and it is my passion so I try not to worry about the other problems.
What are some of your fondest memories from Macalester?
Working with Pilobolus during my sophomore year is my favorite memory. Pilobolus is a dance company that I looked up to ever since I was in third grade. Meeting them and getting to work with them was definitely a chance of a lifetime for me. Besides the amazing experience, I got to know a really great group of friends both within and outside Macalester. I'm so grateful because I know I wouldn't have had that opportunity if I wasn't at Macalester.
What are some of your hardest moments from Macalester?
There was definitely a time when I thought Macalester was not the right school for me. I felt like I was not preparing enough for my ultimate goal, which was studying dance therapy. Madison has a dance therapy certification, so I thought about transferring there for awhile. However, I had an amazing advisor who made me realize that what I was doing here was perfectly fine. In the end, I am glad I stayed here. It was a happy revelation that I was in the right place.
What are some of your interests or hobbies besides dancing?
I love photography. I do have a camera and I get to pull it out every once in awhile. I would love to take photography classes if I have a chance. My boyfriend is a rapper, so we get to be associated with the hip hop community sometimes. I also enjoy just being at home, watching Netflix with my dog Maggie.
If someone wanted to start dancing, without any prior knowledge or experience, what should they do?
Take dance classes at Macalester! All of them are great, but I would recommend especially two classes: African dance with professor Patricia Brown, and dance improvisation with professor Krista Langberg. They are not just for dance major students, so you don't have to feel any pressure.
What motivates you to keep dancing? What is your inspiration?
I have always been dancing, so I cannot imagine my life without dance. It's what I love to do. I believe dancing is a way of meeting new people and creating relationship in a very unconventional way. When I was taking dance classes at Macalester, I was amazed by how close my friends and I became after only a few classes. Dancing has the power to make people come together and to heal people.