Swens N' Dobs // The Good, The Bad And The Ugly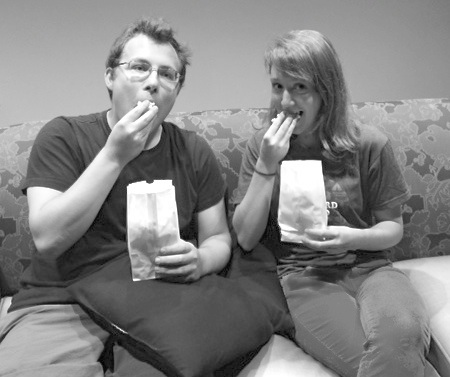 This week we review "Can't Buy Me Love," an 80s film about a high school senior who spends $1,000 to fake date the most popular girl in school for a month. This film is directed by Steve Rash ("Zenon: Z3" and "Bring It On: All or Nothing") and stars Patrick Dempsey ("Grey's Anatomy") and Amanda Peterson.
Swenson:
"Can't Buy Me Love" can only really be described as a classic, and I mean CLASSIC, 80s movie. It is chock-full of stereotypical high school cliques as well as corny lines and incredibly awkward situations. This movie stars Patrick Dempsey (of Grey's Anatomy fame) as Ronald Miller, a stereotypical geek who wants more than anything to be part of the popular crowd during his final year of high school. Ronald finally gets his wish when he is essentially able to buy a fake relationship with the head cheerleader. Shenanigans ensue and Patrick ultimately learns his lesson. Quite incredibly, this movie actually managed to surprise me with how its plot progressed. I thought for sure it would go one way, but it ended up going another. That is not to say that this is a complex or thought-provoking film. In fact, this movie provides the viewer with the opportunity to just let go and watch without having to think about the deeper meaning. While you might be able to find one, it's just not worth it. For me, one of my biggest annoyances in movies are situations that have the ability to make me physically uncomfortable enough to want to fast forward. Unfortunately, this movie is filled to the brim with these situations. Well, needless to say, I survived (with some help from the fast forward button). I ended up enjoying the movie for all of the reasons I have criticized it. Movies like this are just not made anymore. They can be comforting and nostalgic (I was born in 1993) to watch. As uncomfortable as this movie was, I was still left with a faint smile on my face when the credits rolled.
Dobscha:
There's a reason why you've never heard of "Can't Buy Me Love." Predictable, mostly unfunny, and centered around an unlikeable and insipid character, the film fails to match the wit or charm of other cookie-cutter 80s rom-coms. You might enjoy this movie if the following descriptions apply to you: you're a HUGE Patrick Dempsey fan, you're a HUGE Seth Green fan (he plays Ronald's little brother), you're a HUGE fan of 1980s fashion and/or hair or you have an affinity for cruel and selfish high schoolers. If none of the above sound familiar, stay away from "Can't Buy Me Love" and watch one of the following suggestions instead.
More like "Can't Buy Me Love": "Pretty in Pink," "Mean Girls," "Freaks and Geeks"