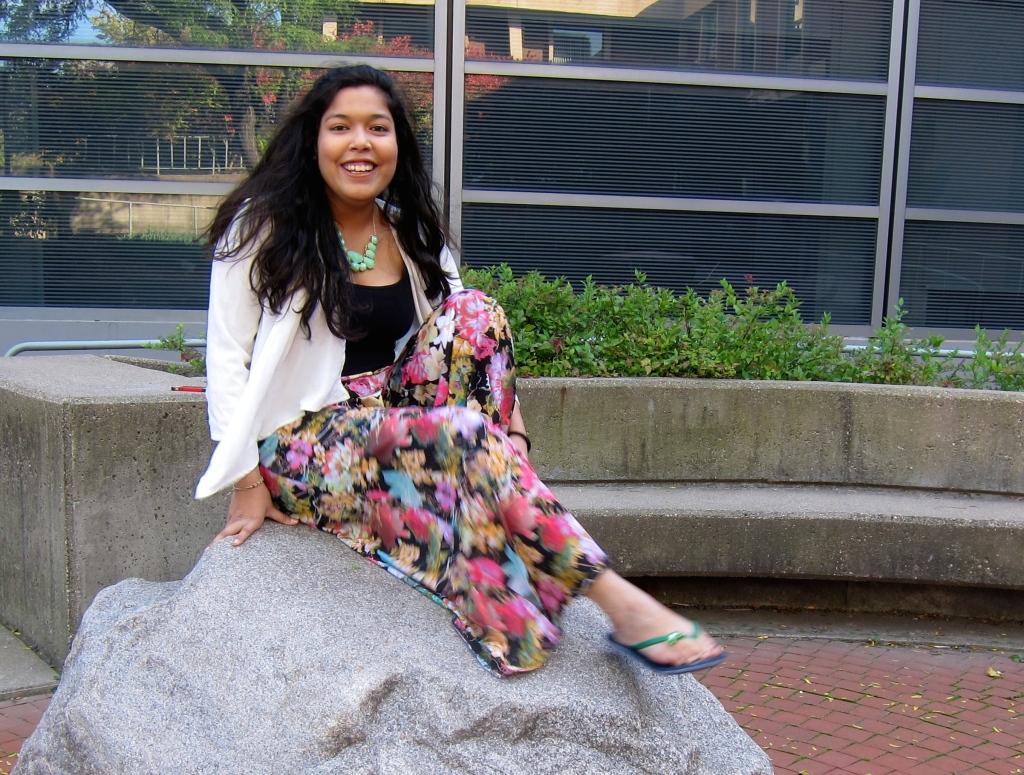 Major: Biology and Community and Global Health Hometown: Calcutta, India
The Mac Weekly: How would you describe your style? Sana Naz: I wouldn't say I have a specific fashion sense. I'm one of five siblings, and when I was growing up my oldest sister would usually buy me a lot of clothes. So, I feel like a lot of what I bought earlier was influenced by my sister. But then I was like "I'm not going to wear what you buy me anymore!" So now I feel like a lot of what I buy is not mainstream. If people are wearing skinny jeans I'll buy something that's really different. It's become a habit. My sister used a lot of glitter, and I loved glitter. I bought these black combat boots with spikes in them and I wear them with my spikey jackets. I really like those things. I like whatever catches my eye, like floral patterns. I bought a lot of floral patterns this summer because I was coming back to Minnesota where there are no flowers in the winter and not that many in the spring either.
Are the outfits that you brought today ones that you'll wear during the winter? Not the jumpsuit, but for sure everything else, yes. I just have to layer them and wear a parka on top. But pants are pants. I can wear long underwear under them. I guess I could even wear the jumpsuit if I really wanted to. I also don't like what people wear in Minnesota. A lot of people here wear gray and a lot of black and neutral shades during the winter – and even in the summer. So I go all out colorful all the time. I don't know if it's influenced by Indian culture, but I really like a lot of color.
Would you say your style has changed since coming to Macalester? Yeah. I think I've become more of an independent shopper. I actually buy things that I want instead of when I was at home and I'd go shopping with my sister. Also, at home I never had a winter wardrobe, but since it's so cold here I had to buy winter clothes. I buy a lot of patterned winter clothes. My coats are red or yellow.
Can you talk about the outfits that you chose to bring today? Yeah, like I said, I went home this summer and wanted to buy colorful outfits to bring back to Minnesota and feel at home. So the pants had all these flower patterns. They're really loose and comfy, so I love wearing them all the time. The jumpsuit was the best thing I bought over the summer. I also bought a similar skirt that reminded me of Holi. It's just like—splash, color, color! I really like the striped outfit. It's just my favorite stripes on stripes on stripes outfit. My shoes, skirt, and shirt are all black and white stripes. It's just one pattern—I love it!
Where would you wear these outfits? I have worn these to class. They're also things I could wear on a Saturday, on a fall day. They're just casual, walk in the park, day in downtown Saint Paul clothes. I also wear them a lot on campus.
What's your go-to accessory? Do I have one? I don't know. I usually don't do that many accessories, frankly. I just do a lot of color. The most I do are neck pieces, like the ones I wore today. The butterfly necklace was a gift from my sister and was literally like half a dollar. You can get these on the streets like everywhere. Street shopping in India is my favorite because you get the randomest, most awesome things. They break apart really soon, but they're made by local people.
Is the fashion very different from here, would you say? If you're talking about people our age, people at home are more conscious of what they're wearing. They dress up more. Not for school because you have uniforms, but in colleges, I feel people are more dressed up. Even when they're just going out to lunch with their friends, people dress well, wear accessories. And people are very brandconscious at home, especially people our age. But then there's this big street-shopping scene. So, I really like mixing those two things. In Minnesota I feel like people are just not as conscious. You can just wear whatever you want. You would not catch someone at home wearing a sweatshirt or sweatpants to class.
What do you like better? Uh, well you know, I guess I like dressing up for occasions. I'm always super late everywhere. So when I get up in the morning and I have 10 minutes to get dressed you will see me wearing jeans and a regular T-shirt or PB sweatshirt. But if I have time, like when I get up a half hour before class, I will dress well. And when I go out, I like dressing up. In college there just aren't as many occasions to do that because people don't go off campus so much. So, if there is a special occasion I love to dress up.
Can you wear these outfits to all your Bio labs? Nope, no. I have an Ecology lab this semester, and we go out to the Ordway field station every Tuesday. We have to wear full pants. A lot of the plants in the field station are really sticky. This one time I wore my yoga pants to class and by the end they were full of pollen. I still haven't been able to get it out. So, I wear my worst clothes to lab. In chemistry labs I can usually wear my normal clothes as long I have closed-toe shoes on.
Do you go shopping often? I would say I love to shop, but I don't get to a lot of time to. A lot of my friends do online shopping, but I don't do that at all because unless I'm wearing something, I can't tell how it will look. For fall break, spring break or Thanksgiving, I go to the mall at least once. And I do shop a lot when I go home. My mom's favorite hangout is the mall. She and my sister are always going. They're always buying me clothes, which I love.