Mac Pack prepares for crucial November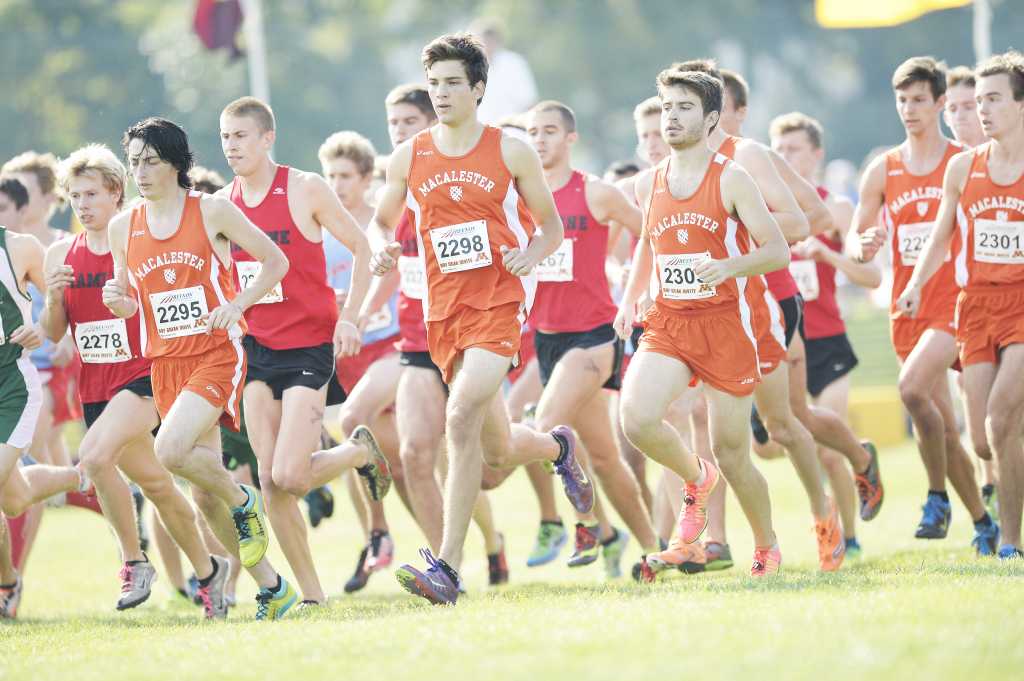 Macalester Men's Cross Country approaches the end of its season ready to make the last few races count. "It's what you do in November that makes them remember. September and October are all about assembling your team, training and getting ready for the championship season," Coach Matt Haugen said.
Haugen and team members alike believe that the season has gone well so far but that opportunities for improvement remain. "It's good because everyone has been running closer together, but we haven't been placing well at meets. We lost to Saint Mary's at the UW-Eau Claire Invitational and we really shouldn't be losing to them," said Trevor Maggart '16. "Right now it's a little rough, but there is no reason we shouldn't be competing with teams like that in a few weeks at MIAC."
"We started running actual 8ks later than normal, but we've had a good showing at the races we've gone to so far. At the Roy Griak Invitational especially we saw more pack running than we've ever seen and we've been seeing better results because of that," captain Joe Giamberdino '15 said.
The UW-Eau Claire Invitational was a favorite meet for the runners due to fast times and the chance to run alongside five of the top 10 nationally ranked teams, whereas the Roy Griak Invitational was one of the most challenging meets due to heat, hills and uneven terrain.
The squad is focusing on pack running more than ever this year. "Knowing that we have a lot of depth, I wanted to keep them running together because there's a lot of strength and comfort in numbers," Haugen said. Seeing the Macalester orange of another teammate's singlet inspires the runners as well as encourages accountability. If you have already gone three miles and you are still together, you owe it to yourself and them to persist until the end.
"Pack running is a really great thing because even though we don't have anyone running faster than 26 minutes, our team has one of the closest spreads in the MIAC, so we can still place well," Maggart said.
Because of the team's depth (there are 10 men who can run in the top seven spots), if a runner suffers an injury there is someone to fill in. "Someone will fill in their spot, pushing themselves to make up for that absence. When we have opportunities like that, that's when you find out you can always do more than you think you can," Haugen said.
"Race for place" is another idea that the team has embraced this year. Due to weather and course conditions, race times can fluctuate over a minute either way, so focusing on time does not always reflect what really happened. Racing for place encourages runners to compete with other teams as well as other Scots on the course. "This year's team is different in that they love each other deeply but they are also really competitive with each other. It's a rare balance to have," Haugen said.
Another difference this year is the very strong leadership the team has from its nine seniors. Although only three first years joined the team, team size did not change significantly because of the small graduating class last year. Due to the absence of an assistant coach this year, Haugen has put more responsibility on the shoulders of his seniors, and they have stepped up to lead the younger runners.
"The first years were all immediately well adjusted on campus, they smile a lot and they're contributing in a number of ways. They're more vocal than first years we've had in the past and they are all running well, too," Haugen said. With the future of the team in mind, Haugen hopes that Nolan Ebner '18, who made his college debut at the UW-Eau Claire Invitational after resting due to injury, will be able to run in the top packs to gain experience for future years.
Every year the team grows closer and the dynamic evolves. In recent years the team has showed large improvements, moving from last in MIAC to sixth last year. "We're taking our races and practices a lot more seriously. We're looking toward the very end of our season," Giamberdino said. "We look out for each other and when you are suffering through the exact same race or workout together every day and every week, you form a unique relationship I don't imagine many other people have."
The team's goals for the rest of the season center upon MIAC Conference Championship at Como Park on Nov. 1. "Ultimately we want to be in the top four of the MIAC and top eight or 10 at regionals, but staying healthy towards the end of the year is really important," Giamberdino said.
"Realistically I think we can get fifth this year. Fourth is a really high goal but isn't out of reach," Maggart said.
Haugen agreed that breaking into the top four would be difficult because there are four teams that usually run very close together in competition for places four to seven. In two weeks the team will compete in a meet hosted by UW-La Crosse where they will see a lot of conference teams. "We absolutely have to be close to their heels so the guys all know and believe they can beat those teams at MIAC two weeks later," Haugen said.
Runners to watch include Giamberdino, who is consistently the top runner for the Scots, Lachlan Hinwood '17, who has made a sophomore jump and improved to compete with Giamberdino for the top spot, and Maggart, who ran his personal best at the UW-Eau Claire Invitational. Seniors Ross Boehme '15 and Mike Waltman '15 are also expected to contribute to team score. Rounding out the top group is Alex Ropes '16 and Dylan Saul '15.
The Mac Pack has potential to finish with at least five runners under 27:00, which has not been the case since Haugen's first year coaching at Macalester. "We'll be a tough team in November and that's what we always focus on," Haugen said.