Prof Talk: Get to know new math professor David Shuman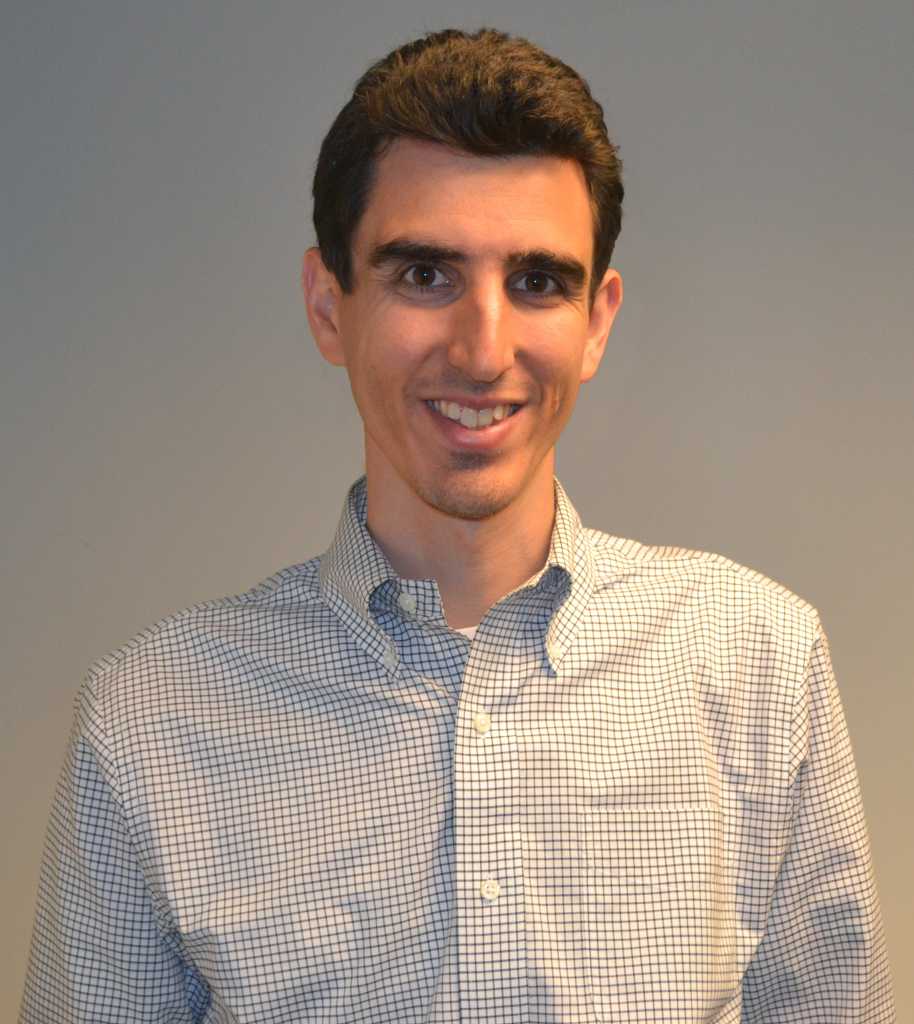 What specifically do you teach?
I'm in the math/stats/computer science department, and I've taught courses in all three. In fact, I managed to teach courses in all three areas in my first semester. I taught the intro stats course and computational linear algebra last spring. Now I'm teaching linear algebra and a special topics course on signal processing including Fourier and wavelet analysis this semester.
What led you to teach math? Take me back to when you started to get interested in math and when you started heading in that direction.
Well, I've liked math since I was a kid. I remember liking math when I was six or seven. I remember when I was seven my father asked me to add up all the numbers from one to 100. I liked problems like that. My passion to teach probably started in high school. I always went to public school, and then in high school I switched to a private boarding school. So the day I turned 14 I moved away. I went to a private boarding school that was a lot like Macalester actually. There were 1200 students, we lived on campus. All of the faculty members lived on campus. The faculty members were very influential in the students' lives. Also I started doing more teaching then. I volunteered at local lower-income elementary schools teaching, in math and English, so there was a lot of community service and I did that two or three times a week. I also did a lot of peer tutoring in high school. So basically those two things of having very influential faculty members and starting a lot of teaching at an early age I think sort of set the roots for it. I went to undergrad at Stanford and I was taking fewer math classes there, actually. I took other classes I was interested in like economics and computer science. I was an economics undergraduate major, and I got a Master's and a Bachelor's at the same time. The Master's degree was in engineering economic systems and operations research, which is a now defunct degree.
And where did you go for graduate school?
I went to the University of Michigan. I took three years off after undergraduate before I went back to school. I worked in finance and consulting. I moved to New York City one week before 9/11. I lived a year in New York, a year in London and a year in San Francisco. I also had projects in Stockholm, Sweden and Amsterdam.
But that just wasn't your cup of tea?
It was great for a while. I mean I learned a lot about many different industries, everything from biotech to cement mining, healthcare, many different industries. I learned a lot about finance and accounting that I never learned in school. My learning curve was pretty steep for awhile, but the parts of it I liked were the analysis parts. We built financial and strategic models. And that was fun for awhile but I realized as you get more senior in that area you basically become a people person, and it's more working with people and clients and less analysis. I also couldn't foresee enjoying the traveling lifestyle forever. The more serious you get, the more you travel, and if you're trying to have a family, that's difficult. I couldn't see myself doing that forever.
So what led you back to teaching?
So then I started thinking about going back to school and getting my PhD and I thought about different areas. I liked math still, applied math, applying mathematical models to different types of systems, but rather than doing that in economics I decided to do that in electrical engineering. I had only taken one course in electrical engineering at Stanford, and that was the single worst grade I received, so it was a bit of a risk.
This is your first year in the Twin Cities, and you've just had a baby. Do you see yourself settling in this area?
Yeah we're getting settled. I had never lived here, I'm from Boston originally. I've lived in the Midwest, in Michigan. We like the urban setting a lot. I live essentially on campus, and it's really nice I can walk to work in a couple minutes. So we're getting settled, finding our way around. I don't have too much time to explore with a baby. This summer was a good chance to see a bit more of the cities.
What specifically brought you to Macalester?
I was looking at liberal arts schools… always. It goes back to my high school experience where we had these very influential faculty members. I enjoy research very much but I've always valued teaching highly. I want to work with students who are active learners, who are very engaged and interested in learning, so Macalester fits that. In a smaller liberal arts setting, you get to know the students better. You can be more actively involved with the students. It's something I had a good experience with in high school and wanted to have again.
What do you like, or dislike, about Macalester so far? What do you think sets it apart from other liberal arts schools?
I'm still learning a fair bit about it. When I was interviewing, it was the students who set it apart quite a bit. My first interview was at a large conference. I got to meet Macalester students at a poster session. I could tell right away that their work was good, but what really stood out was their presentation and teamwork skills. At other poster sessions, the students seemed to fight for time, but Macalester students were sharing the presentation, presenting their ideas very clearly. So that from day one impressed me. When I came to campus, I had maybe 40 students circle around me and start firing questions. That was actually the hardest and least expected part of the interview process, but I was impressed by how forthcoming the students were. Of course the urban setting, focus on internationalism, and amazing colleagues in the MSCS department were all attractive to me, but I think the students set Macalester apart.
Do you do research here?
Yes I do. I'm just getting settled so I haven't had as much time to do it. But of course it's important to me and I do a lot of research.
What's an example of the research project you find interesting? Or maybe the most recent one?
What I'm working on now is basically under the area of signal processing. The area I work on is developing tools, and theory, algorithms to analyze signals or data that lie on a graph. You can think of a social network. You have Facebook or Twitter, and you have friends on that network and connections between different people. Each person is a node on the network and the edges connecting them represent friendships. The system generates a lot of data, like how many times you Tweet about Macalester over the next two weeks. That's a signal. That's a simple signal. That's one example of a network and data that resides on the network. You can think of a traffic network and how much traffic is on the highways, or you can think of a brain network and different regions of the brain that are connected and how they're connected. If you look at a functional magnetic resonance imaging signal, you see different areas of the brain being activated at different times when people are doing different things. So in signal processing there're a lot of tools to analyze data, more classical mathematical tools. What we're doing is trying to adapt a lot of those tools which are meant for data on regular domains to these irregular domains which are the networks.
What do you like to do when you're not teaching math? What are your extracurricular activities?
These days I have a nine month old who doesn't sleep, so my favorite activity is to squeeze in a few hours of sleep. When I still had more free time, we did a lot of hiking. In Switzerland there was a ton of beautiful hiking. We went hiking almost every weekend. I play a lot of sports. I play soccer, tennis and squash, and I played baseball growing up, some basketball. I like to cook, so I try to do that frequently, especially grilling. I recently got more interested in photography, so I'm trying to learn. And I like to travel a lot. Especially in Europe we did a lot of traveling.