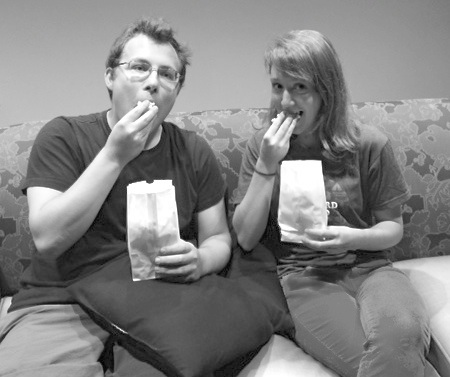 This week we review "Short Term 12," a tumultuous character drama directed by Destin Daniel Cretton ("I Am Not a Hipster"). The movie stars Brie Larson ("21 Jump Street") as well as a collection of lesser-known actors. This film is currently on Netflix Instant Watch.
Swenson:
"Short Term 12" is a movie of emotional turmoil. Brie Larson stars as Grace, an emotionally disturbed and deeply guarded woman who spends her days working at a shelter for at-risk teens. She is routinely faced with problems at work related to the emotional well-being of the kids that she works with. At first she is able to handle this job with a bit of humor and a strong grip on structure, but when a new teenage girl enters the facility, everything begins to unravel. While interacting with children and teens that have been victims of abuse, Grace is forced to try and overcome her own personal history with abuse. This sometimes takes the form of humor. Other times Grace shuts herself off from the world. Larson brings a unique edge to this character; she deviates between steadfast composure and complete hysteria. She is a character that tries to maintain a certain persona, but cannot escape from her past and her inner demons. One of the highlights of this film is the relationship between Grace and Jayden, the previously mentioned new teen. This relationship peaks when they both beat the crap out of a car with a bat. "Short Term 12" is very much a personal experience. Unlike many of the absurd movies that are released nowadays, this film offers a realistic portrayal of today's youth, whether they are 13 or 25. I highly recommend you find this movie on Netflix Instant Watch because while it does not come close to fully exploring its diverse range of characters, it does provide a personal perspective into Grace's raw emotions.
Dobscha:
The basic set-up of "Short Term 12" may sound unoriginal: a well-meaning yet unstable adult develops close and inappropriate relationships with her young charges, attempting to guide troubled teens through their lives of abuse and neglect while dealing with the tragedy of her own similar backstory. However, the details that fill in this framework are far from familiar. Brie Larson ("21 Jump Street") infuses her character with a subtle complexity, often hinting at secrets with the slightest facial expression. The young actors cast as the main foster children are fresh and impressive. Keith Stanfield portrays Marcus, a boy terrified of turning 18 and leaving Short Term 12. He balances fear, pride and quiet stoicism with explosive sadness—presenting a full and believable character with only a few lines and a well-written rap. Jayden (Kaitlyn Dever), a rebellious teenage girl experiencing familial abuse, is equally remarkable. These actors shine admist an engaging plot full of emotion, intensity and wit. The cinematography uses close-ups and handheld shots to add to the feeling of instability (although the yellowish filter is distracting and unnecessary). If you're the type of person that enjoys the warm fuzzy feeling you sometimes get from a superficial tear-jerker, look elsewhere. "Short Term 12" is meant to be unsettling and it does an excellent job.
More like "Short Term 12": "Half Nelson", "Precious"