Marlys Mandaville // Studio Art Major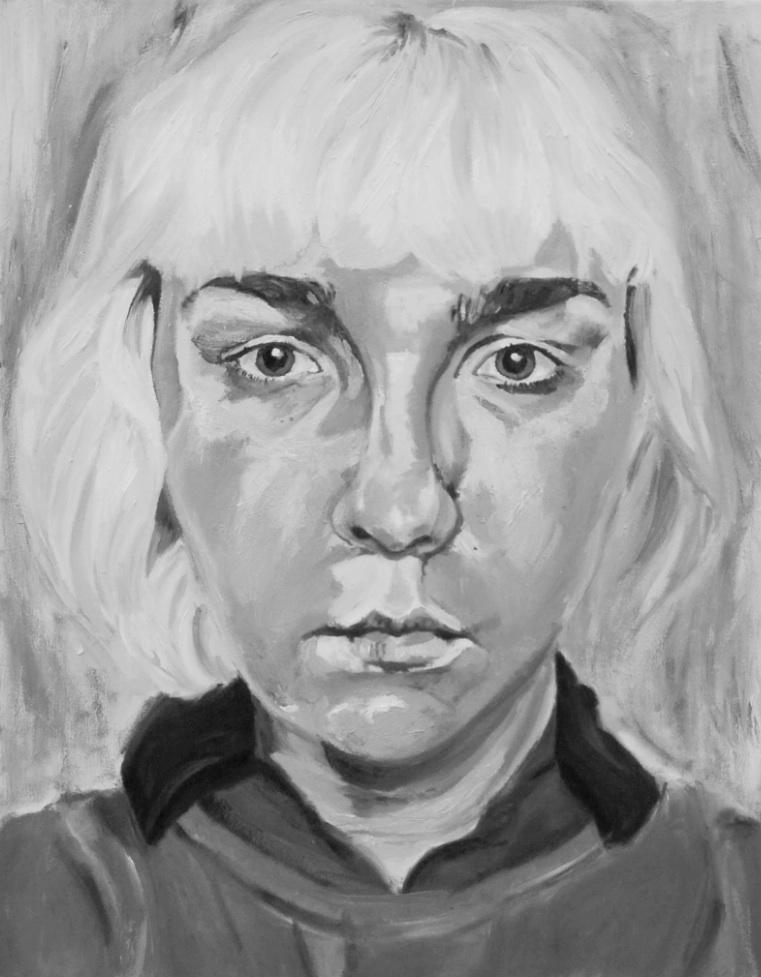 Every week, The Mac Weekly interviews one senior majoring in an artistic field at Macalester. This week, we spoke with Marlys Mandaville, who is majoring in studio art.
How did you come to Macalester?
How did I come to Macalester? I kinda wanted to get really far away from home. I'm from Seattle, and then I went to an international high school and I studied abroad when I was 14 and stuff, so I really liked the fact that Mac was [about], "internationalism," [laughs] now it's kind of old. But yeah, I came for that. It was really one of the only campuses I didn't visit, but I really wanted to be in a city, 'cause the arts and the music scene [you can get] in the cities is better than being out at a small liberal arts college in the middle of a corn field.
When you came to Macalester did you know you wanted to do studio art or art in general?
I was going to do physics and art and it was going to be such a cool combination. Then I almost failed out of the two physics classes that I took freshman year … but I didn't do super well. So I'm also an environmental studies student, and those are my two majors now. [I've] kind of said goodbye to the hard sciences.
How did you find environmental studies?
I don't know. Coming from Seattle I've always been passionate about the outdoors, and nature, and I think I ended up, kind of accidentally, in a couple of courses here … I think that Mac does a really good job of offering a wide variety of stuff, so I just ended up staying there.
Have you been able to combine the two fields at all?
Yeah, so because the enviro major is like 16 courses at Macalester, it's the biggest thing. I actually couldn't do it unless I overlapped. So my focus is sustainable design, which is kind of silly because I don't plan on going into architecture; but I studied architecture spring semester in Denmark, in Copenhagen. I studied some sustainable design stuff while I was there too. Now I know I don't want to do it—but it was totally awesome … to be in Copenhagen and do that. Then my capstone is going to be a series of paintings, a series of portraits of people, and there's going to be an interview component, where I talk to them about climate change. So I am trying to overlap them as much as possible.
Can you tell me any more about the senior show?
So like I said, I want to do a series of interviews. I don't know how many portrait[s] it will end up in because I only have so much time. But [what] I really want to do is interview people around Saint Paul and Minneapolis …I feel like often climate change is communicated with hard science and it's communicated in a lot of ways that people maybe understand, but maybe they don't. Or maybe they understand it, but they don't feel like they can relate to and it feels really far away and it's something I think a lot of people think about, you know, on a daily basis. But it does feel really far away—and it's something like of such a big magnitude. So what I want to do is make [climate change] feel really personal and so by interviewing real people, I am going to have an audio component. I am going to have, I don't know if I am going to have headphones or something, but I am going to have an audio component for each of the portraits so you can listen to people being interviewed. And then by interviewing people close by, I hope that it will really bring that message close to home.
When did you start doing art?
I don't know. It's something that I have kind of always known that I would do, you know? I don't really know [laughs]. I've been drawing my entire life. And it's funny that I am ending up doing painting since I only ended up taking my first painting class spring of sophomore year; but I just absolutely loved it.
What have been some of your favorite art classes here at Macalester?
Obviously painting. Chris [Christine Willcox] is awesome. She's the coolest … and other art classes? Oh, there have been, like, many (laughs)! I mean Megan [Vossler] is great. Her drawing classes killed me. I pulled so many all-nighters for her classes, but she's awesome and I learned a ton. And then, Eric [Carroll]'s class was pretty cool. He is pretty new here. He just started last fall, I believe. I was one of his first classes at Macalester, but he is the photography teacher now and he introduced me to a lot of really cool photographers.
Have you been involved in the Twin Cities' art scene at all?
Yes, a little bit less at the moment, but aside from doing really locally based, like Art Alliance, I was co-chair for two years, aside from being directly involved with Macalester, I started an art collective with my friends outside of Macalester. So it was a collaboration between a lot of students that went to The U, local people pretty much in their 20s, you know, and then some Mac students, and it was called Upstairs Neighbor Collective… We also did a bunch of house shows. We did an art show at my friend's house last year, and I think they did another one when I was abroad. That was only this spring, so it potentially could get ramped up again because that was really cool. I think, I don't know, I think the Twin Cities have some really awesome collectives going on!
Do you have any last remarks for people considering an art major? Considering combining it with something else?
I really recommend doing it now that there is a new building, that['s] pretty awesome. I hear that there are like 20 art majors for next year, and there are five this year, so this year is a remarkable low.