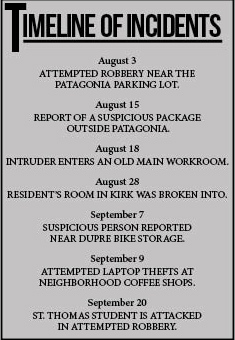 The thin wire mesh was ripped open, leaving a gaping hole in the window. A backpack was splayed open, laptop missing. The contents of a nearby desk were scattered on the floor.
One Kirk Hall resident was greeted by this scene when she returned to her room on August 28.
She estimates that $2,000 worth of her belongings were stolen. Everything of value was taken, including things of sentimental value to her. Not even her calculator was spared.
"I was really shocked," she said. "For days I didn't want to believe it really happened."
For two nights after the break-in, the resident slept in a friend's room. It was too unsettling to know that a burglar had climbed into her room. Adding to her anxiety was the fact that since it was preseason, she was the only one living on the first floor of her section in Kirk.
Break-ins like these are rare, according to Dean of Students Jim Hoppe. At Macalester, all windows that are closer than six feet to the ground are protected by extra safety mesh screens. Such screens can be found on the east and south exterior walls of Kirk, which face Snelling Avenue and the Leonard Center, respectively. However, windows six feet or more above the ground are not protected by such screens.
According to Hoppe, security issues seem to come in little waves every few years. He pointed to a spate of students being hit by cars on Snelling Avenue five years ago as an example. Having a campus like Macalester's, which is open to the public, can also lead to some thefts on campus, Hoppe added.
The Kirk resident said she followed all the usual safety precautions, like locking her door. She said her window was left open (though there was still a thin mesh screen covering the opening) to allow for ventilation.
"Even though I did everything I was supposed to do, I'm still the one paying $2,000," she said.
The resident also said that the police, whom she called after alerting security that her room had been broken into, took four or five hours to arrive. This added to her frustration. To her, campus is no longer the safe space she once assumed it was.
Both the Kirk resident and Hoppe agree that Macalester students should get their belongings insured. Even if the robbers are caught later, it is unlikely that stolen belongings will be returned: hey've probably already been sold.
Kirk residents were first notified of the break-in on Sept. 5, when Director of Security Terry Gorman sent out an email alert to all students living in Kirk. Other students were not notified of the break-in.
Kirk residents had varying reactions to the incident.
"I put away valuables if I'm going to be gone for a while," said Adam Keibler '17, who lives in a single in Kirk's section seven. "But I generally don't feel too threatened."
Keibler's window faces the Leonard Center, but is secured by a metal grate sturdier than the one that was cut through on Aug. 28. "We closed all of our windows for two weeks," said Lizzy Harte '16, who lives in Kirk's section six.
Harte's room, which faces out toward Snelling Avenue, also has windows that are protected by a metal grates.
An alert-filled summer
The break-in capped off a summer that had multiple security alerts, both on and off campus.
The alerts, along with descriptions of attempted crime involving Mac-Groveland community members, were an unexpected occurrence during a time of year that is usually relatively quiet.
"I can't remember having two [incidents] in a row for quite a long time," Gorman said.
"It was up, as we normally have very few [incidents] during the summer, and they came right as the students were coming back. A couple other local colleges had reported similar incidents as well," Gorman explained.
On Aug. 15, students received an email detailing a suspicious package found at the Patagonia store on Grand Avenue.
"An employee at Patagonia found an unidentified package with wires sticking out of it, became concerned, and immediately called the police. The St. Paul bomb squad was called soon after, and determined that it was not an explosive device," Gorman said.
A few days later, an intruder was reported in an Old Main workroom, and the theft in Kirk occurred 10 days later.
Additionally, an attempted robbery near the Patagonia parking lot was reported earlier in August, and a suspicious person was spotted looking over bikes under Dupre on Sept. 7.
Gorman does not take this string of events lightly.
"We have to be concerned about those [incidents]. If you see something, say something. Things are changing in the world, and we all have to pay more attention, maybe a lot more attention."
Gorman emphasized, "I think we always have the sense that [Mac-Groveland] is a very safe community, a nice residential community without much crime. The crimes that are committed are crimes of opportunity. If we make that opportunity available to bad guys, they will come. Even keeping your stuff more closely picked up in your dorm room, that deters them. It's better to not have laptops sitting out for hours on end."
Although the sheer number of events was higher than usual, Gorman that they were likely unrelated.
"I think it's random and can be attributed to the time of year," Gorman said. "With 500 new first years on campus, in the first few weeks of school, the bad guys know we're not paying attention."
Macalester, as a small school with 2,000 students toting around laptops, cell phones and other valuables on a daily basis, draws people looking to take advantage of the situation, said Gorman.
The Kirk Hall break-in, while alarming, is highly unusual and not something that has occurred at Mac in a long time, if ever, in Gorman's memory.
"Around 10 years ago we had a screen cut at ground level in another building, but the interior window was shut and locked, so there was no entry. This led to us adding security screens in low-level windows around campus, and I think the window that was broken into was outside the scope of that project," Gorman elaborated. Because of the Kirk break-in, the college is planning to add security screens to these windows. However, Hoppe says that securing these windows is a complicated process.
"One thing to consider is that these windows also function as points of egress," Hoppe said. "The fire marshall has to come and approve any new [security screens]."
In addition to installing more security screens, several other measures are being considered, also pending fire marshall approval. Gorman said, "We are looking at a few little devices to put on the windows [to increase security]. There are lots of rules on what you can do, so we will see [what the marshall] accepts."
Kirk Hall is in the same fire code building classification as hotels, so there are limits to what can be done. For example, one cannot use every security measure that might be used in a private home. As Hoppe mentioned, in case of emergency, escaping from the window needs to be simple.
The upcoming changes are reassuring for the Kirk resident, but she still wishes the college had done more to prevent the break-in.
"Saying it was very rare doesn't make me feel any better," she said.
Macalester has since responded to the suspicious person seen near the bikes.
"The bike theft issue is very frustrating for us and students. It is important to understand how to lock bikes up properly—do not lock only the front wheel, as the bike will be gone. Thieves are very clever with what they're doing," Gorman said.
Security officers have been patrolling by the bikes and checking for suspicious persons and have turned information over to the police.
Steps you can take
Gorman recommends visiting the Mac Safety and Security web page and using the Personal Inventory Template to catalog your important items. Backing up your computer, said Gorman, is also key. "Once your data is gone, it's gone! Your computer is replaceable, but to lose all of your data is a terrible heartbreak."
In the end, though, minimizing theft and security issues is everyone's responsibility, Gorman emphasized.
"We all need to work at raising awareness. If we help each other, we have lots more eyes out there to keep things safe. We love getting phone calls at Security, and if something doesn't seem right, let us know," Gorman said.