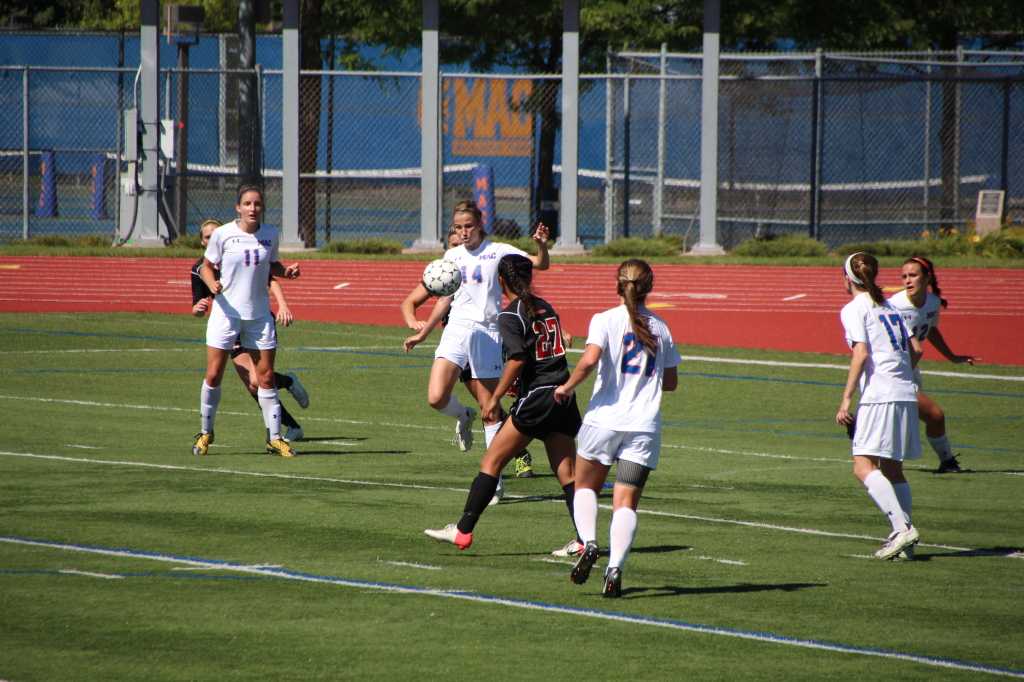 The 2013 Macalester Women's Soccer Team was arguably the best team on campus last year, finishing second in the MIAC Tournament and just a win shy of a bid to the NCAA Tournament. As the 2014 edition of the team opens its season, the Scots look to build off the success of last year while also building a new identity.
Third year Head Coach Michele Cornish always looks forward to the start of the season as a chance to reconnect as a team. "We talk a lot about how it's going to take everyone on the team this year to make things work properly on the field. I think they've embraced it for sure, and we're trying to get everyone to come together and understand what we do on the field and just work to get better every day," she said.
Ranked #2 in the MIAC Coaches Poll and #17 in BennettRank National Preseason Poll, the team certainly had some big expectations. For Cornish, though, rankings are a nice boost but not what a team should be defined by.
While the end goal of a bid to the NCAA tournament is the same as a year ago, the team is still figuring some things out. "We are playing a more team-based style of soccer. It's a more connected approach, which is exciting but it takes time to adjust," said Captain Margaret Nemetz '15.
Through their first three games the Scots are 2 – 1, picking up overtime wins against Wartburg and Grinnell College, but losing to Lake Forest College. Captain Bonnie Gale '15 and Rae Hohle '17 have both scored twice while Nemetz has already totaled 4 assists, 3 of which have come off corner kicks.
The loss of seniors Maggie Molter '14 and Georgia Cloepfil '14 up front has especially changed the team dynamic. "This year without those two really, really strong forceful players in the middle we have to do some other things. We relied very heavily on the two of them to be our goal scorers, or to at least create opportunities to score goals," Cornish said.
Cloepfil scored 19 goals on her way to being named an All-American, a total that ties her for third all-time on Macalester's single season goals list. Gale was second on the team notching 11 goals. Scoring early and often this season is a main focus for Gale: "I would love to see us score more in the first half of games, and get out to an early lead. We've already had two games in overtime and that's not pleasant."
Bringing in nine first-year women, the Scots are also looking to balance experience with youthful energy. Already a trio of first-years has made a big impact. Rachel Wilson '18 and Emma Toomer '18 have split goalkeeping duties in the first three games. Cornish praises their athleticism and talent, but notes "they are still first years so they are learning how to kind of overcome that, to communicate better, to take on a strong leadership role because you have to as a goalkeeper."
Additionally, Kelsey Porter '18 has seen significant playing time at forward for the Scots. "She's really a versatile player and can play anywhere and we're still trying to figure out where we can utilize her best," Cornish said.
This season the Scots are fortunate to face two of their toughest MIAC rivals, St. Ben's and Concordia, in night games at home. The team isn't taking anything for granted based on last year. "We have to keep pursuing our goals consistently throughout the season, and really be motivated and ready to play every single time out," Gale said.
Cornish sees the potential talent across the classes and will be working to foster team chemistry and trust that only comes with working hard and playing together.
These women know they have unfinished business to take care of but they are going to do it their own new way.