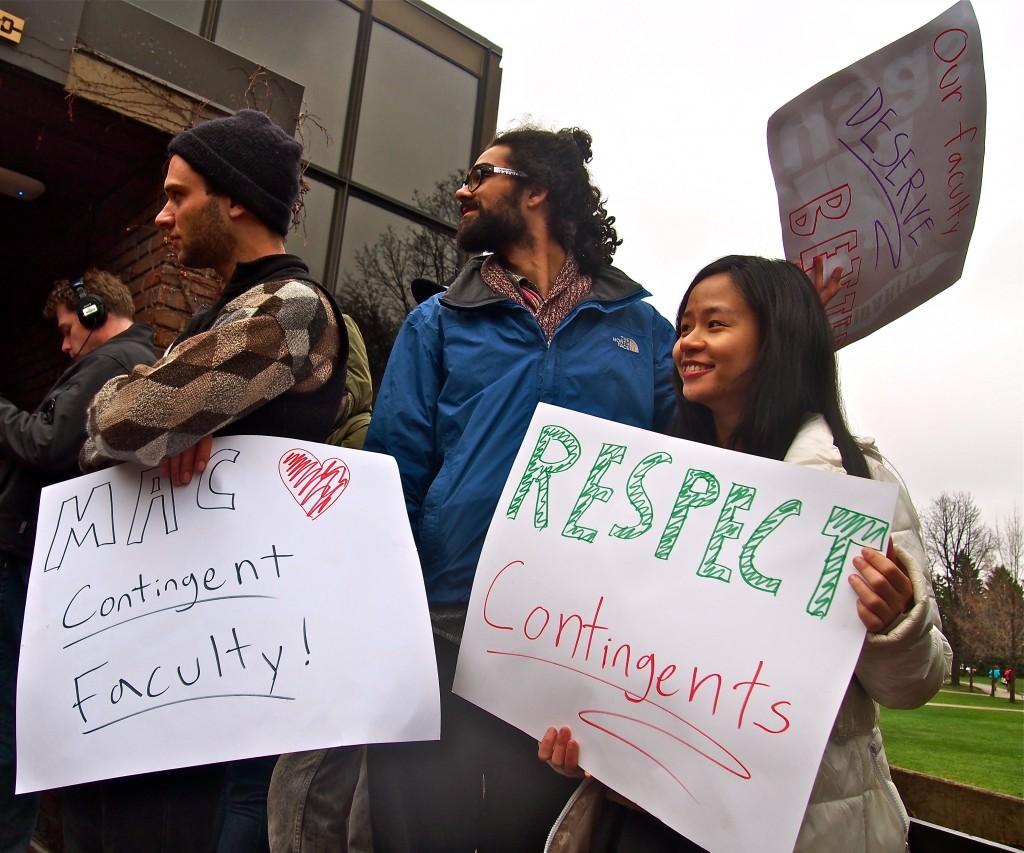 The push to organize contingent faculty at Macalester into a union has come to a halt, as the vote on unionization was cancelled a day before the election was scheduled to begin.
The vote, to be conducted by mail-in ballot, was supposed to begin on Tuesday. On Monday afternoon, however, all contingent faculty received an email from the election's organizing committee announcing that the vote would not take place.
Link to Letter sent to Contingent Faculty
The letter cited a lack of consensus among the contingent faculty, as well as a desire among contingent faculty for more time to explore the possibility of unionization.
"After speaking and listening to dozens of our contingent colleagues, it has become clear that many on both sides of the issue believe that more time is necessary to consider this decision," the letter read. "There is also consensus that the public conversation should include a fuller spectrum of voices than are currently represented. For these reasons, we have decided to delay our election."
News of the election's cancellation broke in the Star Tribune Monday evening, and word quickly spread among the contingent faculty through that article as well. In yesterday's (June 5) Daily Piper, President Brian Rosenberg announced in a statement that the election was called off.
"The decision to withdraw the petition was made wholly by SEIU (Service Employees International Union), as is their right. It represents a cancellation and not a postponement of the election. In order to carry out a new election, SEIU would have to begin the process of petitioning anew," Rosenberg wrote in his statement.
The statement continued to explain that the SEIU may choose to hold another election in the future, and concluded by thanking the school for its patience and handling of "a process that was unfamiliar to most of us."
Rosenberg especially complimented contingent faculty affected by this process.
"For them in particular this was a stressful and sometimes frenetic period, and they comported themselves throughout with thoughtfulness, civility, and respect for all parties. We are fortunate to have them at Macalester," Rosenberg wrote.
A quickly-developing movement
The push to unionize contingent faculty at Macalester began in January, as SooJin Pate, who at that time was a Macalester American Studies adjunct faculty member, reached out to Adjunct Action, a campaign of the SEIU seeking to unionize contingent faculty. In April, a group of students and faculty members celebrated We Love our Contingent Faculty Week. The week was designed to raise awareness of and support for Macalester's contingent faculty, whom organizers said make up a sizable percentage of all Macalester's faculty members.
Link to Contingent Faculty Push to Unionize
While that week was under way, organizers at the SEIU were working with Macalester to garner support for a faculty union at Macalester. At a rally on April 24, contingent faculty announced that they had cleared the threshold for signatures and successfully filed a petition with the NLRB to hold an election.
Advocates called for the administration to remain neutral and not interfere in their organizing efforts. Representative Keith Ellison (DFL), a former contingent faculty member at Macalester, called for the administration to take a stance of neutrality, and the Macalester College Student Government soon after passed a resolution in support of unionizing efforts and a neutral administration.
Soon after that rally, however, Rosenberg and Provost Kathy Murray sent a memo to all faculty announcing Macalester would oppose any unionizing efforts by contingent faculty.
Link to Macalester Opposed to Adjunct Faculty Union
A spirited discussion took place in the weeks following, as contingent faculty, students and community members debated the merits of unionization. Over 850 individuals signed a petition which "call[ed] on the administration to commit to a position of neutrality and non-interference towards contingent faculty." A series of op-eds in The Mac Weekly by students and contingent faculty highlighted the intensity of this debate and the wide variety of opinions regarding unionization. In addition, a group of contingent faculty held a town-hall forum, featuring representatives from the administration and the SEIU, to answer any questions on the organizing process and unionization.
Organizers must wait six months for further action
To withdraw a petition and cancel an election, one of the organizing members must simply write a letter to the National Labor Relations Board agent managing the specific case. The letter does not need to provide a specific reason for cancelling the election; in most cases, the NLRB (National Labor Relations Board) will approve the withdrawal and cancellation.
Although this vote was cancelled, a possibility remains for the question of unionization to arise in the future. All the signatures gathered on the petition calling for a union election are still valid, and a new petition, with those existing signatures, can be resubmitted to the NLRB after six months.
If this vote had proceeded and failed (meaning a union would not be formed), another vote could still take place in the future, although that would have required waiting a year before further action.
"The cards are still valid. The momentum is still there. The conversations are still happening … When we think it's right, we will re-file for a new election," Denise Welte, an organizing director at the SEIU, said.
Petitions are often withdrawn. Over the past ten years, 25,390 petitions have been filed to the NLRB for a unionization election. Of those petitions, 8,895 of them have been voluntarily withdrawn, which amounts to 35 percent of all petitions.
Pate, a member of the organizing committee and one of the main proponents of unionization, said that the call for more time came from both sides of the aisle, among faculty both supportive and in opposition to unionization.
"Our job [as the organizing committee] is to serve the will of the people, and the will of the people is that they needed more time," Pate said.
If the election had still taken place, Pate said the results would have been inconclusive, and the opinions of contingent faculty did not prevail strongly in one direction or the other. She credits this to the Macalester administration's vocal opposition to faculty unionization.
"To be honest, I think it could have gone either way. I don't think there would have been a landslide like at other schools, but it could've gone either way—it would've been a close race," Pate said. "It's because of the administration being extremely active in their anti-union stance, whereas these other schools haven't had to fight the narrative from administrators as hard as we've had to fight."
Pate said many individuals were silenced throughout this process by the decision that only contingent faculty who taught in the spring and will return in the fall would be allowed to vote in this election. Pate, who is not returning to Macalester in the fall, would not have been eligible to vote in this election, as was the case for two of the other three members of the organizing committee.
Pate said throughout most of the process, she and the rest of the organizing committee were unaware that a petition could be pulled. Close to when the election was scheduled to begin, Pate said they came to the SEIU and shared concerns about time, and the SEIU then suggested to withdraw the petition.
"This is the benefit of working with the SEIU, that they are experts. Even though pulling the petition is not a common process, they knew it was an option," Pate said.
Both Welte and Pate both said that the decision to call off the election at Macalester was not at all influenced by similar movements to organize contingent faculty at Hamline University and the University of St. Thomas. Hamline contingent faculty are currently voting on whether to unionize, while St. Thomas has scheduled an election for July.
"The momentum is across the metro," Welte said.
"Wide range of emotions" among contingent faculty
Upon receiving news of the vote cancellation, reaction among contingent faculty was full of shock and surprise.
Educational studies professor Tina Kruse said she experienced a "wide range of emotions" about the announcement, ranging from initial confusion to a sense of relief.
"We were in a true suspense about the election results, and it was nice to step back from that," Kruse said. Kruse added that she, like many other contingent faculty, did not know that calling off the election was even a possibility.
Chemistry professor Susan Green said she was surprised but relieved by the decision, saying the voices of faculty calling for more time to make a decision had been heard and respected.
"I had absolutely no idea that delaying or calling off the election was even an option," Green said. "In a way, it was exactly what I had hoped for, in that I felt like the timing of the election was really poor, coming at the very end of spring semester. So in that respect, it is good in that we now have time to decide what to do."
Green credited the number of personal conversations and email exchanges that took place among contingent faculty as a huge factor in leading to this decision.
Computer science professor Paul Cantrell said he was also very surprised by the vote cancellation.
"The vote caught me completely off guard when it was scheduled, and completely off guard when it was cancelled. Total whiplash. I'm bollixed by the whole process," Cantrell said.
Cantrell, who at first tentatively supported unionization but eventually grew to oppose it, pointed to a disconnect between the organizing committee's actions and the feelings of many contingent faculty.
"I increasingly felt that, despite the organizing committee's noble intentions, this union drive was something being done to us, instead of something being done for us. The vote being called off cemented that feeling," Cantrell said.
"Many of us wanted to hold off on the vote until we'd first tried addressing these issues in a non-confrontational way, but we were told that delay wasn't an option," continued Cantrell. "Now it turns out that it was an option; we just were never the ones in control of the process."
Biology professor Liz Jansen, who opposed unionization throughout the process, said she felt "a complex mix of feelings, including baffled, frustrated and somewhat relieved."
Jansen believes that although the possibility of unionizing is still on the table for a later date, she believes it is unlikely, since a majority of the current organizing committee will not be returning to teach at Macalester in the fall and their momentum will soon vanish.
"Now that the union question is put on hold or extinguished for now, my hope is that we make constructive progress in addressing ideas and concerns through our established systems at Macalester to make improvements to benefit the faculty and the college as a whole," Jansen said.
Physics professor Brendan Miller, another member of the organizing committee, said that although unsuccessful, the movement to unionize will hopefully spur continued conversations about contingent faculty, and eventually lead to improved working conditions for them.
"I feel a union is the proven and most effective way to obtain better working conditions, and there are important needs to be addressed. It catalyzed a critical conversation, an ongoing conversation, with the expectation that improvements need to be made. Now there's the expectation that administrators will move quickly to make improvements. Then, if not, I think the undecideds will come forward [for a union]," Miller said.
Miller pointed to three areas where he wished to see improvement for contingent faculty: a higher per-course rate, improved benefits and greater job security. He said that although he was in favor of unionization throughout the process, he would be satisfied if those three objectives are met, even without the formation of a union.
"The goal isn't to establish a union, per se. The goal is better working conditions for contingents, and a union provides a legal way to achieve that. The entire goal is to make Mac even better," Miller said.
Discussions on contingent benefits will continue
While another push to organize contingent faculty could not take place until December at the earliest, many contingent faculty expect to continue in discussions with one another, and with administrators, about many issues raised throughout this movement.
Earlier last spring, a faculty reading group convened to read the book "Equality for Contingent Faculty and discuss issues related to contingent faculty benefits and compensation. According to Green, those discussions were put on hold when the union drive began, but now that the push is over for the time being, those discussions will continue yet again.
"I know many of us are going to continue the very helpful discussions we started amongst ourselves and bring the results of those discussions to the administration at some point," Green said.
A group of contingent faculty plan to meet with Rosenberg and Murray next week to continue discussing these issues and begin a more sustained dialogue on contingent faculty treatment.
"We want to reassure Brian, Kathy, faculty, staff, and students that we want to work together as one community, and rebuild any bridges that were damaged by heated public rhetoric," Cantrell said.
"I think a lot of people will feel more relaxed, and a weight has been lifted, and the pressure is off — now we can start having good conversation," Pate said.
After the announcement, a group of contingent faculty began circulating a consensus letter to address many questions and concerns, and affirm their willingness to continue dialogue going forward.
Open letter from Macalester Contingent Faculty regarding the recent union drive
The letter pushed back against the idea that opposition to a union at Macalester was reflective of any stronger anti-union feelings, and clarified that many contingent faculty are still strongly in favor of unionization in general.
"Does it mean that we, members of Macalester's faculty, have taken an 'anti-union' position, or that we are the victims of 'union busting?' Decidedly not. We gathered as much information as was possible considering the timeline, and we were prepared to cast informed, educated votes. Even many of us who would have voted 'no' to the specific question on the ballot remain staunch supporters of unions as agents of social and economic justice," the letter read.
The letter continues to state that many contingent faculty were not able to have their voices properly heard throughout this process, and now that the union drive is over, they look forward to continuing discussions and engaging in dialogue with the rest of the school community.
"During the election period, labor law prohibited an open discussion between the voting group, our tenure-track colleagues, and the administration. Now that the vote has been cancelled we are excited to open our discussions up to the rest of the college community," the letter read. "We have come out of the election period concerned, energized, and eager to find a process for our community to identify and address these issues. … We submit this letter with great appreciation for the fact that everyone—faculty and staff, regardless of status, and regardless of unionization viewpoint—fundamentally wants what is best for the future of this college and for our students. We look forward to undertaking this work together."
What happens in December, when organizers will be able to re-file a petition for election, is unclear. However, with extra time between now and then, Pate believes the community will benefit from increased discussion and dialogue.
"This is responding to the needs of the people. It's what a good organizing committee does: we don't want to force anything on people. We want, as members of the organizing committee, the needs of our community to come first. I think we're doing the right thing trying to hit the pause button and give people more time," Pate said.