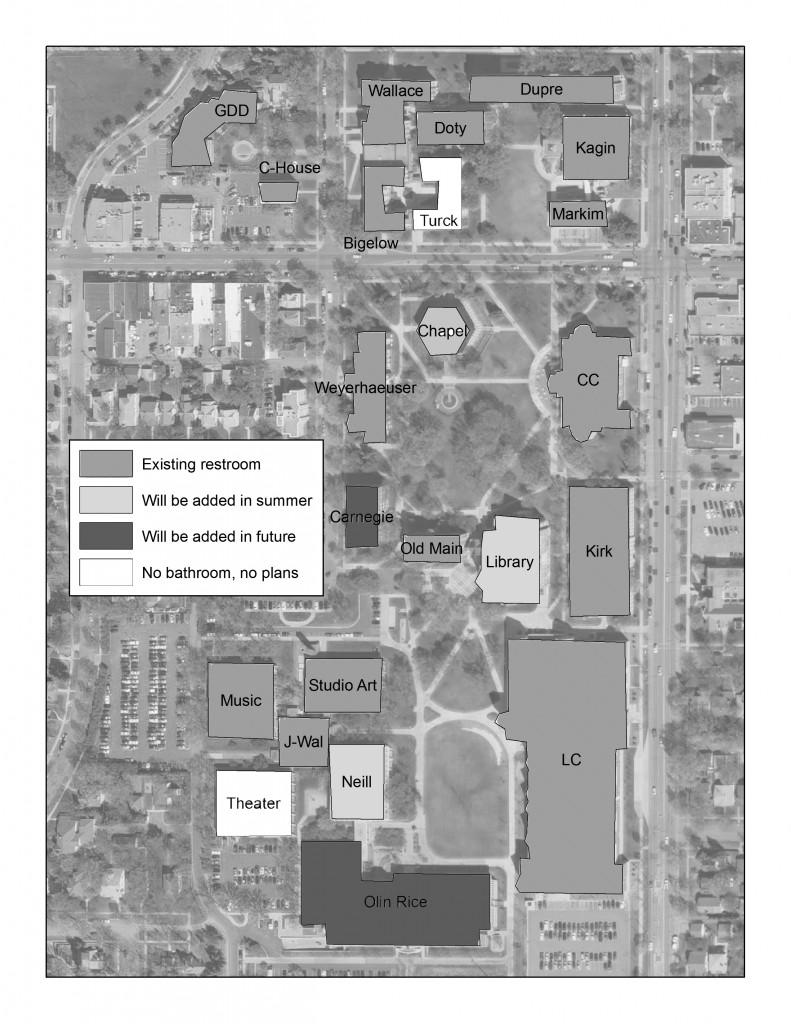 Beginning over the summer, a growing number of bathrooms on campus will be designated as all-gender restrooms. Bathrooms in the library and Neill Hall will be the first converted, with the ultimate goal of having all-gender restrooms in all academic buildings on campus.
Earlier in the year, MPIRG's Health, Gender, and Sexuality (HUGS) task force identified an increased number of all-gender restrooms on campus as one of their priorities for the year. They established a proposal and met with various administrators to work on implementing these changes.
After meeting with Dean of Students Jim Hoppe, Dean of Multicultural Life Chris MacDonald-Dennis and Director of Facilities Nathan Lief, the task force toured all the restrooms on campus and identified potential possibilities for conversion.
"We wanted to make sure there would be all-gender restrooms in all buildings, which there aren't currently, and the best way to do that would be to convert multi-use bathrooms to all-gender," said Amy McMeeking '16, one of the co-chairs of the HUGS task force.
According to Vice President of Student Affairs Laurie Hamre, all new construction projects or renovations already require all-gender restrooms to be included. Despite having discussions in the past about increasing the number of facilities, there was no current policy for changing restroom policies in existing buildings.
Hamre was very supportive of this proposal and enthusiastically brought it to the President's senior staff, who approved the changes as well.
"There was no discussion that this isn't the right way to go, absolutely no convincing the senior staff that with our diversity of students, both in meeting needs and in educating and being leaders, this needed to happen," Hamre said.
"It was an easy step for me to take that proposal to the President's staff."
The first two buildings to have all-gender restrooms implemented will be the Library and Neill Hall. Because of the high number of restrooms in those buildings, they were easy targets for conversion, Hamre said.
Both men's and women's restrooms on the second floor of Neill and the second and fourth floors of the Library will be redesignated as all-gender over the summer.
Those restrooms will be easy to convert, according to Lief. Over the summer, existing signage will be replaced with all-gender signage, and urinals in the current men's rooms will be replaced with an additional toilet stall. The different restroom designations in each building will also be made visible through the potential changing of directory signs in the future, so they publicly display which restrooms exist in which buildings.
"The implementation of the plan to change directory signs may take several years to implement, but having the plan will ensure consistency when signs are replaced and/or updated," Lief wrote in an email.
The plan also calls for greater all-gender facilities inside Carnegie and Olin-Rice, yet those transitions will take place later in the year after an informational campaign and outreach effort.
Because those buildings have fewer bathrooms, yet much higher amounts of foot traffic, the school plans to phase in that transition throughout the fall semester. Carnegie, for instance, only has restrooms on two of the building's five floors.
"There are lots of folks that live [in those buildings], if you will. I think, in respect to them, we have to have conversations about some of the buildings and how we can make that transition happen," Hamre said.
Hamre also said that no plans currently exist to change the Chapel's restrooms, as any renovations would be dependent on renovations to the rest of the Chapel.
After this transition is complete, all academic buildings on campus will have all-gender restrooms inside them. According to McMeeking, this is a huge step forward.
"People need to have a place where they feel comfortable using the bathroom on campus. As we've been developing this [proposal], we have a number of trans* students who have been coming to our meetings and talking to us. Hearing their stories about not being able to use their bathrooms in buildings, and planning around when they can use the bathroom, it seems ridiculous," McMeeking said. "All-gender restrooms are a win-win situation because everyone can use them."
Hamre echoed those thoughts, saying that the presence of all-gender restrooms furthers the college's commitment to providing safe, accessible spaces to all members of the community.
"In this day and age, with the diversity of our students and our demographics, regardless of gender identity expression, all members of this community should have the opportunity to have some basic rights," Hamre said. "Having a place that is convenient and safe and comfortable and respectful seems to be one of those basic rights. From the standpoint where students, faculty, and staff can be successful to do the job they're here to do, I think this is a slam dunk."