14. Softball's Hot Start and Dependable Offense
The Scots started their season with an impressive 5-1 mark. After returning from a disappointing Florida trip, the softball team ran off a 6-0 streak, including four in-conference victories and a 1-0 shutout victory over Augsburg. Led by a potent offense that often featured multiple hitters clearing the .400 mark, the team was able to hit its way back into games after falling behind early. "We just hit ourselves out of holes that we got ourselves into defensively," head coach Jody Gabriel said of the streak. As of publication, Miranda Stokes '15 set the MIAC's top mark with 46 RBI.
13. Women's Water Polo Plays Longest Game in NCAA Division Championship History
At 49:22, the Scots broke the record for the longest NCAA division championship game in a heartbreaking six-overtime loss to Carthage College. The game concluded with four consecutive sudden-death periods. Despite facing a much larger team that was constantly able to throw fresh legs in the pool, the Scots stayed focused thanks to an energetic crowd that hadn't seen the water polo team play at home since 2011. After Carthage finally scored to end the historic game, the crowd let the squad have it. "Usually if we win, we turn to the fans and start the "Macalester is Wonderful" cheer. This time they yelled down to us to wait a minute and started the cheer for us. It was one of the most special moments of my career as an athlete," said co-captain Sarah Shoemaker '15. The fans were equally thrilled. "It was the most exciting sporting event I've ever been to," said Maggie Joyce '15.
12. Men's and Women's Basketball Both Beat Carleton
Both the men's and women's basketball teams had disappointing seasons, but they were able to close out their final game on a bright note. The Scots travelled to Carleton on a mid-February afternoon hoping to end the season with a victory over their fiercest rival. In the women's game, the Scots were propelled by a spectacular performance from Veronika Jakubovie '14, who netted a season-high 18 points and 19 rebounds in her final game in a Macalester uniform. The Scots defeated the Knights in overtime 74-71 to end the lady's season on a two-game winning streak. The men hoped to finish off the sweep in the next game in another tightly contested affair. With the Scots up by three and the ball, Bert Yaffe' 15 drilled a huge three with only 18 seconds left in the game to seal a 62-58 win. The men wrapped up the campaign with a 4-21 overall record but will return all five starters to the squad next season.
11. Laura Avena's 1,000th Kill
In her four years with the Macalester Volleyball team, Laura Avena '14 built a reputation as a dominant force on the floor, often drawing the loudest cheers for her powerful kills. On Sept. 10, in a home game against North Central University, Avena hit 1000 kills, becoming only the fifth player in Mac history to do so. "I knew when I was I close, but it didn't really hit me until my coach pulled me out of the game. And that was a really great moment, to celebrate with the support of my teammates," Avena said. The three-time All-MIAC selection credited her teammates with powering her personal accomplishments: "I [couldn't] do any of it without the support of my teammates," she said.
10. Hundreds of Fans Cram into Drake Arena to Witness Club Hockey Team Blowout Carleton
Yes, sometimes it is fair to criticize Mac students for rather meager showings at varsity sporting events, but we show up for club hockey. The squad, only half of whom sported jerseys for any particular game, drew hundreds of fans to each of its final four games, a streak of high attendance sparked by a 7-3 victory over Carlton's club team. For the rivalry, the bleachers featured over 200 students spontaneously breaking into various chants and rattling the boards. "Having a large crowd was really important not only for the players but for the program. We're trying to make hockey part of Mac culture, and having 100-200 people is fun for us and our opponents," said Ari Hymoff '17, a member of the club hockey team. For a couple weeks in the heart of winter, hockey was perhaps the epicenter of Mac culture.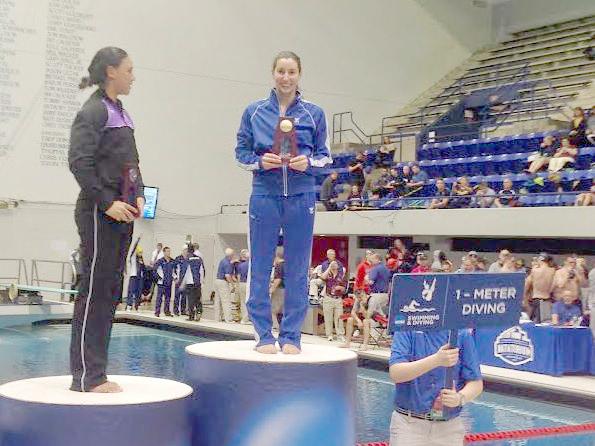 9. Auburn Double Day
On November 2, Auburn Jimenez '14 pulled off the rare feat of competing in two NCAA events in a single day. In the morning, Jimenez led the Scot's to a sixth place finish at the MIAC Cross Country Championships. He completed the eight kilometer course through St. Paul's Como Park in 26:40, placing 30th of 230 runners. Less than three hours later, he kicked off against Trinity Bible. Jimenez converted all extra points and was three of four on field goals including his season long at 41 yards. Balancing the demands of two varsity sports was a challenge, but his impact on both teams was undeniable. "Two big kicks in the same day, that's pretty special," noted Men's Cross Country Coach Matt Haugen.
8. Georgia Cloepfil Garners All-American Honor
Cloepfil '14 ended her collegiate soccer career by repeating as MIAC scoring champ. The 2013 MIAC Player of the Year followed up a strong junior season (15 goals and eight assists) with an even better senior year (19 goals and 12 assists), in which she scored or assisted on 66 percent of the Scots' goals. In December, the National Soccer Coaches Association of America (NSCAA) recognized Cloepfil as an All-American, one of two from the MIAC. Cloepfil now sits at No. 6 on the women's all-time scoring list with 39 goals.
7. 40 for DK3 in 3OT Thriller
Men's Basketball's first win of the season was a special one for both the team and shooting guard Dylan Kilgour '16. Kilgour went 9-14 from behind the arc as he put up 40 points in a 92-89 triple overtime victory over Lake Forest College (Ill). In a game that saw ten lead changes, Kilgour's huge scoring spree came off of just 20 shots. The California native now has the single game scoring record for the Scots, since official statistics started to be kept in 2000. Also instrumental in the win was Griffin Glatt '16, who scored eight of the team's 21 overtime points and picked up eight of their 14 overtime rebounds.
6. Football Retains Paint Bucket
In the team's season finale, the Scots scored a 7-0 shutout victory over Snelling Avenue rival Hamline to maintain control of the Paint Bucket Trophy for the third consecutive season. The game turned out to be an "interception fest," as Jole Miller '15, Bolton Howes '15 and Konnor Fleming '15 combined for five picks. Quarterback Samson Bialostok '15 proved both an aerial and rushing threat, tossing for 83 yards and running for 44. Bialostok connected with John Johnson '14 on a 30-yard touchdown midway through the first quarter to provide the afternoon's only scoring play. Daniel Ricci '14 led the ground attack for the Scots with 60 yards on 13 carries.
"It felt like winning a championship when that final horn sounded," said defensive lineman Zach Hauser '16. "Keeping the Paint Bucket is really special. If you look at it, Hamline has had it for a very long time. Then was their time to have it, now it is our turn to keep it."
5. MIAC Womens Soccer Championship
On a chilly November day nearly 90 Macalester fans packed two school buses headed for St. John's University in Collegeville, MN to watch the Women's Soccer team battle St. Benedict's for the 2013 MIAC Conference crown. Despite controlling most of the game, Mac fell 3-2 to the Bennies who were able to better capitalize on their scoring chances. Down 2-0 at halftime, the Scots came back with a goal by Cloepfil in the 54th minute, though St. Ben's matched with another of their own. Behind by two with 10 minutes to go and supported by the large and loud crowd, the Scots scored another goal but were unable to net the equalizer before the final whistle.The team's first appearance in the title since 2009 may not have ended in victory, but the atmosphere and intensity will surely be remembered.
4. Women's Cross Country 4th place finish in MIAC
The harriers of the Women's Cross Country team exceeded even their own expectations as they placed fourth at the MIAC Championships in November, right behind three nationally ranked teams. All-Conference honors were given to Kimber Meyer '17 and Anna Schmitz '14, who placed fourth and ninth respectively. Also pivotal in the team's high placing was Emma Van Emmerik '14, who PR'ed by over a minute to crack the top 30.
"Our team collectively put together a really great race," Coach Betsy Emerson said. "We went in hoping for top six and at times in the meetings leading up to the meet our gals said 'let's try for the top five.' So when we raced to a fourth place finish it was elation because I don't know if anyone was expecting our team to be top four in the conference. We were hoping to be in the top half but to be in that position [fourth] was really special for the program."
Women's CC had the second highest conference finish from a Macalester team in the 2013/14 year (behind Women's Soccer). They will have high hopes for next fall, as freshmen made up four of this year's top seven.
3. Snowout Blowout
Amidst the first snowfall of the year, the Macalester women's soccer team shutout St. Olaf 5-0 at Macalester Stadium in what became famously known as the "snowout blowout." The victory sent the Scots to the MIAC Championship match where they would later match up with regular season conference champ St. Benedict. Ingrid Greene '17 delivered the game's opening goal from deep with a little help from a keeper bobble in the 25th minute. However, the Scots only went into halftime with the one goal lead. It appeared both teams were having a difficult time maneuvering through the snow until the Scots went on an offensive barrage. They scored four goals in the game's final 20 minutes, each goal coming from a separate player. The semifinal victory sent Macalester to its fifth MIAC title game and first appearance since 2009.
2. Kimber "All A-Meyer-Can" x2
Coming to Mac in the fall out of Naperville, Illinois was Kimber Meyer '17. In her short time in St. Paul, Meyer has already earned All-American accolades in Cross Country and Indoor Track. In Cross Country, Meyer improved her 6K time at every meet but one, and took another 15 seconds off of her best, and the school record, at the National Meet. She went out conservatively, placing herself in the middle of the field in the early goings, and gradually creeped her way up towards the front runners, finishing in 22nd place with a time of 21:50. Over the course of the season, Meyer took 45 seconds off of the Macalester 6K record.
On the indoor track, Meyer qualified for nationals at the MIAC meet, where she won the 3000m in convincing fashion. Once again, Meyer ran her own race and did not attempt to go with a quick early pace. It paid off, as she gradually moved up once again, crossing the finish line in 9:46.31, seven seconds faster than her run at MIAC, earning her fifth place in the nation.
She is in nationals qualifying position for the 5,000m on the outdoor track, and will look to take home her 3rd All-American title of the year, a nearly unprecedented accomplishment at Mac. "In my years of coaching I've been to a lot of national meets and I've coached two national champions from Luther," Coach Betsy Emerson said. "When they were first year runners I'm not sure they were as quite as good as she is right now."
1. Renee Jordan Brings National Championship Home to Mac
Back at the Division III National Swimming & Diving Championships for the third time in four years, Renee Jordan '14 was determined to return with some hardware this time around. After placing eighth in the 1-meter dive at last year's Nationals, Jordan entered her final dive this year 48.15 points behind the leader. Although the dive she had prepared was high in degree of difficulty, she had averaged only a 47.7 on it throughout the year. "I don't think Renee realized how well she needed to put this dive in to win it," Dunn said.
With the pressure on, Jordan performed her best dive of the season en route to the top spot on the podium. "I think it was diving for the love of diving that really won me Nationals," she said. "Being able to dive because I love the sport was everything to me."
Jordan is Macalester Swimming and Diving's first National Champion. "This national championship and this trophy really belong to the Macalester community as a whole and to everyone who has come together to support me and get me here," she said. "I did not get here by myself."