Parents, Planning and Passover: Macalester Pulls off Record Spring Sampler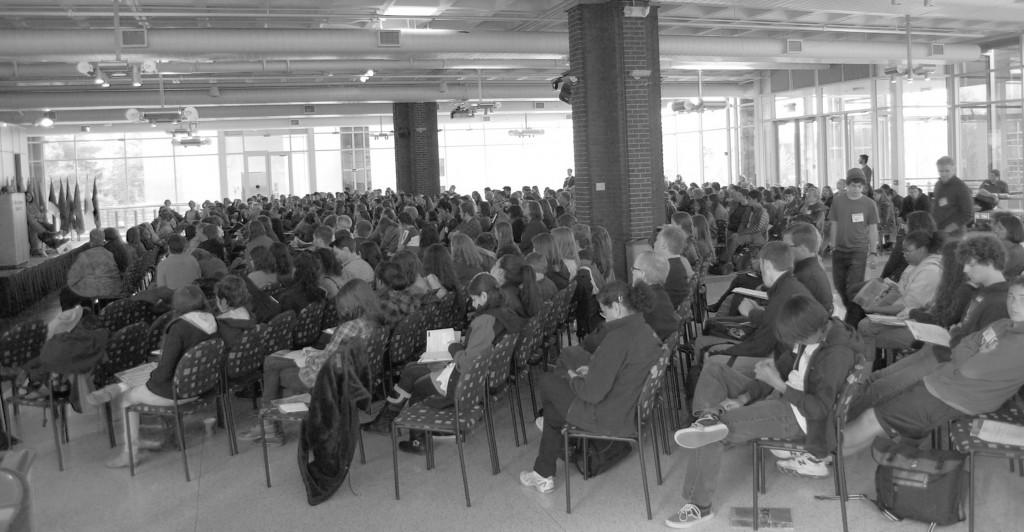 High school seniors across the country and the world await their college acceptance letters in late March. Macalester College sent out its regular decision letters the third week of March and invited all accepted students to attend one of two Spring Samplers. The first was from April 10th to 11th, and the second from the 17th until the 18th. Typically, Macalester hosts about 200 to 300 visitors (a number which combines prospective students and their guests) per Spring Sampler.
This year's second Spring Sampler, however, stands out from others. It hosted a total of 487 visitors – 257 students and 230 guests – setting the record for the biggest sampler in Macalester history.
"I've been planning the samplers for the past nine years, and each year, we have seen an increase of 10 to 20 visitors. This year, however, was very unique. We saw the numbers triple in four days," said Associate Director of Admissions, Nora Main '02.
Main speculated that the coincidental timing of the second Spring Sampler contributed to such an increase in visitors. Two major religious holidays, Good Friday and Passover, fell during the same timeframe, and many high school students had their spring breaks last week. Particularly, no other past sampler had hosted prospective first-years on Good Friday, so Main had actually expected fewer students to sign up for the visit.
"I was under the assumption – which is now erroneous – that people would be a little upset that the sampler coincided with major religious holidays. I was expecting telephone calls from parents. But that obviously wasn't the case," Main said.
Macalester hosts its Spring Samplers in the middle two weeks of April to allow prospective first-years to work out their travel plans and consider acceptance letters from other schools.
Planning for the samplers starts a year in advance. The spaces necessary for the sampler events are reserved early in the academic year, and the Planning Committee–of which Main is a part of–contacts the academic departments to arrange all the class visits. But the unprecedented number of visitors for this year's second sampler pushed the admissions team to readjust the whole event.
"We had to re-engineer the second Spring Sampler whilst we were hosting the first one. It was definitely a feat, but well-worth it. I'd really like to thank the Macalester community for opening its arms – both literally and figuratively – to the guests," Main said.
The student campus visit coordinators faced a new challenge of recruiting more student hosts for the overnight stay.
"We had to make sure that every PF was matched with someone to stay with, which definitely got hectic at points," said Anna Van Sice '16, a Campus Visit Coordinator.
The coordinators were also prepared to handle any last-minute cancellations from both PFs and students who signed up to host.
"[We] anticipated these cancellations a little more and were able to easily make arrangements for any students who were in need of a host," Van Sice said. "I think we've really been able to communicate well and divide tasks up effectively, so it all went pretty smoothly."
While the Admissions Office designs the Spring Samplers, the events cannot succeed without the help of the Macalester community.
"With twelve of my colleagues working with 500 people, we really have to rely on the Macalester community to succeed," Main said.
She also remarked on how many parents complimented Macalester students, who they thought were "gracious, friendly, smart, engaged, and articulate" both in and outside of the classroom.
Students were excited to meet the PFs as well.
"I decided to host because my experience as a PF was a main factor in my decision to come to Macalester," said Alysha Alloway '17, who hosted several PFs this semester. "Since that decision was only a year ago for me, I felt that I could connect to PFs and possibly help them make their own choice."
In fact, Alloway tried to show the PFs not only what she would be normally doing on the days they visited, but also introduce them to what the Twin Cities could offer.
Van Sice also enjoyed interacting with the PFs.
"[I]t's always fun to hear a little about where prospective students are coming from and why they're interested in Macalester," Van Sice said.
Spring Samplers are crucial in shaping the incoming first-year class. According to Main, in the past five years, about 47 percent of those who attended a spring sampler have chosen to come to Macalester. The figure for the class of 2018 is still unknown, as initial tuition deposits are due May 1. Still, the increased amount of visitors may indicate Macalester's rising popularity.
"Spring Samplers are incredibly important in determining the physical health of the college and building the next class, and we couldn't have done it without the Macalester community's help. I want to reiterate how grateful I am for the students, faculty, and staff," Main said.