Macalester Honors National Champion Renee Jordan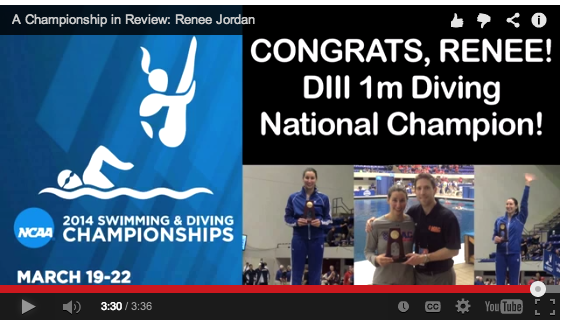 A large crowd packed into the Leonard Center's Hall of Fame room over the lunch hour on Tuesday in celebration of the Division III National Championship performance by Renee Jordan '14 in the 1-meter dive in Indianapolis, Ind. last month. President Brian Rosenberg and Athletic Director Kim Chandler each offered remarks at the event before presenting Jordan with her championship trophy. Vice President for Student Affairs Laurie Hamre, Head Swimming & Diving Coach Beth Whittle and Diving Coach Jake Dunn also spoke.
At the Championships, Jordan entered her fifth and final dive down by 48.15 points. Although the dive she had prepared was high in degree of difficulty, she had averaged only a 47.7 on it throughout the year. "I don't think Renee realized how well she needed to put this dive in to win it," Dunn said.
With the pressure on, Jordan performed her best dive of the season en route to the top spot on the podium. "I think it was diving for the love of diving that really won me Nationals," she said. "Being able to dive because I love the sport was everything to me."
A Chemistry major who received the Macalester Student-Athlete of the Year as a junior, Jordan credited the support she has received in all facets of her Macalester experience. "I've been able to have so much success here at Macalester, and that success in diving hasn't cost me my success in academics," she said. "I've been able to excel here in ways that I don't think would have been possible anywhere else."
Jordan is Macalester Swimming and Diving's first National Champion. "This national championship and this trophy really belong to the Macalester community as a whole and to everyone who has come together to support me and get me here," she said. "I did not get here by myself."