Macalester Athletics: An overview of fiscal management in higher education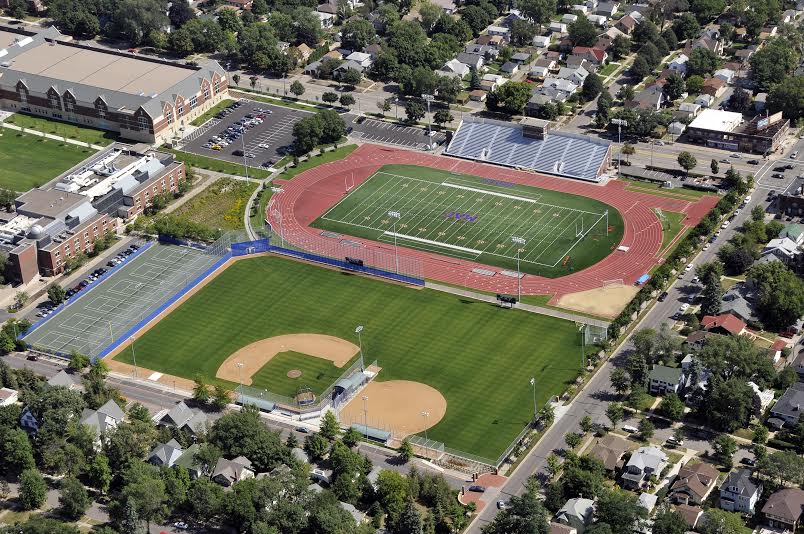 Budgeting. It is not always the most glorious aspect of a job, but it is arguably the most critical, especially for various coaches and administrators in the Macalester Athletics Department.
As a private institution, Macalester is not obligated to release its financial statements as opposed to large Division I public universities that have high-profiled athletic programs such as Ohio State University, the University of Florida and the University of Texas. Therefore, no exact financial figures could be released for this article.
However, it is still no secret that the college has spent a significant portion of money over the last several years to promote its athletics. In 2008, Macalester's Leonard Center was constructed and cost approximately $45 million. The Macalester Stadium scoreboard was built three years later in 2011 by the athletic department.
While the Leonard Center has contributed a substantial chunk of revenue to the college, it still does not make money allocation any easier. The entire process is actually rather extensive.
There are six divisions to which money is allocated at Macalester: academic affairs, enrollment management, financial affairs, administrative affairs, external affairs and student affairs. The Department of Athletics fits into the budgeting process of Macalester in student affairs, along with many other separate organizations such as campus programs, residential life, career development and international student programs. The athletics budget cycle corresponds to the academic budget, and the college provides the necessary funds in order to support a program.
Once the athletics department is allotted a certain amount of money, Macalester Director of Athletics Kim Chandler is then in charge of overseeing the entire budget.
"Travel, food and lodging tend to be most significant portion of the operations and highest percentage of the budget," Chandler said. "There are other details in terms of officiating costs, uniforms and practice gear."
With travel, food and lodging making up the highest expenditures, the Macalester spring trips for various sports teams never make it easy on the wallet. A total of seven Macalester teams travel to different parts of the country to compete during Spring Break every year. This past year, the Macalester baseball team travelled to Tucson, Ariz.; the softball team to Clermont, Fla.; the men's and women's golf teams to Memphis, Tenn.; the men's and tennis teams to Hilton Head, S.C.; and the women's water polo team to Utica, N.Y. and the Los Angeles area.
While figures could not be released, it is not too difficult to estimate the total cost of the combined seven trips. With approximately 100 players, the price of a plane ticket, hotel for about a week's stay and food, the total cost to the athletic department is nearly $100,000 for just one week of athletic competition.
However, Chandler said that teams that spring athletic teams are not granted more money to spend compared to sports of other seasons.
"All expenses are considered and taken into account when looking at a competitive schedule for a sport and its trips," she said. "For example, it takes a lot more to uniform and outfit a football player with a helmet and other necessities."
Therefore, while some teams may not have luxurious travel experiences, the roster size and equipment of a sport like football also carry hefty costs on an annual basis.
"Everything is taken into consideration and we just try to provide a fulfilling student-athlete experience for everybody," Chandler said.
While Chandler oversees most of the expenses, the head coaches of respective teams are typically in charge of what resources they want to allot their money towards. As account managers, they are largely responsible for balancing and maximizing the needs of their own programs.
That makes it easier on Chandler, especially considering that most of the accounts have been in place years before she arrived on campus in 2008. Therefore, budgets from each program and how a coach manages his or her funds is really the only major change year in and year out.
Being a part of the Minnesota Intercollegiate Athletic Conference (MIAC), Macalester coaches know their schedule runs on a two to three-year cycle. Therefore, coaches are able to constantly strategize and plan ahead to build inventory based on knowing their schedule a couple of years in advance. Another advantage to this cycle is that all needs of the program do not have to be met in a single year.
However, that has not prevented further challenges for Macalester coaches. For example, Macalester head baseball coach Matt Parrington knows that his schedule will never be completely played out.
"We had an unforeseen circumstance this past year, where we had to travel down to Cornell for an overnight due to the weather here in St. Paul," the Macalester coach said. "The only guaranteed games we really ever have is for our spring trip. Our budget will not always match up with what we forecast and vice versa."
Therefore, teams can make up this money if weather forces them to cancel other games without any make-up date, which is exactly what happened this season for Macalester baseball against Crown. If the budget exceeds the forecast for a given year however, it may force teams to participate in service projects in order to raise money.
The Macalester football program is a unique case since it is not a part of the MIAC, having been independent since 2002. Therefore, it was sometimes very difficult for Macalester head football coach Tony Jennison to manage his account since a certain schedule was not always set in stone every year.
"It is our job as coaches to give the players in our program the best experience possible," said Jennison. "Scheduling was constantly the biggest issue because we had to find teams at our level that were also nearby. For example, the last two years we had to play Mayville State, a NAIA (National Association of Intercollegiate Athletics) school with scholarships, and we had no business playing them. But the only way we could complete our schedule was with teams completely different than us."
In order to fill their schedule in 2012, the Scots were all but forced to play Lewis & Clark College, a school located in Portland, Ore. Although the football program sent a travel roster, costs of the trip were excessively high. Due to such costs, it forced the program into a tight budget. Many team members volunteered to work security at events like a Minnesota Gophers football game and U2 concert, while also working concessions for other sporting events at Macalester.
"There were things we couldn't purchase because we didn't know we were going to Oregon until two years before the actual trip," Jennison said. "It was very challenging and stressful considering our other equipment needs and having to pay our part-time coaches."
The program will finally join the Midwest Conference beginning next season in the fall of 2014. As a part of that conference, Jennison will now have the advantage of knowing his schedule six years down the road, a four-year edge on many of his fellow Macalester coaches that compete in the MIAC. Thus, a large portion of the budget can be used on equipment or practice gear in 2019, when the Scots will have only three overnight trips compared to five overnight trips the year prior.
This six-year cycle implemented by the Midwest Conference has intrigued many other athletic directors across the MIAC. An expected proposal is for the MIAC to introduce a four-year outlook to its schedule cycle in order to help coaches with strategic planning further in the future.
In the meantime, there are always projects around campus that could use improvement. The next extensive athletics project is expected to take place this summer, with a resurfacing of the track at Macalester Stadium. While tracks typically have a ten year cycle, the current track is now approaching its 13th year and has been up on the docket for many years. The track finally gained approval by vote in the last student affairs meeting. Chandler described the process;
"The situation (gaining approval for the track resurfacing) is similar to buildings, and residence halls that have to be kept up. Many different divisions propose things that we might need and our boss Laurie Hamrie looks at those needs and prioritizes."
New athletic complex? Check. New scoreboard? Check. New track? Check. All that really remains is perhaps a new stadium, a facility that was constructed back in 1965. However, Chandler quickly shot that proposal down. "There are no plans for stadium renovation in the future," she said.
Apparently money doesn't grow on trees. However, by accommodating many renovations, travel expenses and other hefty fees, the Macalester Athletics Department is in a very solid financial position.