Campus Center and Student Affairs staff to reorganize next academic year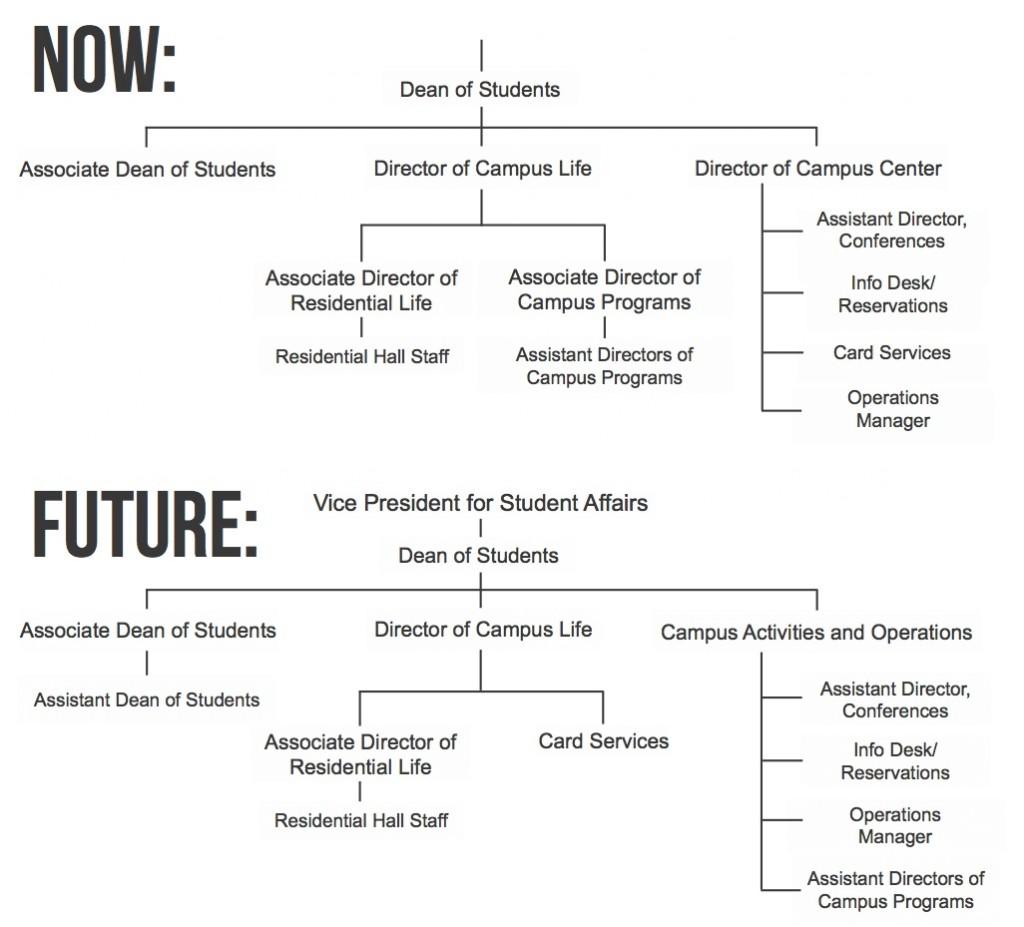 In spring 2013, Director of Campus Center Cindy Haarstad informed Dean of Students Jim Hoppe that she intended to resign from her position in the fall. This triggered a change in staff organization, including Robin Hart Ruthenbeck being promoted to the newly-created Assistant Dean of Students.
Any time the College has staff departures or changes, departments typically perform internal reviews. When Hoppe learned Haarstad intended to leave, he began to hold additional meetings with staff individually and in groups. Hoppe aimed to identify unmet student needs, understand how staff's jobs have changed over time, and assess the efficiency of the current allocation of responsibilities.
"It is good practice for any organization to take a moment to reflect on current needs, future trends, and other issues to decide if doing things as we've always done them is the best solution when someone leaves the organization," Associate Dean of Students Lisa Landreman said. Hoppe identified two major unmet student needs. Primarily, there was a need to put more energy into personal contact between staff and students.
Specifically, Hoppe wants to increase time spent advising individual students, assisting students in crisis, and improving support for students with disabilities. He has observed an increase in demand for these services, and thus more staff time would be necessary.
Second, there was a need to bring the logistics expertise of Campus Center & Conferences and the programming resources of Campus Programs into one team. Especially since the Loch opened last spring, Campus Programs and Campus Center & Conferences have had to work much closer, with Campus Center staff taking on greater programming duties. To meet this need, the organization of staff had to change.
Macalester College has had a hiring freeze since 2008, according to Laurie Hamre, Vice President of Student Affairs. While staff positions can be reorganized, the College is not able to increase the number of staff. Thus, Hoppe was challenged with meeting growing needs without additional resources.
Hamre described these needs as a puzzle that Hoppe wisely saw a solution to. Hoppe said that up to four options of reorganization were considered, including maintaining the status quo. Ultimately, the chosen path was to combine Campus Center & Conferences and Campus Programs as a new department—Campus Activities & Operations. This consolidation freed up a full-time equivalent position despite no net increase in staff.
This position allowed Robin Hart Ruthenbeck, the current Associate Director of Campus Programs, to become the Assistant Dean of Students. In leaving the staff in the Campus Center, she will move to Kagin where she will serve as the primary contact for disability services and accommodations. Thus, Ruthenbeck will join Hoppe and Associate Dean of Students Lisa Landreman as primary contacts for students navigating college life, meeting the growing needs of students. She will remain in charge of first-year student Orientation, a program she has been been in charge of for a number of years.
Landreman currently serves as the primary contact for disability services. In the next year, Landreman will transition to partnering "with other departments on workshops needed to create more inclusive classrooms and practices on campus," she wrote in an email. Her role with disability accommodations will shift to Ruthenbeck, allowing her to focus more on big picture issues of accessibility rather than individual student cases. Additionally, she will take on additional responsibilities and initiatives for responding to and preventing sexual harassment or assault in the Macalester community. Furthermore, Landreman will supervise a graduate student assistantship that will take on a new sexual violence prevention role.
Through these changes, Hoppe hopes to increase the capacity of Student Affairs, allowing the department to do more with the same staff resources. This is not the first time Campus Center and Student Affairs staff have shuffled. Just 12 years ago, the Campus Center & Conferences and Campus Programs departments were combined, as they will be again this fall. While Hoppe considered the possibility of hiring another staff member, he also recognized that was a vision for another generation of students.
"I anticipate this to be a change that lasts for the next 5-10 years at least," he said. "This change focuses more time and energy on our core mission to support the development of a strong campus community and provide quicker access to resources for students in need."
While Ruthenbeck transitions to Assistant Dean of Students, Landreman sees great opportunity in the newly coalesced Campus Activities & Operations. Staff in both Campus Programs and Campus Center & Conferences have played pivotal roles in advising student organizations and coordinating programming on campus, such as the much-lauded [email protected] events. According to Landreman, "having these two departments under one unit can enhance the communication among these various advisors and therefore enhance their capacities."
However, not all changes will be easy. Hoppe anticipates "unanticipated hiccups," and Ruthenbeck speculates on how to connect with students in different ways with her new office location. Landreman and Ruthenbeck both recognize the pitfalls of getting too comfortable with the status quo. They saw staff reorganization as an immense opportunity for "fresh thinking, creativity, and new energy," according to Landreman.
All three deans are confident that this transition will serve students well. As Hoppe wrote in an email, "The staff involved have already spent a great deal of energy preparing for the transition and I know their hard work will pay off."
Ruthenbeck has high hopes as the new Assistant Dean of Students. As someone who has been a part of the Macalester community for almost seven years, she sees an advantage as already being a recognized member of the community. Because she has not had direct involvement with disability services, her primary goal is to be an informed resource, which includes working with Landreman to make the transition as smooth as possible.
Additionally, Ruthenbeck hopes to strengthen programming and resources for "students in transition," a term she broadly defines to include first year students, first generation students, transfer students and students that have taken a gap year. She noted programs like Bonner Community Scholars and Emerging Scholars Program (ESP) that successfully engage in these areas, and she hopes to create comparable resources for students who may not commit to a program but still need support in their time at Macalester.
Interviews have already began for the new Director of Campus Activities & Operations. Landreman serves as the chair of the search committee. One member of the search committee who works as a Campus Programs programming assistant, Biftu Takele '16, expressed excitement for the changes. "It is good for the department because it means it will be able to increase the ways for students to get connected" on campus. In regards to the new director, the "position will have more resources available" along with more responsibilities. Takele noted that the search for an ideal candidate was broad, including conducting interviews across the country at student affairs conferences and similar professional events.
Takele also expressed her own feelings towards Ruthenbeck and her new position: "Robin is someone I can rely on. […] I feel I can go to her for both professional and personal support. Personally, I'm incredibly happy for Robin for her promotion."