Food justice, food hub, and food shopping with Karen Weldon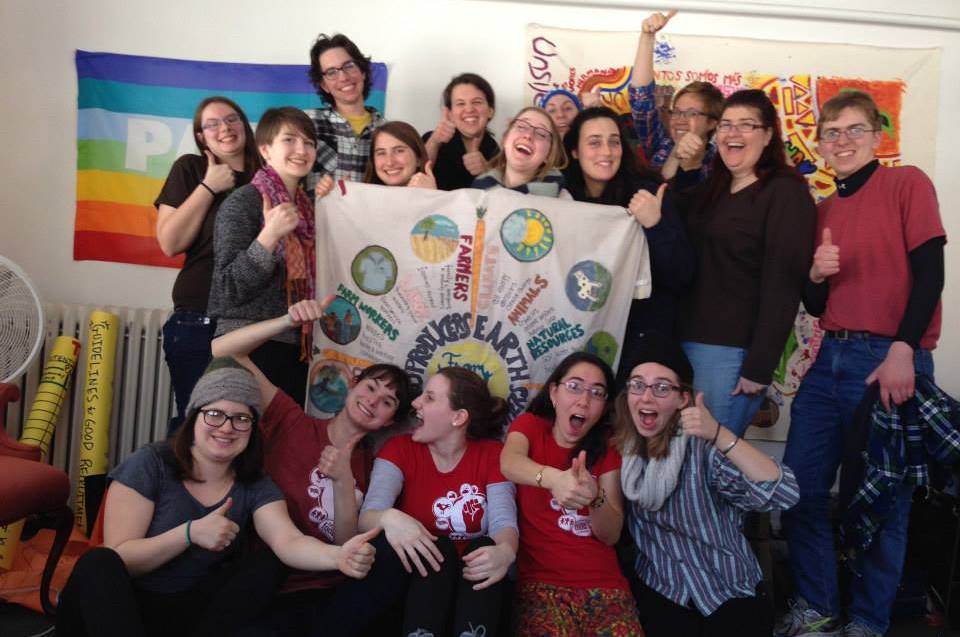 As a Food & Drank writer, I am of course interested in food, but lately I have been wondering about what goes on "behind the scenes" with the food we eat. This led me to seek out an interview with fellow student Karen Weldon. Karen is currently a senior here at Mac and is highly involved in the food justice movement on campus. I sat down for a conversation with Karen to learn more about the Food Hub, the Real Food Commitment, and some of her background on food systems.
TMW: What is your personal definition of food justice? Or is that the term that you would use?
Karen Weldon: Yeah. I think food justice is a good term. My definition would be food that is produced in ways that use good conditions, fair to the people that are producing them, and then also that is accessible to everyone and hopefully nourishes them as eaters as well. I see it as a whole system that is nourishing to the individuals and people involved.
Nice. Can you tell me about the Food Hub, how it started and what it is exactly?
Totally. It's something that a lot of people on campus still don't know what's up with. It's sort of confusing because it's new and it's evolving as the year continues. But it came out of the Food Roots organization. Are you familiar with that?
I've heard of it.
Okay. Yeah. So my sophomore year I got involved with this organization called the Real Food Challenge that tries to promote just and sustainable food on college campuses specifically through dining hall purchasing. So I got involved in the organization and got really excited about food things on campus and when I came back to campus I realized that there wasn't really a student organization that was really focused on community awareness and outreach and organizing around food. We had MULCH, we had Macalester Conservation and Renewable Energy Society, but nothing really focused on food issues. From that, Food Roots was born as this organization that would be both food justice related as well as food appreciation.
And then this past year most of the leadership of Food Roots was involved in planning the Real Food Challenge's National Summit, which was held in the Twin Cities here. There were two hundred students that were coming, and our group was basically in charge of figuring out housing, space, food, and all of the logistics of how to take care of these 200 students for a weekend at the lowest cost possible, so a lot of donations and outreach and everything. Everyone was really busy. And we didn't have much energy to put to Food Roots, and so it got to the point where there would be two or three people going. And we were like, wait, is this worthwhile? Is our time being well spent in trying to craft this space and time every week, sometimes organizing related and sometimes event or skill-sharing related. We decided our time was not useful in that area and we tried to create a more free-form thing and get away from Food Roots, which I think has connotations of, like, a bunch of females that are really into food, which is great, and which is what a lot of Food Roots was, but we wanted to make it a more inclusive community and really reach out to people involved in community health, who were really involved in agricultural policy, and those kinds of things.
So we thought Food Hub would be a little more of an inclusive term. And sometimes we have other organizations come in. The Food and Agrarian Studies concentration meets there, OxFam meets there, so were are trying to slowly bring in more organizations that are working on these issues in groups to make the space a cool space to be in. Kind of like the cultural house, except for food.
Yeah, that makes sense.
So that's the idea and that's what the Food Hub is. The Food Justice House has now converted their name to the Food Hub in the hopes to make it a more unified thing so its not confusing. The Food Justice House and the Food Hub are the same thing. Hopefully when students come in next year they will be excited and committed to creating this space as an organization as well as a household.
I didn't have a chance to make it to the Town Hall Meeting last week, but I know that there were some local restaurants there. Are there any local restaurants whose missions you really support or that you regularly support their business?
I wouldn't say that I eat at restaurants all the time that are just or sustainable but we did try to keep our list of restaurants for the event inclusive of small family businesses as well as ones that are focused on getting fair trade coffee and getting organic and local food. We had a smattering a both. I guess ones that really align with fair and just food are probably like Common Roots or Trotter's Cafe that usually get a lot of publicity around it. But I'm also not an expert on sustainable eating around the Twin Cities.
I was also wondering, since you've lived in the veggie co-op and you've been really interested in food systems, if you have any favorite things to cook with local foods? I know it probably depends a lot on the season, but is there one recipe that you go back to again and again?
When I want to make sweet things—this is not about local foods—but I guess I do use local honey and oats, anyway I make granola all the time. I learned how to make it in the Veggie Co-op. I have this one recipe that if I want anything sweet that's my go-to.
Fried rice is a good one. It was my go-to when I lived in the Eco House last year. That was our go-to Sunday food after we had gone to the farmer's market and were just starving after doing all this biking and shopping for food. We would make fried rice. And I'm making fried rice tonight. It can be altered to many tastes. It can be the co-op version where you have brown rice and kale and things like that. And there can be what I grew up with, which is Japanese fried rice, like the fried rice my Mom makes. That is more like dainty and elegant, and there's probably, like, ham in it, and some peas and probably corn and sugar snaps from my mom's garden, and some cabbage and things like that. So there's that fried rice too. I really like how it's adaptable to different situations and I can make different combinations, and sometimes go more one way and sometimes more the other way.
Do you usually incorporate what you buy at the farmer's market into that or plan it out more beforehand?
During the school year, during the fall I basically bought all my produce at the farmer's market until, I didn't even realize how expensive vegetables were until this semester and I was like wait a minute, wow, vegetables are so much more expensive if I'm not buying them at the farmer's market. So I basically eat a lot of vegetables and incorporate them into things like fried rice.
Which farmer's market do you go to?
I did a lot of exploring this past summer, and tried all these different ones like downtown Minneapolis and Midtown and the one on Lexington over here. I go to mostly the downtown St. Paul one. But I do enjoy exploring the Hmongtown Market, like getting Hmong vegetables, most of which I don't really understand, but they're interesting to try here and there.
What do you like about the St. Paul farmer's market?
I think that there is a lot of variety and it's pretty cheap at the same time. Some of the ones in Minneapolis are kind of expensive. This one is pretty cheap and it has a lot of foods that I am familiar with as well. It's a grab-bag of everything.
Was there anything else that you feel like I should have asked that you want to talk about?
I could probably tell you more about this Real Food Campus Commitment. That's been one of my really big projects during my time here at Macalester. During my sophomore year several students living at the Co-Op and some other students at the time wanted to launch a campaign to launch the Real Food Campus Commitment. This commitment is a nationwide campaign to shift 20% of all dining service food purchasing to ecologically sound, fair, humane and community-based resources. It's using our purchasing power to shift how corporations are operating—basically, to get food that is better for people and for the planet. We launched a campaign to get this launched here at Macalester, which culminated in us being successful and getting it signed at the International Roundtable last year.