MCSG Elections: Datta, Beck, Lindgren, Hymoff victorious
Results from last weekend's MSCG leadership board elections are in. During the 2014-2015 academic year Rothin Datta '16 will serve as President, Abaki Beck '15 will serve as Vice President and Student Services and Relations Committee Chair (SSRC) chair, James Lindgren '15 will serve as Student Organizations Committee (SOC) chair and Ari Hymoff '17 will serve as Academic Affairs Committee (AAC) chair.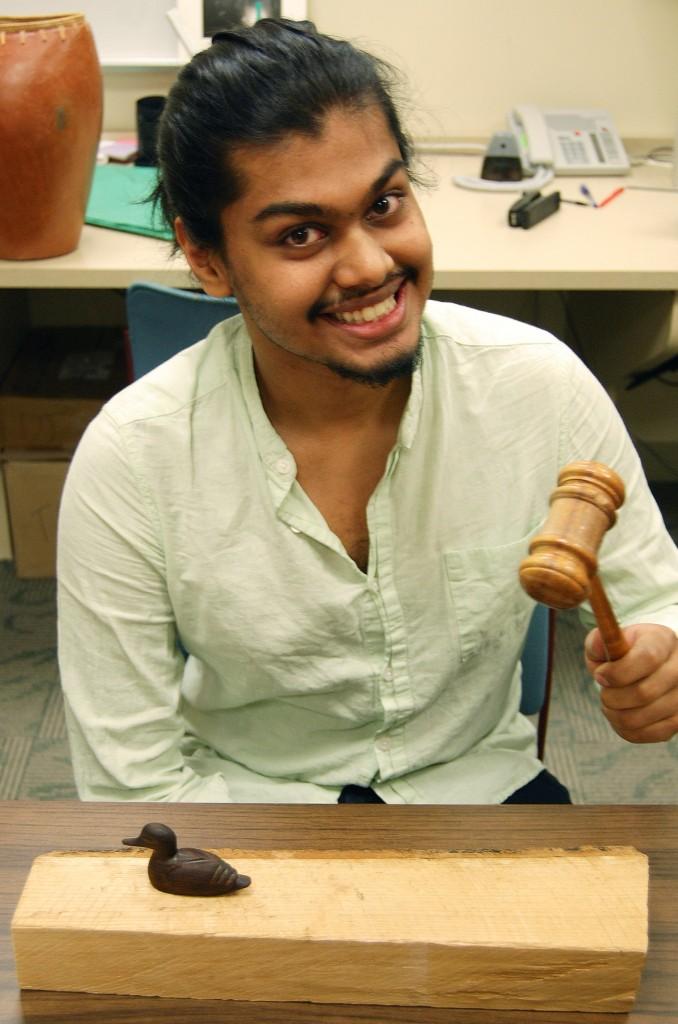 Datta was elected MSCG president by 51.3 percent in the fifth round of ranked-choice voting—a process where candidates are eliminated each round and their votes redistributed until a candidate has over 50 percent of the votes. Datta received 527 votes out of the total 1,028 votes cast.
Voter turnout was high; 1,028 out of the approximately 1,800 students on campus voted for the presidential race. Given recent dialogue on campus about increasing voter turnout, this was a significant achievement.
"It's better than 50 percent," Datta said. "I think that's very good turnout. It's better than any other small liberal college."
Along with high voter turnout, the races were competitive. Datta faced strong competition: Sarah Vandelist '15, who was eliminated in the final round, received 239 votes; Rick Beckel '15 was eliminated in the fourth round; Sam Doten '16 and Richard Raya '15 were eliminated in the second and third rounds.
"The other candidates ran awesome races, especially Rick and Sarah, who ran from abroad and came very close to winning," Datta said.
Datta attributes his success to his connection to the first-year class, whom he sees turning out to vote more frequently than their upperclassmen counterparts.
"I think being an RA and having such a connection to so many people in the first-year class helped me," Datta said. "This first-year class is an extremely engaged one. The other candidates obviously had more upperclassman supporters but I had more underclassman supporters and the reality is just that underclassmen turn out."
Datta campaigned on five issues, including improving mental health facilities, keeping health and wellness open on weekends, and working to improve attendance at athletic events.
Abaki Beck '15, who was elected Vice President and SSRC chair, plans to work on advancing the recent faculty diversity bill MSCG passed earlier this semester.
"One of the big reasons I ran for VP/SSRC chair was to continue to push the faculty diversity bill," Beck said. "I had been working on it since the fall. There's a lot of steps for this to actually be passed by [the] college. A lot of people came to support it. That's one of [the] main things I'm going to continue to support."Beck defeated Konnor Fleming '15, receiving 57.2 percent of votes cast.
Newly elected AAC chair Ari Hymoff '17 also plans to work towards increasing diversity on campus, as well as making study abroad more accessible to international students, developing senior-first-year mentorships and facilitating easier usage of ACTC resources. Hymoff defeated Megan Renslow '15 in a close election, receiving 50.7 percent of the votes.
James Lindgren '15, who will serve as SOC chair next year, is looking forward to working with student orgs.
"I want to talk with orgs about how the SOC can work for them, and be less focused on [the] oversight portion of the position," Lindgren wrote in an email. "I want to help orgs on their terms."
The high level of competition between candidates in all of the races led to some debate about the current MSCG election bylaws. According to Datta, there was a formal complaint filed against one of the candidates in the presidential race. In response to this process, Lindgren, Cole Ware '17 and Maddie Arbisi '14 introduced a bill to change the election bylaws at Tuesday's MSCG meeting. The bill will be voted on at next week's meeting.
"The bottom line is that the process works, but the limits of the process were tested," Lindgren said. "[We] are interested in clarification and flexibility."
Considering the high voter turnout and competitive races, the election was successful at engaging the school. This election allowed MSCG to look critically at the way that they govern elections and campaigns.
"[Clarifying the bylaws] will just make elections easier in the future," Datta said. "I thought we had a competitive election, and I think competitive elections are always great."