This week The Mac Weekly sat down with David Sisk, the Associate Director for Administration in the Information Technology Services (ITS) office, to learn more about the man with a memorable email signature.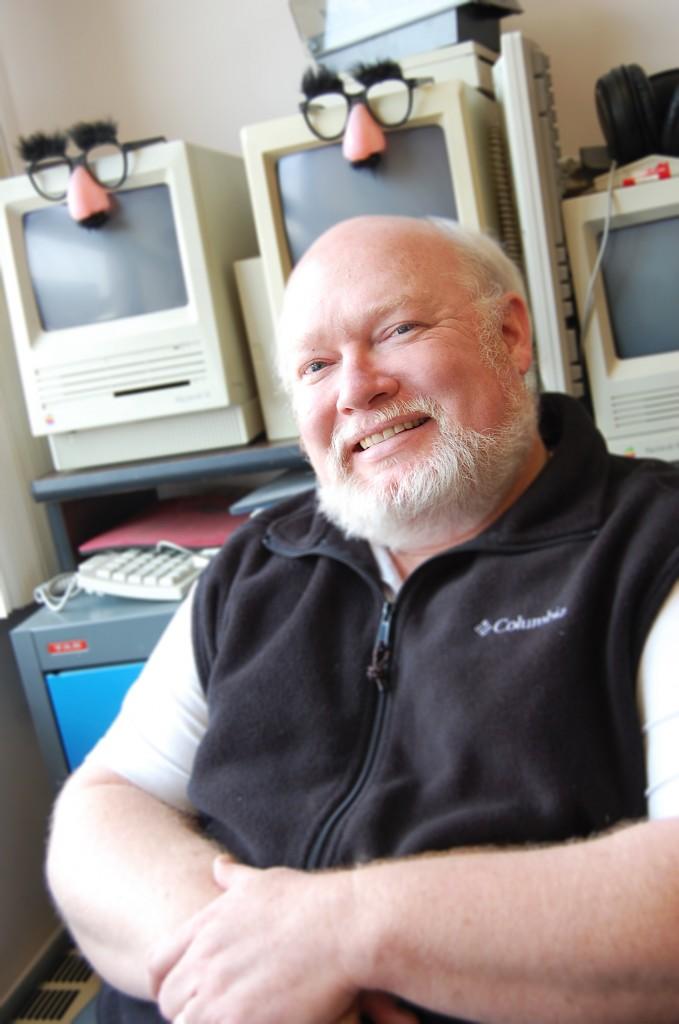 TMW: Tell us about your background. How did you end up at Mac?
DS: I went to Davidson College, a small private liberal arts college very much like Macalester. So, I had been involved in the liberal arts education. I wanted to be an English professor, and did earn both a master's and doctorate from the University of North Carolina in Chapel Hill. But the job market at that time was pretty bad and I said, [puts up a middle finger in the air] "I don't think so." I had put myself through grad school partly as a technical writer and a computer trainer, translating from geek to English. I got a job at Knox College in Galesburg, IL, and again, I was translating from geek to English. Couple of years after, I saw an ad for Assistant Director of Academic Computing position here. I applied, had a good interview, and was offered the position. I came and never looked back. That was in June of 1996. I started on the same day as Mike McPherson, who was President before Brian Rosenberg.
You've been here for the past 18 years, and you definitely have seen a lot of transformation among the student body, faculty, and obviously, technology. What strikes you the most?
The biggest change with the technology is that it has receded into the background. And I think that's where it ought to be. If it works, nobody notices. One thing that hasn't changed that I've noticed about the faculty is that they really are intensely determined to meet the students' needs. They care about what they're doing, and they're passionate about it.
I understand that your direct interaction with the student body may be limited. Is there any way in which you'd like to see more interaction between the ITS and the student body?
Well, many of [the ITS staff] are Macalester alumni. We've recently started to have ITS help desk students in the library, which you may have noticed, and that's helped a lot. We do routinely convene focus groups for students. They're getting back going again, so the students can say what they think about technology and make suggestions. And, believe me, students are not hesitant to email me, because they can put a name to me. That's absolutely fine; I encourage people to do that. I may end up funneling that conversation to the proper expert. But if I'm the only name they know, reach out to me. This is funny. As you may know, a lot of graduates stay in the area for a year or two, or rest of their lives. I can't tell you how many times I've gone into a store in the Twin Cities, and come to pay for whatever I'm getting, and somebody says, "Oh, you're David Sisk!" They had never seen what my face looked like.
So, all the emails from you, they read on the bottom, "Remember, ITS staff will NEVER ask for your password via email!" in red.
I think that alone gets me into almost every single issue of The Mock Weekly. That's fine, I love it.
Speaking of The Mock Weekly, do you read The Mac Weekly regularly?
You know, we have a standing joke in the office. Ramón [Rentas] is the one who, on his way back from lunch, picks up the newspaper on Fridays and distributes them. And I'll always ask him, "Ramón, are we on the front page?" And he'll say, "No. It's a good day." If the ITS is in the newspaper, it's because something bad has happened. In general, the quality of reporting and analysis [of The Mac Weekly] has gone up in the last few years.
What is the most common tech-related problem that students or faculty run into?
"I forgot my password. Can you tell my password?" And we can't. We can reset it, and then you can make a new one. Although there's this kind of a myth that that's what we do—reading your emails. I can't imagine anything more tedious.
I know there's a myth—not just at Mac—that the IT staff can hack into your computer and see what you're doing. True or false?
[Laughs] There are ways that we can remote control your computer, and there are very limited ways in which they can be useful to us. [But] it's really not worth the effort, and there are comparatively few people on our staff [who] have the technical expertise that could do that. I couldn't do it even if I wanted to. But, you know, you also have to recognize that IT people who work in the higher education—this is not where the big bucks are. If they want to be making serious money, doing hacky cracky stuff, they'd be working in the Silicon Valley or downtown Minneapolis. We're educators just as much as the faculty are. We're willing to work at a college where the pay and benefits are not going to make any of us rich anytime soon. We can go home and if someone asks us, "How did you make the world a better place today?" we can say, and without a trace of sarcasm, "I helped students learn, I helped faculty teach." I have to say, Macalester is a great place to work for other reasons. It's small, so we can get to know everybody else. The college has been through some bad times. And I was forcibly struck with how things got really bad in the recession of 2008. Brian Rosenberg said, "We absolutely are not going to sacrifice our academic integrity. And, we're going to stay committed to our people." Macalester already has a pretty small staff for the size of the student body. Although many of our peer institutions had to layoff and freeze hires, we're already used to doing more with less. At a time when other folks were losing their jobs left and right, that was just tremendous.