Star athletes achieve national ranks: Renee Jordan, National Champ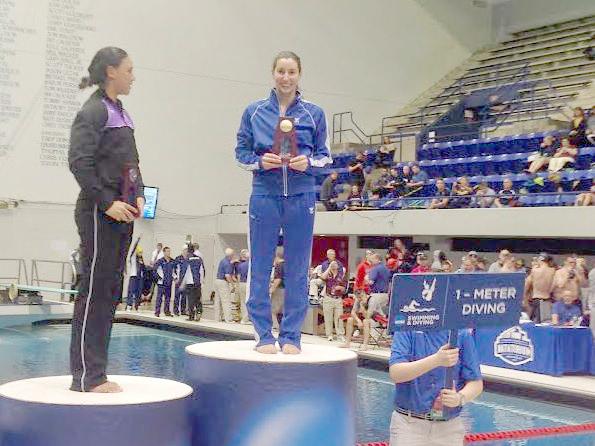 One somersault and two and a half rotations. Backwards.
In the space of just one meter, Renee Jordan combined these movements to win the Division III Diving National Championship last Thursday in Indianapolis. She followed up with a fourth place finish in the 3-meter competition on Saturday. Her right arm ached from a recent injury, her hand bore internal scars of shattered bones and her mind battled exhaustion and mounting pressure as she approached the board for her final collegiate dive. But she felt ready.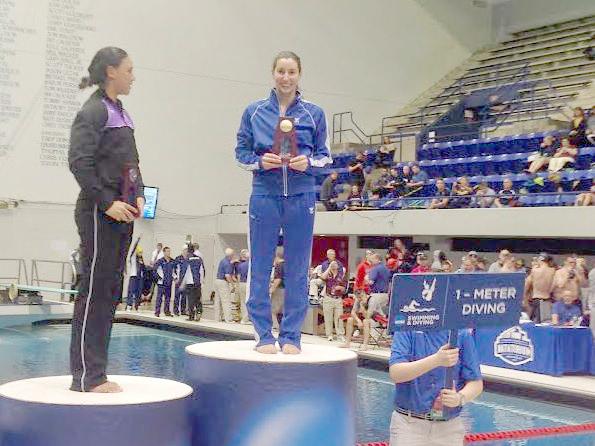 "I've been preparing for nationals all year," she said. Really, she's been preparing for four years.
In part, this preparation began with a break in competition. As a sophomore, while warming up for the conference championships, Jordan broke all the metatarsals in her right hand, an injury that sidelined her for the remainder of the season. During her recovery she battled pain, temporary handicap, and perhaps worse, the inability to return to diving. "The recovery was humiliating and disappointing," she said. "Worst, I couldn't try and regain my confidence in diving."
She needed time off to collect herself. Jordan went to Florida to train with Pete Avdoulos, the coach of Springfield College's Swimming and Diving team. Avdoulos has experience working with divers with hand injuries. Here, she started from scratch.
"I took baby steps to get that dive again," she said. "I would jump, and have to land in a specific spot every time. I was really bad at first, and this made me more aware of the fact that my approach was not consistent."
Slowly, Jordan progressed to diving to that specific spot, doing a somersault, then a tuck. "That [injury] really got me. A lot. The next year I didn't do the same reverse dive at all."
It wasn't until December 2013 that Jordan completed the dive that had once injured her: a reverse 1 ½ pike.
During most meets, between her dives, Jordan can be found by herself with her eyes closed, leaning against a back wall. At once she is still, and moments later her arms move up and she dips forward. Her surroundings dissolve in an instant: the too-clean smell of chlorine, her jittering competitors, and the oppressive humidity. This is visualization, an all-important aspect of her preparation.
"I have specific things that I want to focus on for each dive to make them better," Jordan says. "I'll visualize my dive, and I'll visualize the things that I need to do well. For reverses, I visualize keeping my shoulders in place so I don't lean back. This way it doesn't take me over the board." When she dives, her body follows her mind. Imagination and practice come together each time she leaves the board.
Just three weeks ago, during the MIAC conference meet, Jordan's trust in herself was tested once again. While completing a reverse dive on the 3-meter board, she nearly avoided breaking her right arm. "What scared me the most was that I didn't know I was that close," Jordan said.
To dive requires imagination, and the mind must have perfect spatial awareness, even mid-flight. Her injury resurfaced the need for Jordan to focus on basic techniques. She returned to perfecting the simple skills that she had practiced in Florida.
"Because of when I broke my hand," Jordan said, "I knew I needed to remember that repetition of 'this is where you are, you have to be aware.' It kind of brought up skills that I had learned before."
This time, she had the tools she needed to overcome any hesitation that previously debilitated her. She used this injury as motivation to refocus and to prove her confidence could reign over fear. Now, when asked about her favorite dive, Jordan says she prefers reverses: "If I tell myself I like them, then I am not afraid of them."
Jordan describes the act of a dive as one of trust: trusting her own awareness, trusting her preparation and trusting her coaches. "Your coach will call you out of dives, he's going to motivate you to do new dives. Trust here is huge," Jordan said.
She found this trust in Jake Dunn, her coach at Macalester, and a large contributor in her success. For Jordan, any future in diving includes a continuation of this relationship with her closest mentor. She has been approached to compete for a spot on the United States National Team and Dunn has agreed to coach her if she decides to train further. Soon, Jordan will be forced to decide between continuing her diving career or focus on her other passion, chemistry. But for now, the decision between athletics and academics can be postponed; for the next couple of weeks Jordan will spend her time fully enjoying the experience of winning a national title.
Last Thursday, her body carried with it all the memories of her four years of collegiate diving. Before her final dive, Jordan knew she stood in second place, needing 48 points to win the National Championship.
"That is kind of a tall order, really," Jordan explained. In order to win, she needed to attempt a dive with an extremely high level of difficulty. "I have had trouble on this dive a lot before. On Thursday, I remember walking up to the board and thinking, 'Well, you've just got to do the best dive you can do. This is it.'"
The crowd watched helplessly as Jordan turned, flipped, and with near silence, slipped into the pool. But she had control, mentally and physically. Jordan edged out her nearest competitor by five points.
As she hit the water, Jordan knew in mind and body, "I couldn't have done that dive better than I just did it." And as she rose from the pool to greet the cheering crowd, her enthusiastic coach and family, and a waiting scoreboard, the feeling was verified; this time, her best was enough to make her the best in the country.