Rolling Thunder: The Story of Gretchen Greene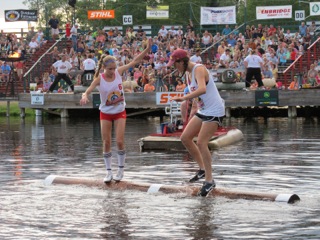 Scholars, artists, adventurers—there are many students who have done astounding things at Mac, though few among our distinguished student body can count themselves world champion at something. Gretchen Greene '17, however, is different; she was the 2013 Lumberjack World Champion in logrolling.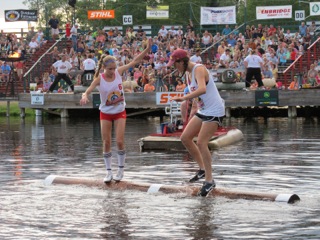 Some might be wondering, what is logrolling? Originating in the heavily forested areas on both sides of the U.S.-Canada border during the 1800s, logrolling began when lumberjacks, after floating their logs downstream to be processed, would compete to see who could balance on the spinning logs the longest.
More than 100 years later, this quest for backwoods bragging rights has morphed into an international sport, with competitors aiming to outlast their opponent on a single spinning log three out of five times. After certain amounts of time progress without a victory, the logs are replace with narrower, and thus faster-spinning, alternatives.
That's where Greene comes in. But before Greene was the world's best logroller, the Mac cross-country and track runner was just a reluctant elementary schooler dragged to summer logrolling classes by her friend.
"Three months [after I started logrolling], I made Gretchen come with me," said Amy James, a freshman at Colorado State University and childhood friend of Gretchen's. "She actually wasn't sure if she could do it because her schedule was too busy, but then I pressured her to do it. Now she's the best in the world."
"I really liked my coaches and [logrolling] was just a really fun, different thing to do" Greene said. I always had fun just hanging out at the pool or the lake and logrolling a lot."
The Madison, WI native took more and more classes each summer, eventually teaching logrolling on her own and later going pro at the age of 16.
"Once I started competing when I was little, it was always just a goal that eventually I'd be able to go pro," Greene said.
To accomplish this goal, Greene used her notoriously strong work ethic, about which her friends and teammates rave.
"She always goes the extra mile," said cross country and track teammate Megan Davitt '17, " in the weight room, with the pulleys. All the little things about being an athlete, she does them."
Even Greene's logrolling style relies on perseverance and willpower.
"Gretchen is probably one of the fittest athletes out there, in terms of endurance," said Shana Verstegen, Greene's logrolling coach, friend, and eventual Lumberjack World Championship competitor (more on that later). "Obviously Gretchen is strong and has great technique, but what she can do better than anybody is not get tired, and she'll just stay on that log and not get tired until that other opponent just can't stay up anymore."
Greene put these qualities to use when it came time to vie for the Championship. With a few years of pro competition and hours of practice under her belt, Greene topped some competitors she'd never beaten in the preliminaries and eventually met her old friend Verstegen in the finals.
Since the two often trained together and were extremely familiar with each other's style, the final was a drawn-out battle.
"It was a very close match," Greene said. "The first two logs we were on, there were no falls on them. There we no falls until the last log, which spins really fast. Once we were on that log, there was a lot of action and it was moving fast.
"Since I practiced against my coach so much, on the first two logs we knew what was going to happen" Greene said. "We knew we'd probably stay on and make it until the smallest log."
Her prediction came true, and the action began once they reached the final log, where the matchup concluded with a winner-take-all final roll.
"There are three out of five falls [of an opponent necessary to win a logrolling matchup], and it was two apiece," said Verstegen of her final with Greene. "Her endurance won and she got that last fall on me and got the world championship."
Winning a World Championship did not go to Greene's head; friends and colleagues still see her as the caring, gentle person she always has been.
"She's just sweet and giving," said Verstegen of Greene. "To give an example of this, I hosted a huge charity event this weekend, and she came all the way to Madison just to help with this charity event. She does not have a mean bone in her body. She does not have a mean thing to say about anybody."
Her other primary coach Head Women's Cross Country Coach and Co-Head Men's & Women's Track & Field Coach Betsy Emerson agreed.
"Gretchen is very conscientious and thoughtful in her interactions with me and her teammates," she said in an email.
Come summertime, Greene, as she has done for close to a decade, will return to the lakes of Madison to practice and complete in logrolling, and as always, she'll do it with a smile on her face.