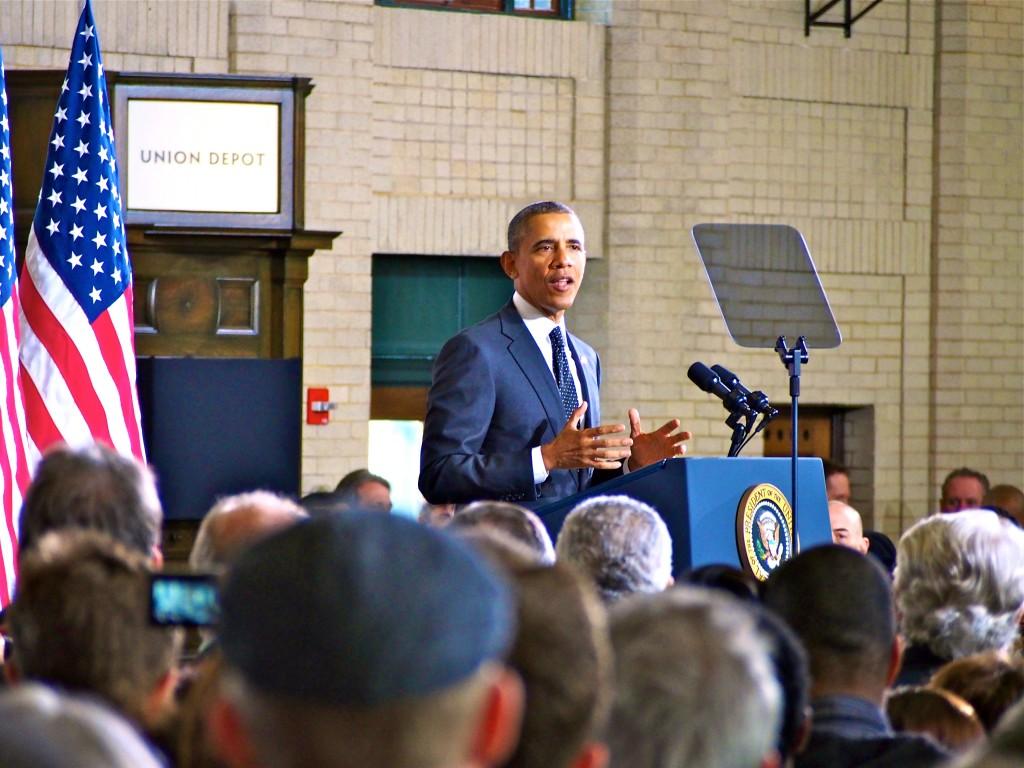 President Barack Obama paid a visit to St. Paul's Union Depot on Wednesday, announcing new spending initiatives on transportation and infrastructure projects designed to create jobs and improve America's transit networks.
In his first visit to the Twin Cities since last year, the President unveiled a $302 billion transportation funding proposal, designed to fund network improvements and transportation projects over the next four years. Obama also announced a $600 million grant competition for infrastructure development projects, an extension of the initial grant program created through stimulus spending five years ago.
"One of the fastest and best ways to create good jobs is by rebuilding America's infrastructure—our roads, our bridges, our rails, our ports, our airports, our schools, our power grids. We've got a lot of work to do out there, and we've got to put folks to work," Obama said in his remarks.
The President spoke to a crowd that filled the St. Paul Union Depot with over 1,300 audience members, pointing to the building as a model of the kinds of projects he hopes his initiative will spur. The Union Depot, after a 40 year vacancy, reopened in late 2012 as a multimodal transit hub, which will eventually serve as the terminus for the Green Line light-rail and the Twin Cities' Amtrak station. When it was renovated, much of the funding came from Transportation Investment Generating Economic Recovery (TIGER) grants—the same grants Obama promoted during his speech on Wednesday.
"[The] Union Depot was renovated and expanded with the help of what we call TIGER grants," Obama said. "These are competitive grants that we created as part of the Recovery Act, also known as the stimulus, which actually worked, despite what everybody claims."
Before his speech on Wednesday afternoon, Obama toured a MetroTransit operations facility and observed progress on the Green Line light-rail, slated to open in June. He spoke about the Green Line being a model for transportation projects around the United States.
"Roads and bridges should not be a partisan issue. More Americans should have access to the kind of efficient, affordable transit you're going to have with the Green Line," Obama said, calling the new light-rail transit "spiffy" and eliciting laughter from the crowd.
Obama continued to praise the Twin Cities for their work on improving their infrastructure and growing their economy around it, saying that the development could be a model for other projects around the country.
"Not only have you made a more efficient transportation system, cutting down commutes, saving on gas, reducing carbon pollution, but this depot has helped to boost economic development in Lowertown St. Paul," Obama said. "Just across the street the old downtown post office building is becoming apartments and shops. All told, more than 4,000 jobs were created for this project. And we're seeing businesses crop up and new development crop up all along the [Green] line."
The initiatives Obama proposed are part of his "Year of Action" plan, which aims to promote economic development and reduce inequalities through initiatives that don't require congressional approval. Obama has spent the past few weeks announcing initiatives as part of his plan, including a minimum wage hike and expanded unemployment benefits.
"While Congress is deciding what it's going to do next, I'm just going to go ahead and do what I can to create more good jobs. And that's why I came here to St. Paul," Obama said.
Obama, by pushing his transportation budget, pressured Congress to pass his transportation funding bill before the present one expires at the end of September.
To fund his proposal, Obama proposed closing tax loopholes and simplifying the tax code in order to spur job creation and free up funding for transportation projects.
The announcement of Obama's speech first came out last Thursday, when local news outlets announced that Obama would be paying a visit to St. Paul but had little details on the content of his speech or the nature of his visit.
On Monday, hundreds of people lined up at the Union Depot to try and get tickets. They were distributed to the public for free on a first-come first-serve basis, beginning at 10:00 a.m. on Monday. Doors opened at the Union Depot at 11:30 a.m. on Wednesday, and Obama began to speak around 2:30 p.m., after being introduced by Secretary of Transportation Anthony Foxx. His plane arrived at Minneapolis-St. Paul airport roughly a half-hour late due to weather concerns.
A contingent of Macalester students attended the speech, and reacted favorably to it.
"There's something really exhilirating about seeing someone with that much influence in person," Jolena Zabel '16 said. "The whole station had an energy about it – people genuinely care about the community and wanted to hear what the President had to say about it."