Patrick's Cabaret welcomes performers with progressive messages
Friday, Feb. 7, Macalester students Oliver Schminkey '16 and Talia Young '17 performed self-written poetry at Patrick's Cabaret in Minnehaha, Minneapolis. While Schminkey was a returning performer, the Feb. 7 performance marked Young's first appearance. The two were part of a six show act called Hibernation Dreams featuring storytelling, music, dance, and spoken word.
Patrick Scully organized this performance space in 1986 as a means for local artists, especially those who have been traditionally marginalized, to perform any kind of work, uncensored. There is no experience requirement, no age requirement, and there are no auditions. Additionally, all profits from ticket sales go to the performers.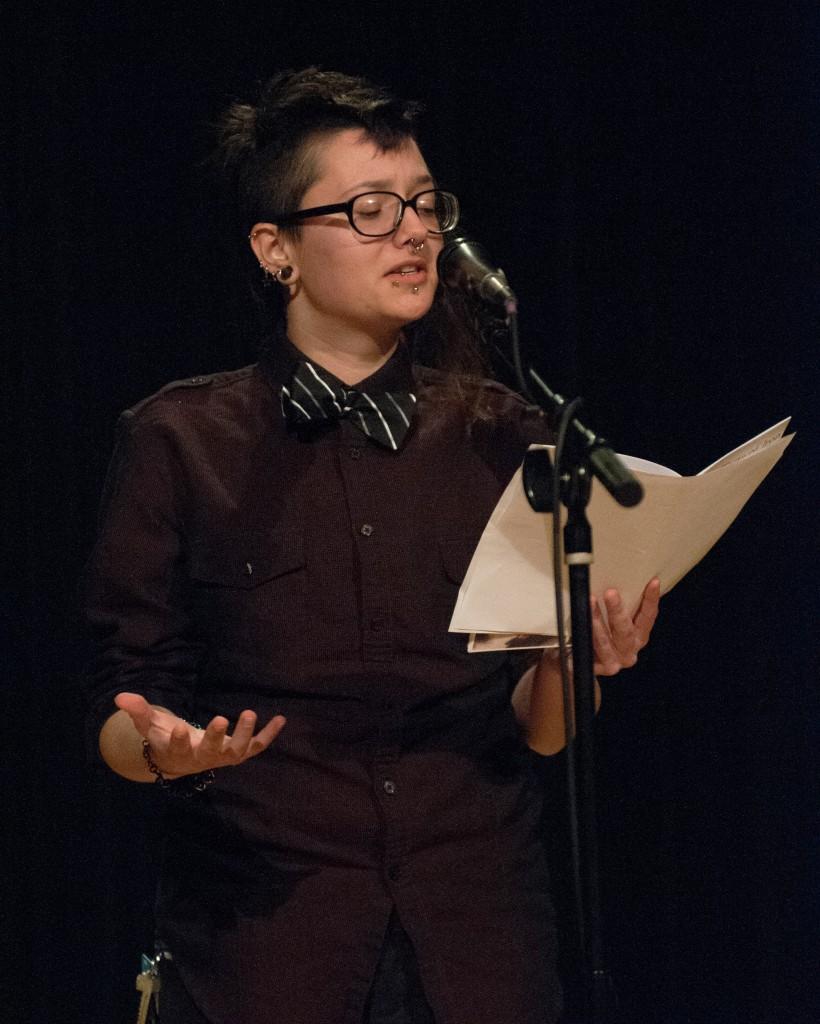 "It's a great performance venue and a great way to connect with other artists," said Schminkey. "The first time I went to Patrick's Cabaret, my friend Nik Martell was on the bill along with Venus DeMars [a local and transgender artist]. Now Nik runs a queer open mic, OUTspoken, with my other friend Paul Canada, and both Venus and I have featured there."
Patrick's Cabaret is known for featuring radical and thought-provoking artists. Scully was a gay man living with AIDS when he founded the company, and the artists he brought in were generally those who fell outside the norms of society. Many had been rejected by other performance venues for being too extreme.
"I'm a non-binary trans person," said Schminkey. "It's incredibly uncomfortable if a host misgenders me before I go up to perform, or if I can't use the bathrooms because they're not all gender. But Patrick's was super aware and awesome about all of these things!"
Schminkey and Young both recalled a performance by Venus Demars as one of their most interesting memories at Patrick's. "She showed us pictures she had drawn, they were really intricate and took her at least 40 hours to make and cost about $200," said Young. "And then she burned one of them, and said that art is meant to be experienced, and now we had experienced it and we would always remember."
The artists aren't the only things quirky about Patrick's. Each restroom has its own theme and chandelier. Patrons can check them all out and vote on their favorite.
This is Carlos Martinez's '14 fourth year interning at Patrick's Cabaret. "Each weekend is a once-in-a-lifetime opportunity because each particular show only lives once," he said. "Often, we are asked why art should be a funding priority with so many other issues facing people today. We respond that performance art is one way of initiating discussions, questioning assumptions, and expressing truths that are hard to do in other contexts. This censorship results in the suppression of self-expression and the denial of identity."
Upcoming at Patrick's Cabaret is Poonie's at Patrick's Friday, Feb. 28 and Saturday, March 1. The focus of the show is on LGBTQ lives and will feature a conglomeration of artists from Minneapolis and Chicago performing theater, dance, performance art, film, and spoken word.
Martinez is also excited for this year's 20th Anniversary of Ron Athey's Four Scenes in a Harsh Life, which provoked a nation-wide controversy during its conception and caused conservatives to try and abolish the National Endowment for the Arts.
Although Schminkey and Young are not scheduled to appear at Patrick's Cabaret in the near future, those interested can see Schminkey perform at Intermedia Arts in a performance called "Naked I: Inside and Out," which opened Feb. 14 and runs through this Sunday. It features a series of monologues about queer and trans experiences.
Anyone interested in getting involved with Patrick's Cabaret can contact Martinez at [email protected] or Sara Jo Lehrer at [email protected] Students can also work as a theater manager at Patrick's Cabaret through Macalester's Off Campus Student Employment program (OCSE).