Both of last week's Neutral Milk Hotel shows at First Avenue sold out on the day they went on sale almost six months in advance, a rare achievement in the Twin Cities. But that fact alone does not convey the full magnitude of the anticipation and expectations their fans had for a set of performances that would have seemed impossible back when most of us at Macalester first heard about the band.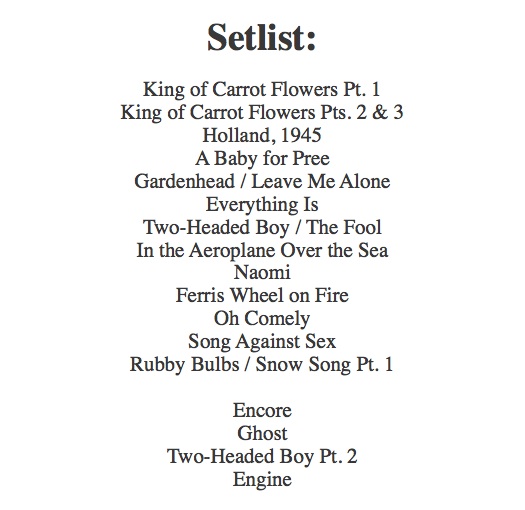 Neutral Milk Hotel is a signifier of musical sophistication for our generation, though most of their best-known music was recorded well before most of us could listen to it—In the Aeroplane Over the Sea came out in 1998. I was introduced to the band in 2009 via a burned CD of Aeroplane on the car stereo of the most with-it person I knew in high school, a brilliant humanist with opinions about everything. I remember it as one of my first experiences with music that seemed truly personal, like it gave me a window into someone else's confusing and beautiful headspace, and this is a quality I still seek out whenever I look for new music.
Importance to fans aside, the Neutral Milk Hotel shows were a big deal because of how impossible it once seemed that they would ever happen. Jeff Mangum has built a reputation as a Salinger-like recluse since the group first disbanded in 1998, getting back to regular performances as a solo artist only in recent years, and the only Neutral Milk Hotel shows in the 15 years since Aeroplane have been one-off benefits and surprise shows.
Even a show that was "really good" wouldn't live up to the almost mythical hype surrounding the First Avenue dates. Luckily, Neutral Milk Hotel was far beyond "really good" on Tuesday night, coming as close as any band of mortals could to the impossible standard or fantasy the occasion carried with it. I'm not a superfan of Neutral Milk Hotel—I think they're great, and I've heard all of their stuff, but they aren't a group I return to consistently and they don't define anything for me in particular. Nonetheless, their show was everything I could have asked for in a night of live music.
The stage was covered in instruments with a full brass section, two accordions, and three musical saws of different sizes. The only non-musical decoration I could find was a little white lamb, on top of a stack of equipment near the drummer. Jeff Mangum opened the set with "King of Carrot Flowers Pt. 1" by himself with an acoustic guitar. He looked like he had just emerged from the North Woods, wearing a long unkempt beard and a shaggy sweater. These solo sessions, sprinkled throughout the set, were highly effective and isolated the lyricism above the well-crafted muddle of the music. The rest of the band followed shortly into the song, picking up their parts one-by-one before reaching full strength for a launch into "King of Carrot Flowers Pts. 2 & 3"
"Holland 1945" was next, with no downturn in momentum. Throughout the show, the vocals and instrumentals were clear and powerful, surprisingly crisp in comparison to the loudness of their recorded counterparts. At the start of the night, lines like "And now we must pack up every piece/of the life we used to love" were delivered with the full measure of emotion, but not quite the level of desperation and unhinged energy one associates with Neutral Milk Hotel.
It didn't take long for the band to deliver on expectations for neuroses and noise. "Two-Headed Boy" began with Mangum alone. Saying it sounded like he was singing to each member of the audience individually does not do justice to the intimate intensity of the performance. It was like he was completely alone, wailing into the dark for someone who would never be able to hear him. Hearing "And through the music he sweetly displays / Silver speakers that sparkle all day / Made for his lover who's floating and choking with her hands across her face" felt almost voyeuristic. I have never heard a crowd of people so quiet.
Mangum's presence could have certainly carried the night on its own, but the rest of the band did more than carry the tune. Julian Koster haunted the Mainroom with the crooning of a singing saw, while looking all of 17 in a goofy winter hat, a graphic t-shirt, and track pants. His accordion work throughout the night made me wish more bands used the instrument, which is saying a lot. He handled most of the interaction with the crowd, thanking them for coming, "especially all of you who stood out in line in the cold."
And of course, Neutral Milk Hotel would be a much lesser band without Scott Spillane's horn, which was triumphantly excellent throughout. "In the Aeroplane over the Sea" and the close of the set with "Song Against Sex" and "Rubby Bulbs / Snow Song" were all excellent displays of organized chaos. During the last number, dueling accordions sharing the stage with electric saxophones and a flugelhorn and still sounded like music, though it was wonderfully coming apart at the seams.
There won't be bootleg videos of any of this. The strict ban on photography of all kinds seemed to be respected by the entire audience throughout the night. I'm sure the show will be better remembered for it, with documentation replaced by attention and being present. It was just a room full of people listening to music.
It was a night of consistently excellent performances, with a few moments of transcendence. "Two-Headed Boy Pt. 2," the last solo performance from Mangum, was one of these moments. "God is a place you will wait for the rest of your life," was sung so vulnerably and directly that it was almost hard to hear. The song wasn't just listened to; it was felt.
The performance was a case study in the power and effectiveness of Neutral Milk Hotel lyrics. Nods to Anne Frank aside, they don't make a lot of sense on a first read, but like good poetry they create a visceral feeling beyond the meaning of the words.
It's obvious that some of the imagery used to describe Mangum's feelings of love and obsession are only going to be fully understandable to the man himself. This hyper-specificity is part of what makes his style of songwriting so powerful. Neutral Milk Hotel songs ring true to our own loves and obsessions and weirdness, but not by one-size-fits-all relatability. They don't shy away from expressing feelings in the way feelings actually present themselves: as often-bizarre outbursts from the world within all of us that only has one resident. The content may be weird, but the form is the most normal thing there is.