If you are in search of an inspiring, meaningful and emotional visual journey, look no further than "Jim Hodges: Give More Than You Take," featured at the Walker Art Center until May 11. The exhibit, which displays 75 of his pieces, is a comprehensive collection of Hodges' work from 1987 to the present. It includes a range of media and technique, from works on paper to installation pieces, as he incorporates silk, gold leaf, mirrors, and denim. His emotional spectrum is equally broad, as Hodges explores themes of temporality, fragility, beauty, love, life and death through the subjects he renders as well as the materials he carefully selects for each piece.
In fact, material plays a large role in Hodges' art making process, as he deploys objects taken from our daily lives, often otherwise overlooked and disregarded, and transforms them into objects of beauty and meaning. One of the most striking examples of this phenomena is a piece titled "A Diary of Flowers (When We Met)." Individually pinned, but displayed as a group against a white wall, it is a collection of coffeehouse napkins, folded, tattered, crumpled, and stained. On each napkin is an ink drawing of a delicately and skillfully rendered flower. The worn nature of the napkins conveys the passage of time, and the quotidian and humbling material creates a somewhat personal connection between the viewer and the artist. Some art critics surmise an even deeper level of meaning, as they interpret the flowers as a way to memorialize friends and victims of AIDS—a recurring theme in Hodges' work.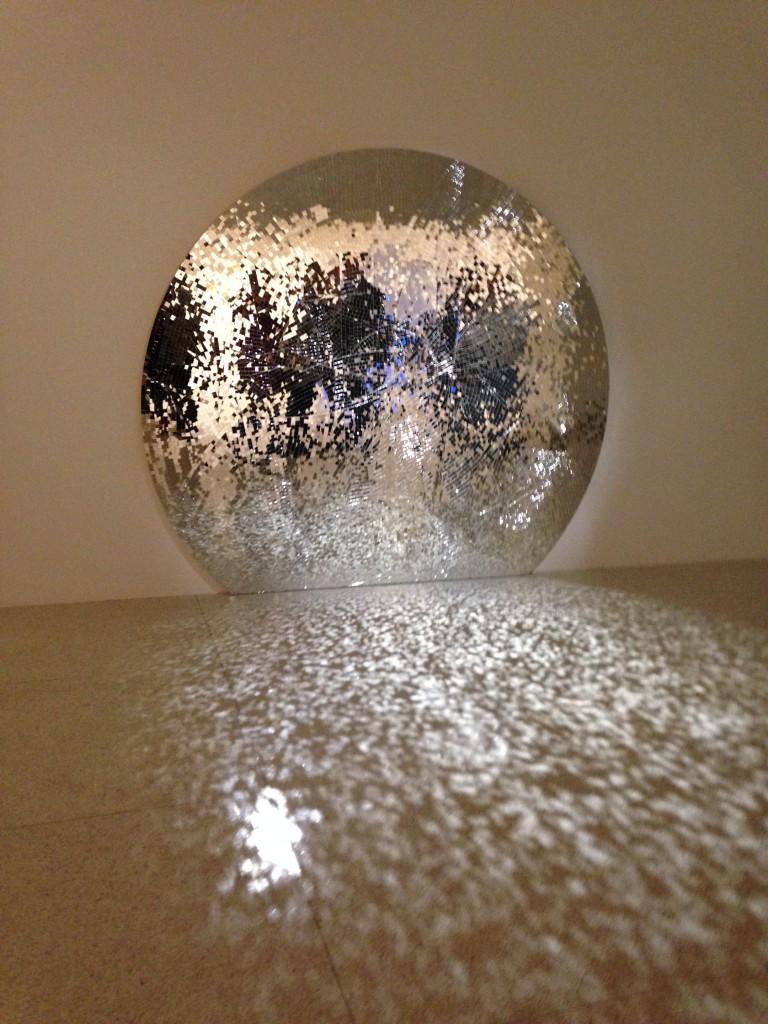 These are not the only flowers you will see in this exhibit. From a large rose made of tar paper and tape, to a wall constructed of paper and silk flowers, nature, and its vibrancy and delicacy, abounds throughout the exhibit. In an interview, Hodges concedes, "Nature is what gave me my voice. I found my own kind of language through nature." Any observer of these works and their fluidity would agree that indeed he has.
Despite this inclination towards nature, Hodges' art could not be defined solely by this theme. Juxtaposed to this natural tenderness and earthiness is a series of four shimmering mirror mosaics, titled "Movements." Situated along a narrow corridor, these grand semicircular mosaics project light against the opposite wall, creating a parallel image of light and shadow, and placing the viewer in a surreal setting that can really only be understood through experience.
The breadth and eclectic nature of "Give More Than You Take" cannot be expressed solely through a newspaper article or a few images. To understand what really makes Jim Hodges' artwork so unique, you simply must head over to the Walker and see for yourself.